Bill's Partyline March 1977
• Brussels born. Princes Diane von Furstenberg, one of the world's "beautiful people' and a well-known fashion designer. She's here to introduce her line which will go of the fashion market in Japan this spring.
• Sir Crawford Murray am Lady Maclehose (he's Governor of Hong Kong) and T.K. Ann, Chairman of the Hong Kong Trade Development Council, for the Hong Kong Ready To Wear Show and Promotion.
• Hardy Amies, world renown London designer, who showed his latest collection at the Hilton last week. The clothes, as always, the ultimate in good taste. The hour-long show with his childish skits and overused gimmicks a real drag.
• Qatar Ambassador Hamad Mansour Al-Hajiri off to their homeland for several months vacation. Mrs. Al-Hajiri and the three children— Dawn Mansour and Albdullah — will leave early and the Ambassador will join them after several stops on official business.
• Hyam Shammout, wife of the Jordanian Ambassador, off to Jordan to join the Ambassador for a few weeks.
• Iraq Ambassador Qbatan Lutfi back from Australia where he recently presented his credentials.
CONGRATULATIONS To Miko Ohtaka on het new assignment as public relations coordinator for Parfums Christian Dior and C.D. Cosmetics. She'll be working under Nicole Depeyre who tells me they'll be handling all their own PR and promotions from now on. They couldn't have made a smarter move.
• Shozo Suzuki on his recent appointment as general manager of Isetan's main store in Shinjuku. I traveled across the U.S. with Shozo a few years ago, and he's one of the most knowledgeable, inter-national-thinking Japanese I've met.
PARTIES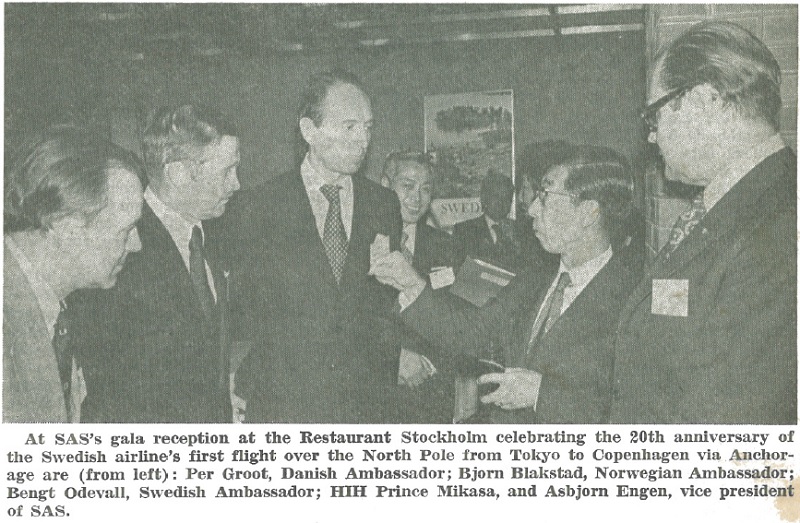 A special lunch was held at Tokyo's popular STOCKHOLM RESTAURANT in the Sweden Center Monday the 28th. The luncheon was to commemorate the first flight over the North Pole between Japan and Europe inaugurated by SAS 20 years ago. Special guests that day were Asbjorn Engen vice president of SAS, and H.I.H. Prince Mikasa. Sincere congratulations to SAS on this special occasion.
Italian Reception
The colorful card said "Come for Cocktails" Since it was at the home of one of my favorite Italianas, Tilly Bassano — I decided I really did want to go. Tilly's with the Embassy and has all the characteristics that endear the Italians to me and all those fortunate enough to have Italian friends. She's attractive, intelligent and full of the warmth and love of live her countrymen are noted for.
Her light, bright and spacious apartment was packed with people from all walks of life. Italian Ambassador and Signora Vincenzo Tormetta were there, as was the Embassy's Minister Lucian Koch and his wife, Marinate. Talked with Mrs. Koch and although she's just been here a few months, she's really getting out.
Kenzo and Tan Tange took time out of their busy schedule that evening, and I could hardly believe all the current projects he's involved in. There's the new Turkish Embassy, the Iran Embassy, Mori Hanae's building (next to the Fuji Bank at Omotesando) and a hotel and university in the making. Projected planning includes buildings in New York, Miami and Dallas. A talented and gracious man who seems to be in demand all over the world.
The Italians in Tokyo are also very busy right now. Maurizio Teuchi and Bepi Gaudiello, both of the Embassy, were enthused about. the visits of one of Italy's top pop singers MILVA for a series of concerts here in Tokyo.
Got in the corner with Soviet Ambassador and Mrs. Dmitri Polyansky and Mongolian Ambassador Damabarjaa. They introduced me to recently arrived Czechoslovakian Ambassador and Mrs. Karel Houska. Always enjoy talking with Ambassador Polyansky, even though it has to be through an interpreter. I did hear, however, that he's studying English now.
Moved on to join a group of African friends and Central African Ambassador Antoine M'Bary-Daba introduced me to another recent arrival, Zaire Ambassador Kapella Kinduelu who had just presented his credentials. This was his first official outing.