Announcement: the 21st Charity Bazaar sponsored by Nihon Chukinto Africa Fujinkai, NCAF
The Japan Ladies' Friendship Association for Africa and the Middle East, To benefit children and women in need in Africa and in the Middle East
The Nihon Chukinto Africa Fujinkai (NCAF) Biennial Charity Bazaar will be held on October 30, after a four-year suspension due to the pandemic. This year's bazaar, joined by 21 countries marks its 21st. The diplomatic tables, operated primarily by ambassadors' wives and diplomatic spouses, feature crafts and products of each country, as well as representative dishes prepared by embassy chefs. Furthermore, handmade items by members of NCAF, home baked goods, spices and various products of sponsoring companies will also be offered.
The bazaar is also an opportunity to learn about the culture of Africa and the Middle East; talking drums, elegant traditional costumes, henna painting, and hair fashion will be introduced, drawing us closer to the people of these regions.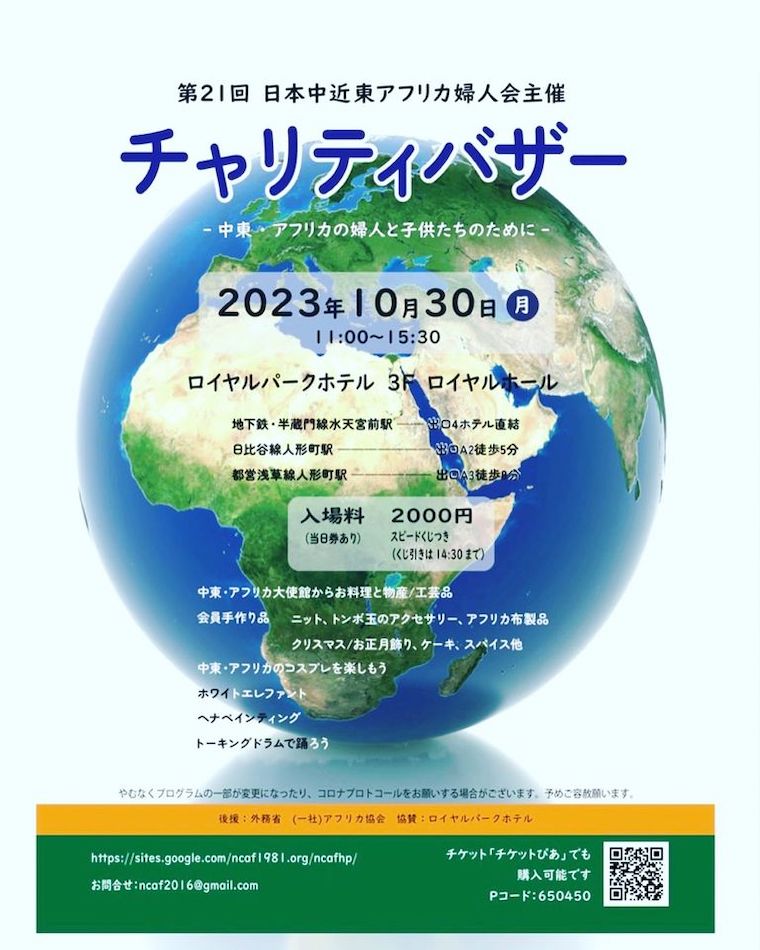 NCAF members and participants of the diplomatic community emphasize their desire to convey the vibrant energy of Africa and the Middle East and share the friendship between Japan and these regions through this event.
The proceeds of the bazaar will be distributed equally among the participating diplomatic missions, in addition to benefiting Japanese NGOs working in Africa and in the Middle East supported by NCAF.
About NCAF:
Nihon Chukinto Africa Fujinkai was established in 1981 by Ayako Shigemitsu, the wife of former Ambassador of Japan to Nigeria (later assigned to Romania and the USSR) Akira Shigemitsu, together with women who had experienced life in Africa. The mission of this organization is to have those living and working in Japan to return to their home countries with fond memories and for them and the members to enjoy one another's company.
Membership has expanded to 100, and as a women's friendship organization targeting Africa and the Middle East, NCAF boasts the longest history, actively organizing interesting programs.
NCAF's charity bazaar is a biennial event, drawing crowds in excess of 2000 persons each time. The proceeds are distributed equally among the participating countries, which is then given through the ambassadors' wives and other representatives of the embassies to charities in their respective countries.
After the previous bazaar in 2019, 4.3 million yen was donated through the 26 participating countries. In addition, NCAF offers support every year to a number of NGOs associated with the Middle East and Africa.
Furthermore, there are seminars on Africa and the Middle East and cooking lessons, and for the diplomatic community, regular classes on Japanese, knitting, ikebana, choir, as well as outings and cultural exchange sessions.