Embassy Cooking Class (1) Zimbabwe
The NCAF – Ladies' Friendship Association for Africa and the Middle East (President: Nachiko Koike) interacts with embassies in Africa and the Middle East in Japan, and spreads activities to taste, convey, and understand the authentic culture.
This time, a cooking class was held by the wife of Ambassador Extraordinary and Plenipotentiary of Zimbabwe, Mrs. Nompumelelo Abu-Basutu. This time, nearly 40 members of the Japan Middle East and Africa Women's Association participated and enjoyed the authentic taste.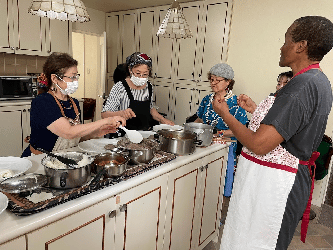 The Zimbabwean "flavors" that Mrs. Nompumelelo told us are three: Sazza, boiled pumpkin leaves, and beef stew. All of these dishes are unfamiliar to Japanese people, but they are very delicious once you try them. The ingredients are also available in Japan, so you can make it at home and enjoy the taste of Africa.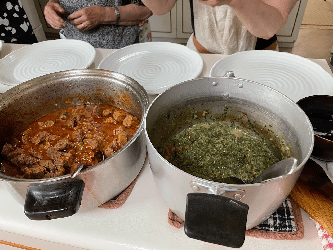 The recipe is as follows.
(The Japan Middle East and Africa Women's Association often holds such exchange events. For inquiries about joining, please contact: ncaf2016@gmail.com)
Zimbabwean cuisine
ISITSHWALA/SADZA/THICK CORN PORRIDGE
3 cups corn meal
1 cup cold water
750mls boiling water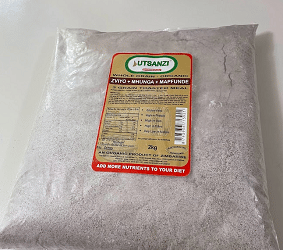 Put 1 cup corn meal in a pot
Add cold water and stir to make a paste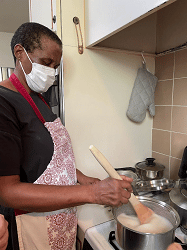 Put the pot on the stove, high heat
Add boiling water while stirring simultaneously to avoid lumps
Keep stirring until it is boiling
Cover pot, reduce heat and let it simmer for 15 minutes
A dd corn meal bit by bit and mix well to avoid lumps
When it reaches the consistency that you want, cover it and leave to simmer for 5 minutes
Open the pot and mix again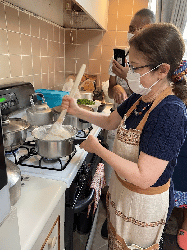 Ready to serve with relish or sauce of your choice
IBHOBOLA/MUBOORA/PUMPKIN LEAVES
1kg pumpkin leaves, peeled, washed, and chopped
1 large tomato chopped
3 tablespoons peanut butter
1 teaspoon salt
Pinch bicarbonate of soda/baking soda
½ cup water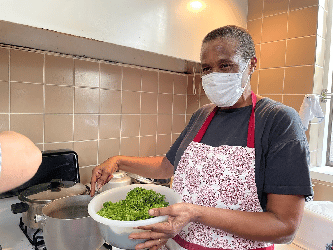 Boil water in a saucepan
Add salt and baking soda
Add pumpkin leaves and tomato
Cover the pot and let boil until the tomatoes and pumpkin leaves are soft
Add the peanut butter and mix well to make sure the peanut butter has no lumps
Reduce heat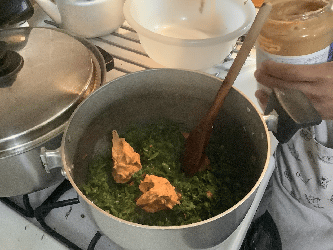 Cover and leave to simmer for 5 minutes
Open and stir again to make sure all has mixed well
Remove from stove and serve
BEEF STEW
2kg beef steak, cut into cubes
2 teaspoons salt
1 tablespoon cooking oil
1 large onion chopped
2 large green peppers chopped
2 tablespoons tomato paste
1 cube sauce thickener
Enough water to just cover the meat
Place a large saucepan on the stove, high heat
Add the oil, meat and salt
Fry the meat until it is brown
Add the onion and fry until the onion is golden brown and tender
Add tomato paste and stir in well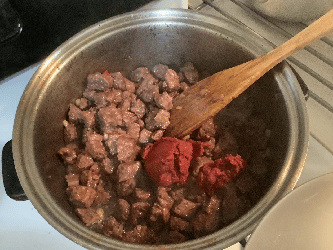 Add water and the cube and bring to a boil
Reduce the heat to low
Cover and leave to simmer until the sauce is thick and juicy
Add the green pepper and stir in well
Switch off the heat and leave the pot on the stove covered
Ready to serve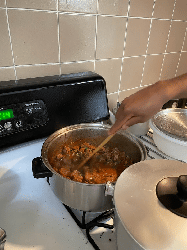 Recipes from Mrs. Nompumelelo Abu-Basutu, July 11th 2022
Read also,