Bill's Partyline December 1st, 2006
PEOPLE
Our city's been all a-buzz with a lot of enthusiasm and excitement over the release of Clint Eastwood's two Warner Brothers films Flags of our Fathers and Letters from Iwo Jima. Things got started here when icon Clint flew in to join the Japanese cast shortly after the completion of filming in California to promote Letters. This visit and press conference was followed by another press conference, a premiere and the release of Flags of our Fathers. Special people here for that promo included actors Adam Beach and James Bradford as well as Flags of our Fathers book author James Bradley. As a native American (Cherokee-adopted into Hopi tribe) and anthropology scholar, I really enjoyed talking with Adam, who's from the Soto tribe in Canada. He's such a cool, intelligent guy, it's easy to see why he's done so many films and is currently working on several big projects.
PARTIES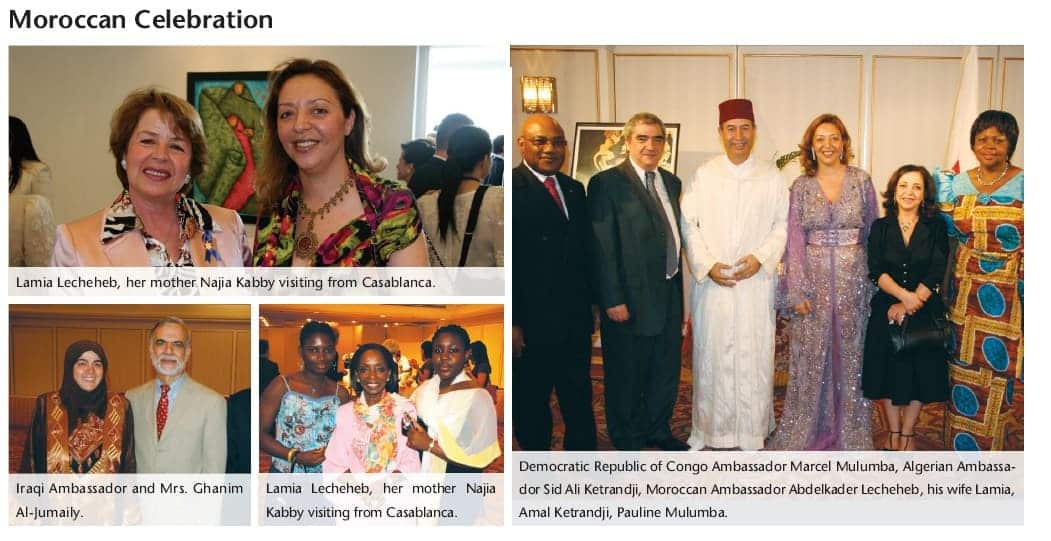 It was also a beautiful evening at the Palace Hotel when Moroccan Ambassador Abdelkader Lecheheb and his wife Lamia hosted a reception to celebrate the 7th anniversary of the enthronement of H.M. King Mohammed VI. The Lechehebs are a popular couple and it was wall to wall people enjoying the special occasion. The traditional Moroccan dishes, cous-cous and tajine, were excellent. As I mentioned before, I met the King when he was still Crown Prince, and remember thinking what a well-educated and international thinking young man he was. I've also had the privilege of visiting Morocco ten times and drove from one end of the fascinating country to the other.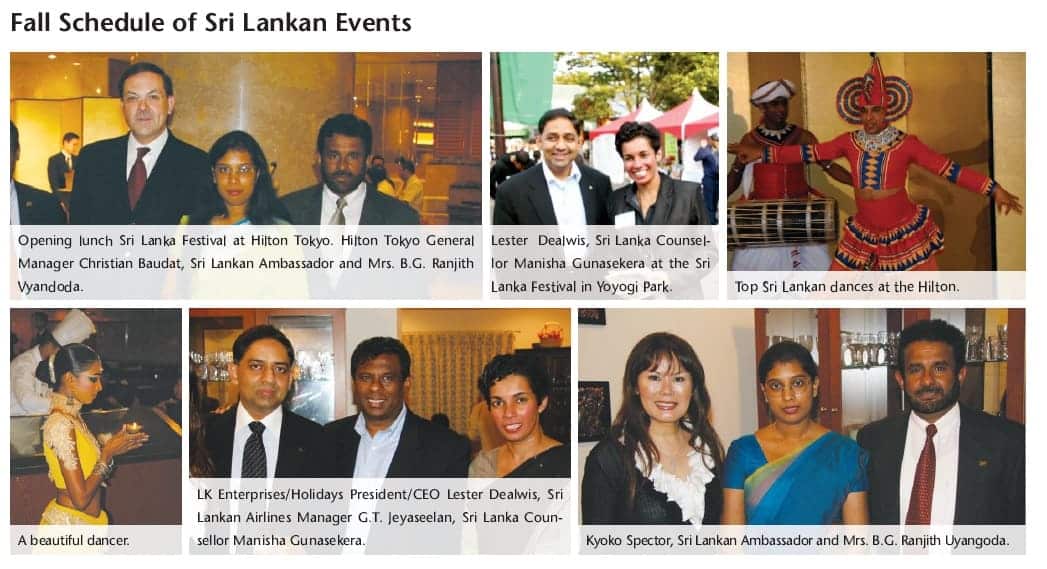 To start things off, Sri Lankan Ambassador and Mrs. B.G. Ranjith Unaygoda hosted a press conference/reception at their beautiful new home near Roppongi to give details to and answer questions from the media about the 3rd Annual Sri Lankan Festival "Capturing Nature's Wonders." It was a Sri Lankan-packed week which started with a food and culture promotion at Hilton Tokyo. Two chefs who were flown in by Sri Lankan Air prepared a daily buffet of nearly 40 kinds of distinctive Sri Lankan food. There were also two nights of gala dinners in the Hilton's Kiku Ballroom. Highlights of the galas were a spectacular cultural performance by two of Sri Lanka's most famous dance-percussion ensemble "Ravibandhu-Samanthi" and a "Miss Sri Lanka Tea" competition. The festival which took place in Yoyogi Park Oct. 14-15 was two days of food, fun, and culture. Eighty booths, including a children's corner, sold Sri Lankan handicrafts, fashion, organic herbal products, spices, tea, semi-precious gems, and food Two booths offering therapeutic massages had long lines of customers waiting their turn. For the dosing ceremony, several Sri Lankan pop bands and singers were joined on stage by many of the local Sri Lankans, who danced, and danced. At the grand raffle draw, ten lucky winners walked away with round trip tickets to Colombo on Sri Lankan Air, as well as exciting holiday packages. Congratulations to all concerned.

Independence Day Reception Back to the Palace Hotel, Papua New Guinea (PNG) Ambassador Michael Maue and his wife Merewalesi Seru hosted a midday reception to celebrate their country's 31st Independence Anniversary. Guests for the most part were high-ranking Japanese government officials and business leaders. After a few welcome speeches, guests enjoyed the buffet, which included some excellent seafood imported from PNG as well as the PNG coffee which is growing in popularity here in Japan. I chatted with long time friend Kenzo Shimada, who's regional representative for Air Niugini here, and happy to hear more and more Japanese are traveling to Papua New Guinea. The natural beauty of the country, the colorful culture and the diversity of the people make it one of the greatest travel adventures there is. Minster Michael Reiterer was there and I appreciated him introducing me to the new E.U. Ambassador, Head of Delegation Hugh Richardson. We wish him and his family a long, happy and successful stay in Japan.
PLACES
Festive Halloween at National Azabu Supermarket. The bad weather cleared up and Sunday, Oct. 29 turned out to be a beautiful day for National Azabu's annual Halloween costume contest. Costumes included lots of samurais, zombies, ghosts, fairy princesses, and even a miniature Mr. Colombian Coffee. The carnival games, and the food booths, all added up to a very special day in every way. Check out the new seafood corner at National Azabu. Something there for everyone.
*First published at the Tokyo Weekender
*Images Copyright: Tsukasa Shiga