Bill's Partyline November 2012
PEOPLE
It was a sporty couple of weeks after I spent considerable time with many Formula One drivers before their race on October 7th at Suzuka and partied with many of them all night after the race at the New Lex Tokyo. Actually, I did pretty much the same with the drivers for the world endurance race a week later at Fuji Speedway, which was great. Then, thanks to dear friend, Claudia Barnes, the Jamaican ambassador, I also had the privilege of meeting Olympic superman Usain Bolt during his recent visit here and I'm happy to report he's every bit as nice as I'd heard he was.
PARTIES
Malaysian Festival at Hilton Tokyo
I'm sure many of you are familiar with the song "Malaysia, Truly Asia" that we hear whenever Malaysian Tourism runs their promo films on TV. Other colorful promotions for that wonderful exotic country included a Malaysian food and culture week, when HIilton Tokyo joined Tourism Malaysia and Singapore Airlines in sponsoring a most colorful event. On opening day there were short, interesting speeches by Jamie Mead, Hilton Tokyo's GM, Noor Azlan Abu Baker of Malaysian Tourism Promotion and David Lim of Singapore Airlines. Singapore and Malaysia are, as you know, close neighbors and really have good working relations with each other. Four visiting chefs from Malaysia worked with the Hotel's Food and Beverage Dept and the buffet was delicious. The sponsors had brought in a truly talented dance group who presented lively Malaysian song and dance shows during the festival. The show featured a very talented young group and they really made a hit and friends with most of the customers.
The Arrours' Special Evening At The Okura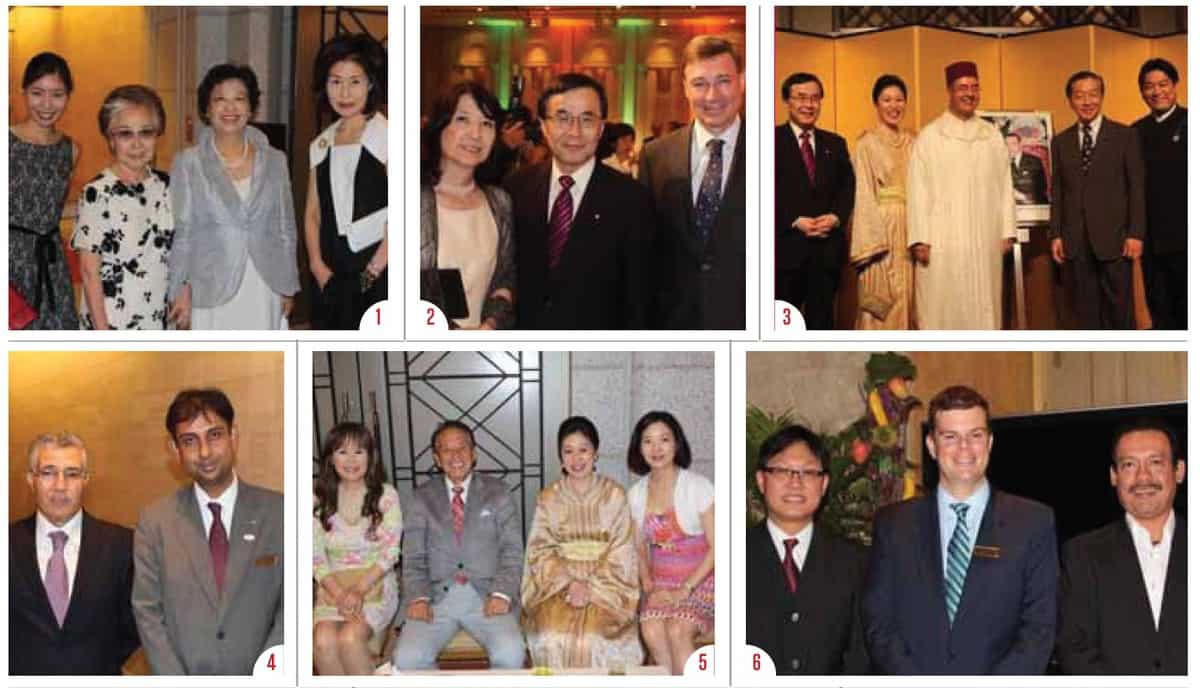 As always, Moroccan ambassador and Mrs. Samir Arrour's celebration of the anniversary of the enthronement of H.M King Mohammed VI was a glittering, exotic event. The people packed evening took place in the Okura's chic Ascot Hall.The hosting couple, Samir and Utako, were super chic in Moroccan national dress, there was a huge ice carving of Morocco's national emblem and the buffet featured both Moroccan and Japanese dishes. Special guests included Yuichiro Hata, Minister of Land Infrastructure Transport and Tourism and son of former Prime Minister Tsutome Hata, parliamentary vice minister of foreign affairs, Kazuyuki Hamada and Diet member, Kenji Kosaka. The Arrours had arranged for one of my favorite bakeries, Maison Kayser in Midtown, to serve a variety of their great breads and pastries at the party. As I was leaving, one of the girls from the bakery who knew me came over and gave me a bag of croissants, etc. and said, "this is for your breakfast." Talk about nice.
The Massets' Beautiful French National Day Reception
It was a "Vive la France" day all the way at the residence of French ambassador and Mme. Christian Masset when they held a huge reception on the occasion of their national day. The Japanese boys choir who were there to participate in the program spent much of their time watching the master ice carver who created some extraordinary carvings in the garden. Later they sang the French national anthem and after the welcome speeches joined the many guests in trying and really enjoying all the French gourmet foods in the bountiful buffet. It was really great seeing so many French friends I hadn't seen for a long time and make some new friends as well. Kudos to Christian and Helene and their hardworking staff on a marvelous day in every way.
The Ben Shitrits' Glittering Israeli Evening At Opera City
Israeli ambassador Nissim and his wife Carmela and many other Israeli friends had two special events to celebrate recently. The first was their 64th independence day and the second the 60th anniversary of diplomatic relations with Japan. They did, as I knew they would, really go all out to make it a beautiful and memorable celebration for the many invited to the gala evening, which was held in Tokyo Opera City. The program started off with a message sent by Israel's first prime minister, David Ben Gurion. This was followed by a welcome speech by the ambassador and a congratulatory speech by Koichiro Gemba, the Japanese Foreign Minister. Tokyo Philharmonic Orchestra gave great entertainment, with world-renowned conductor Dan Ettinger who was flown in to conduct and take part in other related events and three of Israel's top singers: leading soprano Merav Barnea, mezzo-soprano Edna Prochnik and tenor Yotam Cohen gave a standing ovation performance.
PLACES
It's a beautiful day and I'm working on this column at Segafredo's in Hiroo. The place, which many of you will know, is packed, and I was really lucky to get a table out front. A good friend of mine, "Brian" Mori, bought the Segafredo Franchise for Asia and I'm happy to see he's doing so well. It's also great to see the newly opened National Azabu Supermarket across the street super busy with in-the-know foreigners and Japanese. Sole & Luna Pizza Parlor next door is going to be a very popular addition to the neighborhood too I can tell: a friend sitting at one of the outdoor tables there brought me a slice of pepperoni pizza and it was just delicious.
*First published at the Tokyo Weekender
*Images Copyright: Tsukasa Shiga