Bill's Partyline February 5th, 2010
PEOPLE
New York-based psychic Ron Bard was in town to do a TV program for TBS, and it was great getting together with him and his family as well as a couple of his friends for a lavish Christmas Day dinner at the Hilton Tokyo. I was really sorry to miss one of my favorite couples, Zimbabwean Ambassador Harold Stewart Comberbach and his wife Bicky's new year's party. I was looking forward to meeting their children, who were visiting here for the holidays. I did get over to Panoramic Hospitalty's Xavier Destribats and his wife Tatiana's beautiful home in Aobadai for New Year's Day. It was a fun, laid-back five hours with a wide variety of our city's most interesting movers and shakers. Tatiana's many talents include teaching cooking, and she prepared a buffet that had to be experienced to be believed, along with the Grand Hyatt's legendary executive chef Josef Budde and several prestigious restaurant owners. Photos of this great get together will follow later.
PARTIES
Egyptian Film Party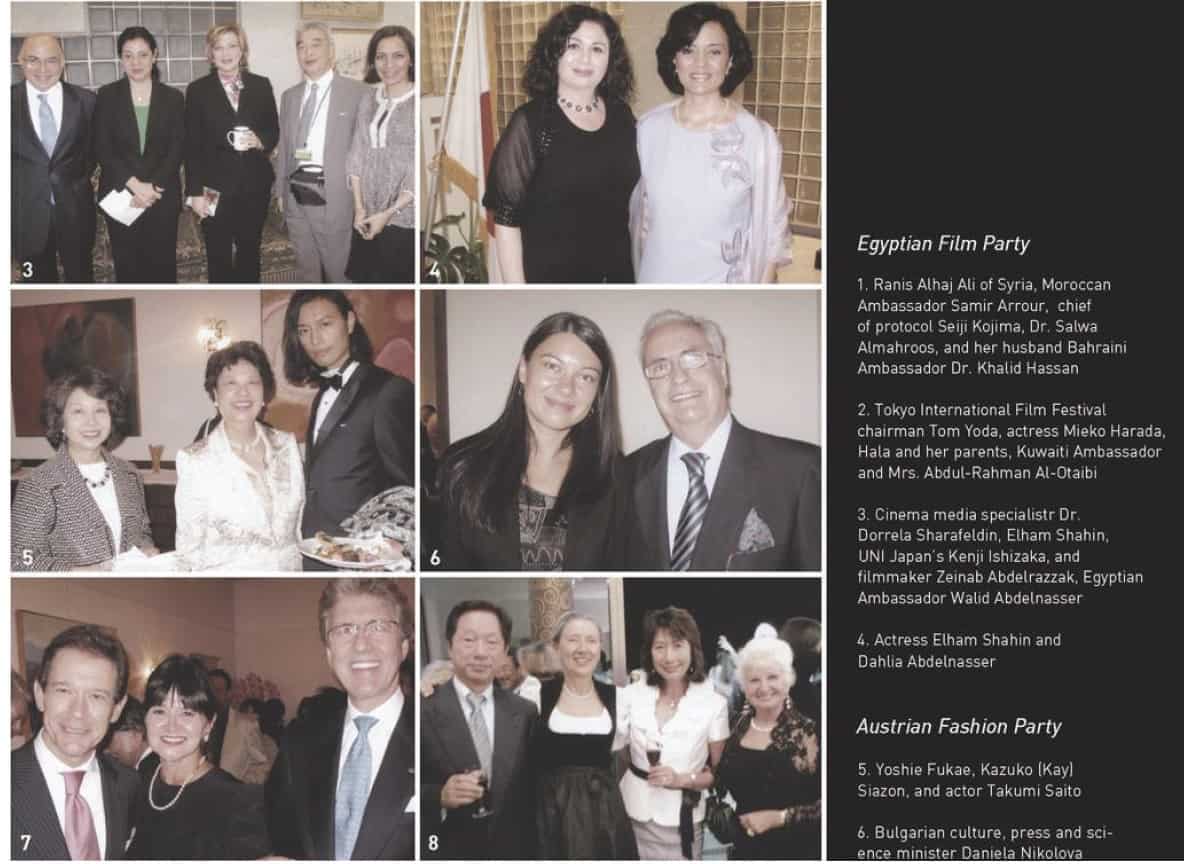 The Egyptians idolize their top movie actors and actresses, and many of my Egyptian friends who live here were really excited and happy when they had the opportunity to meet and mix with several of Egypt's biggest stars at a welcome party for them hosted by Egyptian ambassador Walid Abdelnasser and his wife Dahlia. Special guests that evening included Tokyo International Film Festival chairman Tom Yoda, actress Mieko Harada, and the Minister of Foreign Affairs' director of protocol Seiji Kojima.
Austrian Fashion Party
I'm really sorry I couldn't get to the Austrian fashion show during Japan Fashion Week. I heard from those who did make it that it was fun, original, and one of the best shows of the week. I am happy I was able to join the fun, chic crowd at the dinner party at the Austrian embassy to celebrate the success of the show. After a short welcome speech by Austrian Ambassador Jutta Stefan Bastl, who looked great in Austrian fashion, there was a lively performance of yodeling followed by a bountiful buffet of Austrian favorites. I really enjoyed meeting young Japanese actor Takumi Saito. He speaks perfect English and updated me on many of the happenings in the Japanese film world. I invited him to the Lex and he told me he didn't really go to clubs very much. Even so, he showed up a week later and has since become a regular customer. The foreign models and Japanese girls really flip over his Hollywood looks, and I dig his way-out fashions.
Polish Festival
Our Polish friends had a festival at Yebisu Garden Place that featured art, music, fashion and handicrafts from their beautiful country. It was a nice day, and I'm happy they had a good turnout. I actually went over to try the Polish food, and was a little disappointed that the venue would not allow the sponsors to sell food. I heard that there was some kind of obscure law about this, but from what I've seen, the enforcement of that law seems to depend on the venue, the time, etc. Hopefully the sponsors can change this for their 2010 festival.
PLACES
My Japanese partners at the New Lex did things the Japanese way, and this meant three Christmas parties, the countdown celebration, and two additional new year's events. Special guests at the Lex over the extended holidays included actress Kirsten Dunst and her brother, Johnny Depp (in town to promote Public Enemies for Toho Towa), the Australian band Platinum, the beautiful dancers from the Leningrad State Ballet, and close to 100 members of the Cirque du Soleil's Corteo in Yoyogi Park and Zed at Tokyo Disney Resort. Wow, can they party. We also had a party for the stereotype hunks that work at the newly opened and very busy Abercrombie & Fitch store in Ginza. They know how to party as well.

Yoyogi International School 10th Anniversary
Iain Muir and his wife Yuko, who is founder and director of the popular and highly regarded Yoyogi International School, hosted a glittering evening at the Park Hyatt to celebrate the 10th anniversary of the school. The many guests were parents and friends of both past and present students at the school, and really a who's who of Tokyo's international business community. It was a truly enjoyable evening with a variety of interesting people. Kudos to the Park Hyatt's food and beverage department—the buffet was excellent. Guests left with gifts from a hot West coast brand, the johnnie-O company, which was established by John O'Donnell, the elder brother of actor Chris O'Donnell. I first got to know Chris when I went to the premiere of the Batman film in which Chris played Robin. He's a great guy and spent considerable time showing me around Hollywood and introducing me to many film celebs, including Alicia Silverstone. Iian's company McKenzie represents johnnie-O in Japan.
*First published at the Tokyo Weekender
*Images Copyright: Tsukasa Shiga