Bill's Partyline October 29th, 2004
PEOPLE
Buena Vista Japan brought in a large delegation to promote "King Arthur." They include Hollywood's hottest producer, Jerry Bruckheimer, director Antoine Faqua and the principle actors, Clive Owen who plays Arthur, and loan Gruffudd who plays Lancelot. Buena Vista International President Mark Zoradi and Executive Vice President Anthony Marcoly flew in from L.A. to join their man-in-Japan Dick Sano for the many promo events. Jerry said he wasn't looking for big stars but brilliant actors when he cast the film. He also felt to keep the story as true to legend as possible he should use British actors. loan told the press he loved doing the film. Later that evening I had the privilege of joining the Buena Vista execs and their visiting stars and VIPs at a relaxed dinner at Nobu's. As always I enjoyed chatting with Jerry's always-chic wife, Linda. She's an author, and one of her books has been published in Japanese. It was also nice seeing the Bruckheimers' daughter Alex, who's worked on some of Jerry's films.
UIP brought in the director Jonathan Frakes ("Star Trek") and the five young actors, Brady Corbet, Dominic Colenso, Philip Wincester, Ben Torgersen and Lex Sharpnel for a press conference, back to back interviews and a gala premiere of the film "Thunderbirds." Everyone really felt the shooting was fun, and the set was a great place to be. That evening, when they all stopped by the Lex, I told Jonathan not to worry. When director Peter Jackson was here to promote "Lord of the Rings" he wore shorts and was barefooted. That gave me an opening to tease the at-that-time General Manager of the Park Hyatt about the hotel's dress code. Two of the boys brought their moms with them, and they joined the group belting out some oldies at a karaoke bar, and even layed back at the Lex.
Twentieth Century Fox kept busy bringing in celebs from their hit "I Robot." First, there was a press conference for tall, super-cool actress Bridget Moynahan. She started her career as a model, did some stage work and worked one season on HBO's mega-hit series "Sex and the City" This was Bridget's first time to visit Tokyo. "It's the hottest day of the year, but I still managed to do some shopping," she told the media at the press conference. A month or so later, 20th CenturyFox brought in Will Smith. I had the opportunity to sit in on ACTV producer Daniel Smith's interview of the superstar. A big thanks to 20th Century Fox Home Entertainment Senior Vice President Asia-Pacific Marc Fuoti for the ticket to a party for Will at Velfarre after the premiere
PARTIES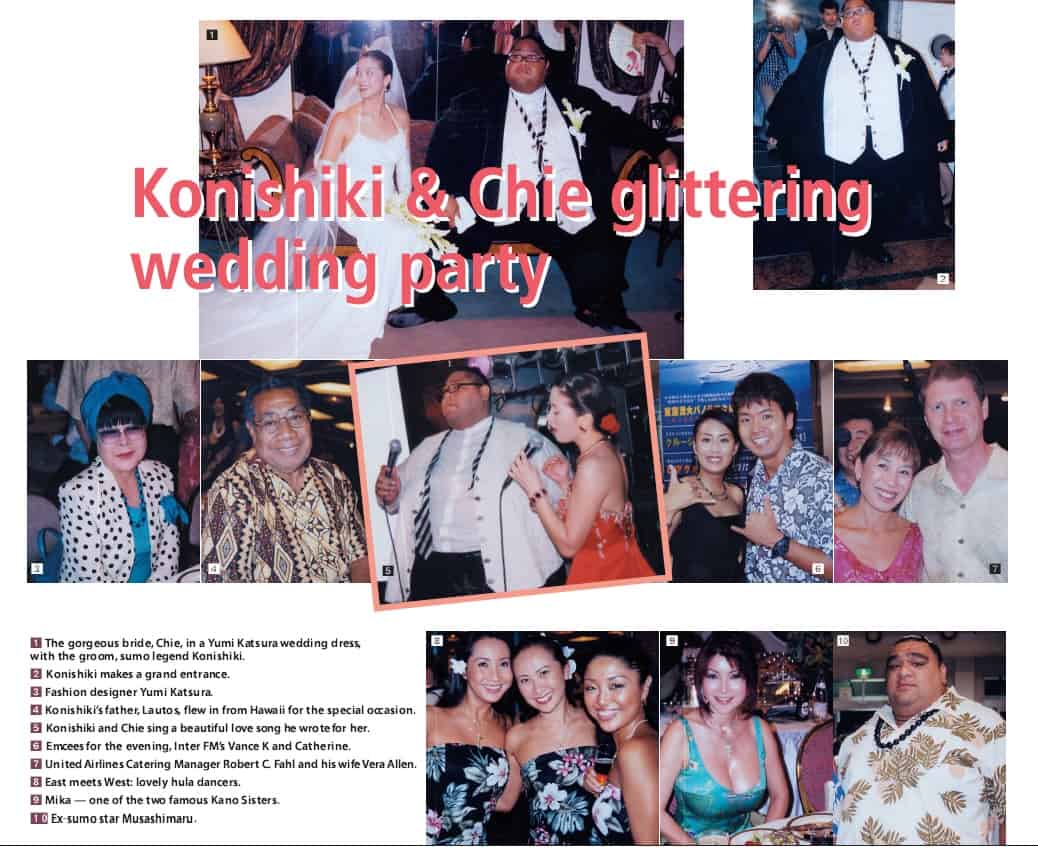 A big and sincere congratulations to all concerned. I knew when I saw the many guests lining up to board the beautiful Symphony Modern at Shibaura Pier it was going to be a very special evening, with the crowd a colorful mix of interesting people dressed in everything from aloha shirts to tuxedos, all guests at the wedding party of former sumo champion, now popular entertainer, Konishiki and his gorgeous wife Chie
The guests included well-known sports figures, showbiz luminaries, fashion personalities, business leaders and many other colorful people from all walks of life. Konishiki's father, Lautoa, had flown in from Hawaii, and what a nice man. Once guests were aboard, the newlyweds made a grand entrance. Sale (Konishiki) was wearing a tux, and Chie a really beautiful wedding dress designed by Yumi Katsura. The ultra-modern ship was a beehive of activity with entertainment on each of the four decks. As guests boarded, each was given a choice of a temporary tattoo. I chose a tribal cross and, though I shower every day (sure do), it stayed for two weeks. Entertainment included a Japanese rapper, Banana Ice, a hip-hop break-dancer, a pop pianist and shows by Hawaiian and Samoan dancers, One of the highlights of the evening was a duet by Sale and Chie of a love song he wrote for her. She had changed into a chic, long red dress; he to more casual formal wear. Believe me, they made beautiful music together. There were huge buffets on two decks that included everything from lobster to caviar to delicious Hawaiian favorites from Konishiki's restaurant, Unbalanced, at Tokyo Dome.
Irish Ambassador Padraig Murphy hosted a reception at his home to celebrate the centenary of Bloomsday. For the occasion, there was a special exhibition which told the story of Irish writer James Joyce (1882-1941), said to represent the spirit of modern Ireland.

Nepal Ambassador Ramesh Ananda Vaida and his wife Rekha hosted a reception on the auspicious occasion of the 58th Birthday of King Gyanandra Bir Bikran Shah Dev.
PLACES
The Warner Bros. promotional tour for "Harry Potter and the Prisoner of Azkaban" turned out to be a true magical experience for all involved. Those who flew in for the almost five-day, super-busy stay included producer David Heyman, director Alfonso Cuaron, 14-year-old actress Emma Watson who plays Hermione Granger, and 15-year-old Rupert Grint who plays Ron Weasley. Daniel Raddiffe who plays Harry Potter could not be here this time; he's hard at work on the fourth "Harry Potter" film, "Harry Potter and the Goblet of Fire" Warners did, however, have him participate in the Tokyo press conference live via satellite. Rupert and Emma were both amazed at the number of "Potterians" (Japanese fans of Harry Potter) who showed up wherever they appeared. Their busy schedule included a huge press conference, a red-carpet premiere and back-to-back magazine, newspaper and TV interviews. It was a super group of celebrities who openly showed respect for each other. Rupert is considerably more shy than his on-screen character, and Emma, in addition to being a beautiful teen, is dynamic and outgoing. Alfonso, who also directed "Y Tu Mama Tambien; is a real livewire with a great sense of humor. Watch the film closely, and you'll see some little things he did "just for fun!'
*First published at the Tokyo Weekender