Bill's Partyline June 4th, 2008
PEOPLE
Jack is Back! I'm taking about superstar Jack Nicholson who was here for Warner Brothers to promote his box office hit Bucket List. Jack really seems to have mellowed since I first met him many years ago when he was here ,.. to promote Tams of Erukannent. The Bucket press conference was a one-man show. It was just him and his interpreter on stage. Questions from the media, as well as Jack's answers, were interesting. He started out saying he was In Tokyo for the 1964 Olympics and that the city had really grown, but was still the same gentle place. I also learned later he had done a considerable amount of his earliest work in a country I love. In regards to projects, he goes over the scripts, really studies and breaks them clown below making final decisions. Reports say he actually rewrote much of the script for Bucket List, and in some ways, his character's speeches were rather confessional.
PARTIES
There were festive speeches by Ambassador Al-Ansari and Japan Arab Association President Keilchiro Okabe. Both expressed their sincerest wishes that Arab Day is a start to even more mutual understanding and deeper relations between Japan and the Arab world. The fantastic feast featured a huge variety of home-cooked favorites from each of the hosting countries. The legendary Arab hospitality was, as always warm, welcoming and sincere. it was a special evening in every way, perfect for the occasion.
Cambodian Ambassador Sothirak Pou is not only a very capable and professional diplomat, he's also a very per-sonable, outgoing man. Consequently, I wasn't surprised at the big turnout at the national celebration he held at his residence in Akasaka. I'm always impressed with the Buddhist temple at the entrance to the residence and the elaborate model of Angkor Wat in the entrance hall. They really bring back memories of my last visit (in 2007) to the lovely and fascinating Cambodia. The opening program started with a welcome speech by the ambassador and congratulatory speeches by sev-eral high-ranking Japanese government officials. These were followed by a traditional Cambodian dance. After this, guests moved to the dining area where they enjoyed the buffet of Cambodian foods, the interesting people there, and Cambodian contemporary music by two musicians and a singer. It was nice talking with friends there and I was happy to meet my new neighbor, Vietnamese Ambassador, Nguyen Phu Binh. We wish him and his family a long, happy, and successful stay here in Japan. Our congratu-lations to ow Cambodian friends. You really should visit their fascinating country while you are in this part of the workl. What an adventure.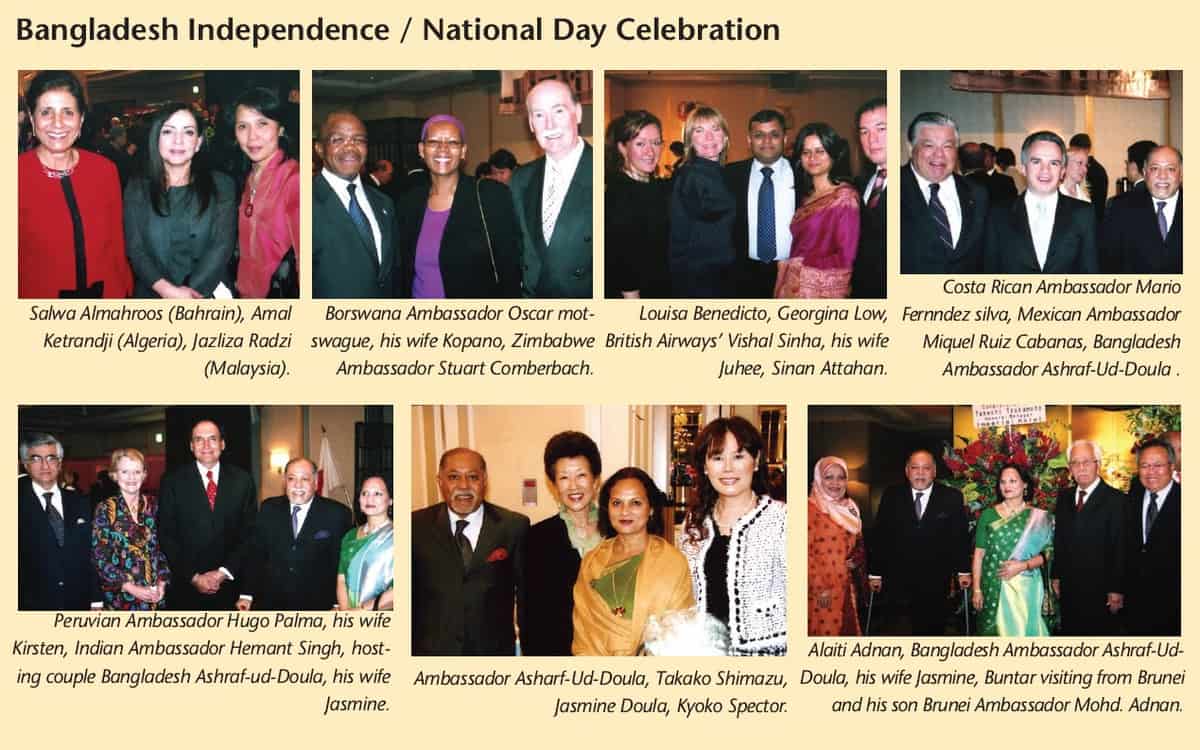 Bangladesh Ambassador Ashraf-UI-Doula and his wife Jasmine have really worked hard to promote their country as well as to further friendship and understanding between Bangladesh and Japan. Their 37th anniversary of independence and national day celebrations at the Sheraton Miyako was a colorful, lively, and well-attended reception, perfect for the occasion. The Bangladesh buffet was excellent. Checking out pamphlets I was given at the reception, I discovered Bangladesh really has a lot of worthwhile attractions that I, and I'm sure many of you, didn't know about. In addition to those attractions; the Bangladeshi people I've met have always been friendly and helpful. I hope to visit there one of these days soon and it's another exotic destination to add to your travel list.
PLACES
No matter where you go In Tokyo, and that includes IN many of the major residential areas, you see (and hear) all kinds of construction going on, In my neighborhood, (Moto-Yoyogi), right beside my apartment there's a huge new apartment building going up, and just up the street by the Vietnamese Embassy, they've started digging on another project. Nearby in Tomigaya they're near completion of a big building of condominiums. It's right on the edge of the narrow business street. The units are small, and the prices high, but I heard they're all solo. A couple of months back I wrote about some of the changes in Roppongi. Things are changing so fast there I would like to update happenings in what was once called "I ligh Touch Town".
Walking from the Russian Embassy to Roppongi Crossing there's a new building going up. The Mammas supermarket, what I thought was popular, nearby has closed. I guess it wasn't so popular. A friend told me they've closed about 40 of their over 100 stores because they just weren't making it. I still miss my old gas stand that was at Igurakatamachi. They closed it down well over a year ago, flattened it out, and it's been a vacant lot since then. There are no changes at the contemporary Axis building but there's another building under construction right next to it. That building across the street with all the big letter 'B's on the outside, now houses the small offices of A-Project. It was once the show club Biburin that cost big bucks to set up. Even with an overpaid foreign Gist and outrageously costly costumes, it lasted a very short time. This was one of the over 30, mostly Roppongi clubs, that A-Project lost. That's a story—or a book—In itself.
*First published at the Tokyo Weekender
*Images Copyright: Tsukasa Shiga