Bill's Partyline October 2012
PEOPLE
I'd like to say so long to one of our fellow passengers, Hilton Hotels' Oded Lifschitz. After six years in Japan as area VP for the Hilton, he and his wife Genia (she's Australian) are relocating to London, where he'll have the title Hilton VP Metro. I certainly thank them for their support and wish them all the best.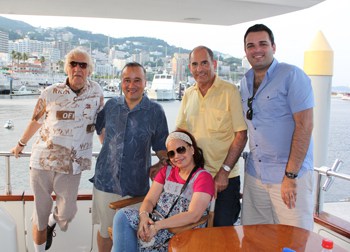 PARTIES
The Roos's Tomodachi party and US Independence Day
It was truly an awesome red white and blue fantasy when US ambassador John Roos and his super wife Susan hosted a huge celebration at their home on the occasion of the 236th anniversary of American independence. Once again the popular diplomatic couple proved they know how to make any event they host a real happening. The host couple, US ambassador John V Roos and his wife Susan, with Sony pictures executive Dick Sano. A large white tent and stage had been set up in the centre of the garden and the entire area was surrounded by booths of all sizes and shapes, serving America's most popular fast foods. In addition to all that there was a very busy sushi bar, a US watermelon stand, a wine, cheese and crackers section and a salad bar with vegetables from the embassy's kitchen garden. One of many highlights was the room where four of our city's top chefs competed in a chili cook-off.One of the Roos's favourite organizations, Tomodachi, which is involved in so many worthwhile projects, was very prominent that evening. Needless to say, the reception made me, even though I live here and love Japan, very proud to be an American.
Atami cruise on the Primavera: The epitome of luxury
I'm not all that much into karaoke, although my dear brother Chris (god bless his soul) was a professional singer who really did well in Vegas, the Bahamas and in Japan. I did however put my heart and soul into it when I belted out my version of "Puttin' on the Ritz" recently. I did this on a very hi-tech karaoke setup on my friend, Ceremony President Tsukasa Shiga's four-bedroom Italian yacht, Primavera, during a recent cruise from Yokohama to Atami. Thanks to Tsukasa, his staff and crew, I was able to join a small but great group of friends for almost a full day on the water. The scenic trip to Atami, with an hour break anchored near an island so that we could jet-ski, took about four hours. Once we docked, we had some free time before a huge fireworks display, so got off the boat and walked around the city. There was a small matsuri going on so we sampled the food, listened to a few of the participants in a talent contest and checked out some of the street stalls. The fireworks display was much longer and much more beautiful then I had expected. In fact it was really pretty fantastic.
PLACES
Opening of National Azabu Supermarket
Thanks to another friend, business tycoon Banjiro Uemura, his son Tetsu, and the National Azabu staff, I had the opportunity of working with the new National Azabu supermarket in Hiroo. The overall project involved the tearing down of the 50 year old building before readying and opening a brand new, modern, light, bright, very international and very well stocked market. One of the many special events for the opening was the packed barbecue on August 26. The many friends there included the Komatsu store family, journalist Emily, Tokyo American Club's Lance Lee, Coca Cola Japan President Dan Syre and family, top caterer Giorgio Matera and just too many more friends and VIPs to mention. The store management spared no expense on giving their many guests a wonderful variety of Japanese and western food and drink. I especially enjoyed the wonderful New Zealand chicken, as well as of course a variety of Baskin Robbins ice cream. I don't drink but the people I talked to who know a lot about wines kept praising the selection, too.
*First published at the Tokyo Weekender
*Images Copyright: Tsukasa Shiga