Bill's Partyline December 2011
PEOPLE
I'd like to say a big thank you to my friend Tom Yoda, chairman of Tokyo International Film Festival, his hardworking staff and the many sponsors of the 24th annual movie fest'. I have some really great memories of previous TIFF's as I worked writing and editing the festival's daily newspaper for the first ten years of the festival. Unfortunately, my schedule was super busy this year and I couldn't make it to as many of the movie screenings as I would have liked but I did get to see Brad Pitt's Moneyball (pictured above), it's a superb movie I highly recommend it.
PARTIES
South African reception for visiting minister and UIA congress
Gert J. Grobler, the always busy South African ambassador hosted a fun reception at Meiji Kinkanken, the occasion was the visit of his deputy minister of public works, Ms. Hendrietta Bagoplant-Zulu and an interesting mixture of international architects, in Japan for the International Union of Architects (UIA). It was a laid back evening of meeting people, making new friends with excellent South African food, music and dance. The next UIA World congress will be held in Durban, South Africa in 2014.
Brazil National Day Reception
There was also a huge turnout at the Brazilian ambassador's residence in celebration of the country's national day. This was the first time I met the hosting couple, Marcos and his wife Ana Maria Galvao and son Pedro. It was also nice to meet Brazilian Sumo wrestler Kasei and racing driver João Paulo de Oliveira, he recently drove a car for my friend Tsukasa Shiga's, Ceremony Corporation in the Indy race at the Motegi Twin Ring track. Brazil, as you may know is a marvelous, colorful, diverse and very much happening country. I love watching the Brazilian television series "9mm" on Fox TV at the moment and even though I don't understand Portuguese I can't get enough. Still on Brazil, I met a lot of interesting Brazilians a few months back when I let a TV crew from Rio de Janeiro broadcast from the New Lex, in Roppongi. The star of the show was gorgeous Brazilian actress Barbara Paz, a super nice lady and great fun to hang out with.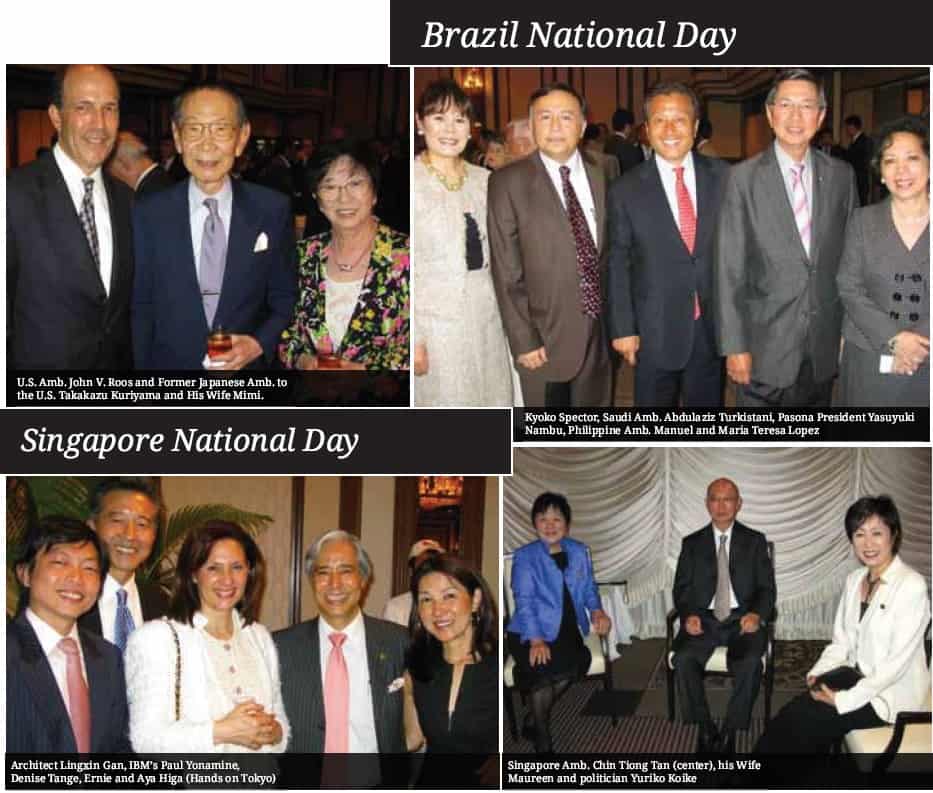 Singapore National Day Reception
Singapore ambassador Chin Tiong Tan and his wife Maureen's celebration of their country's national day at the Imperial Hotel was first class all the way. The Tan's are a popular couple and as expected, it was wall to wall people. I was happy to see the hotel loosened their rules a bit. In addition to the bountiful buffet the hotel chefs had prepared, they allowed the embassy to bring in specialties from a couple of the best Singaporean restaurants in town. The satays and Hainanese Chicken were excellent.
PLACES
There seemed to be a never ending stream of fashion happenings over the past month. The most impressive of course was Vogue Fashion's Night out (FNO), attended this year by the global editor's of the fashion Bible, including the Devil Wears Prada herself, Anna Wintour. All the most famous designer stores along Omotesando, Aoyama Dori and in Omotesando Hills were packed with trendy shoppers, models, celebrities (and of course the usual turnout of freeloaders who were busy shop-hopping for the free champagne and finger food).
There was an almost riot-like atmosphere at the opening of the new Michael Kors boutique on Omotesando and it was impossible to get near the special guest Jennifer Hudson but I did get close enough to see that she's really knocked off the kilos since I met her backstage at Dreamgirls in Broadway a few years ago. She's looking, and sounding great. Highlights of this year's FNO for me included having a photo taken in a beautiful rikshaw and watching the shamisen and dance performances by three genuine Kyoto Maiko at the Niwaka jewelry store in Aoyama. The event titled "Kyoto pop-up party" was really well done and packed with people.
*First published at the Tokyo Weekender
*Images Copyright: Tsukasa Shiga