Advice for a positive life by Arrour Utako
Many people know of Utako Arrour, the wife of the Moroccan ambassador to Japan, H.E. Mr. Samir Arrour. Although Utako is a Japanese citizen born in Japan, she has always worked to make positive contributions to her husband's country. Looking back on those days, Arrour Utako said, "I was so busy that I was dizzy."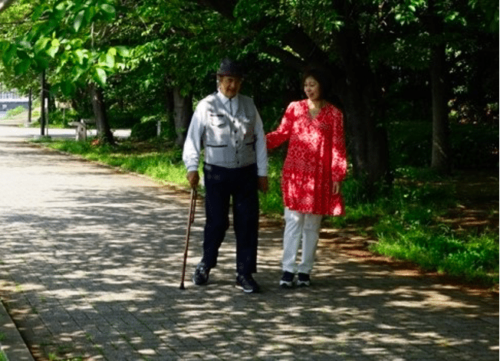 Shortly before completing his term as Morocco's ambassador to Japan and heading to Beijing as the ambassador to China, her husband became paralyzed from a sudden cerebral hemorrhage, forcing him to retire midway through his mission. Utako and Samir now live in Chuo Ward, Tokyo. During her new life in Tokyo, Utako says she has many things that she wants to pass on to the next generation as a "person who has seen the world." She is always positive. We asked her to tell us about her life so far and her vision for the future.
Question: You were born and raised in Japan. Did you have any work experience?
On leaving Toyo University, I got a job at a small chain gift shop. The company I joined had a centralized purchasing system, so the head office was able to buy products in bulk without going through wholesalers and selling them at a low price. The head of the company was said to be an innovator in the industry, and I was able to thoroughly learn about marketing, sales, and buying.
After that, I quickly heard from the United States that Toys "R" Us was expanding into Japan, and I wanted to work for them. I sent my resume to McDonald's, which had invested in Toys "R" Us in Japan. I thought that the actual work force would be recruited from retailers such as the toy industry, and I thought that my experience in centralized purchasing and retailing would be useful for Toys "R" Us in Japan.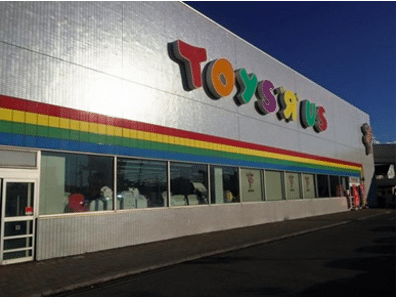 Many of the founding members of the Japanese subsidiary of Toys "R" Us were elites from foreign companies. I thought it was difficult for the staff, who came from the toy industry and who had difficulty with English. I, on the other hand, came from the gift industry, which handles a wide range of products, so my knowledge of purchasing and sales would have been helpful. I have happy memories of Mr. Den Fujita, who was said to be a charismatic businessman. He often said, "I'm glad I hired you."
Q: Did you get married while working at Toys "R" Us?
In 1991, I married Moroccan diplomat Samir Arrour. I was born in 1964, so I was 26 years old. At that time, I was working hard at Toys "R" Us. My promise when I joined the company was to work for at least five years and develop staff. The marriage was therefore kept secret from the company; however, after four years of marriage, the Moroccan ambassador became the vice-minister and returned home to Morocco, so my husband, Arrour, became the temporary ambassador in Japan. That was a turning point for me. My husband had many official duties, such as The Emperor's Birthday and Garden parties by the Imperial Household, and I had to go with him, so I had to take a lot of time off from work. I decided to leave Toys "R" Us and take up a mission as a diplomat's wife.
Question: As the wife of the Moroccan ambassador, you introduced many interesting things to Japan. Did your experience at Toys "R" Us help you?
Yes, it did. I think I've been doing a lot of innovative things since my gift shop days. I have also worked on a number of original products without being bound by a given framework.
As an example, I thought there was a problem with the packaging of parasol chocolates from Japanese small candy stores. I recreated a series of products by connecting five and six parasol chocolates, (See: https://www.ohnuts.com/buy.cfm/bulk-chocolate/candy-delights/milk-parasols-20ct-box) and devised ways to sell them at supermarkets. I realized that by making a chocolate snack pack into a bigger package and pricing it at JPY1000, I could sell the same product at places other than the grocery store, and I think that led to a new way of selling them.
---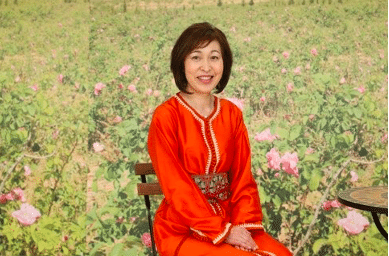 With that experience, I was able to introduce Moroccan traditional tagine pots, rose water, wine, babouche, and salted lemons to Japan in a stylish way, and I think I was able to create a boom. I'm the type to get motivated when there is a difficult mission!
Q: After the promised five years, did you retire to support your husband?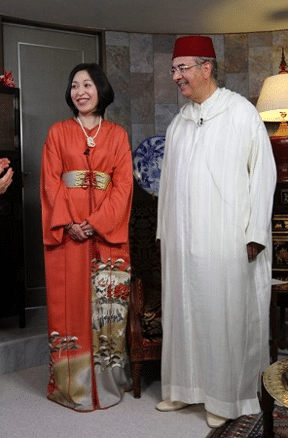 Yes, I made that decision. I also attended public events that my husband attended as temporary ambassador. It was a very busy day, but I didn't give up on my career. I also helped a Japanese toy maker expand into the world. Since we did not know when the term of the temporary ambassadorship would end, we had to be prepared to leave Japan at any time. Therefore, it was difficult to get a job, work at a company, and go to school.
Question: Your husband suddenly returned to Morocco. How long has he been in Morocco?
I gave birth in Japan and wanted to raise my children in Morocco. However, just 10 months later, my husband became the ambassador to Thailand, and we were suddenly transferred to Bangkok. Immediately after returning to Morocco, His Majesty the King passed away, and my husband was very busy preparing for the state funeral. With the accession of the new king, my husband could hardly go back to his home.
Question: Did you feel confused about living in Morocco for the first time?
It was my first experience living in Morocco. I come from a typical family in Tokyo, so I didn't really understand how to treat servants. My husband told me, "You only need to know the servant's name, as your emotions will be involved." Even if the servants did not steal money and goods, they often ran out of daily necessities such as toothpaste and wheat. My relatives told me to be careful while I was away. It was a culture shock for me to always treat my servants with suspicion.
I learned that there are people in Morocco who cannot afford medicine. I also learned that their knowledge of wild herbs and herbal medicines is amazing.. As I mentioned earlier, it was an unimaginable life for me — a person who grew up in a normal Japanese family.
Question: After you transferred to Thailand, how have you been?
Even after my husband and I transferred to Thailand, I continued to work hard on my mission. My husband served as ambassador to Thailand, Laos, and Vietnam too. Both Thailand and Morocco have royal families, so I thought that the relationship and protocol would be very difficult. What helped me a lot in Thailand is that I am Japanese. Since Japan and Thailand are both Asian countries, I was asked, "Who is the ambassador with a Japanese wife?" Sometimes I wondered if I was more popular than my husband! It is a very nice memory.
---
Question: Did you have any trouble raising your small child when you were transferred?
My daughter moved to Thailand before she was a year old and spent three years in a French kindergarten. Thailand was my first assignment as an ambassador's wife, and Morocco was not well known in Thailand at the time, so we were doing our best. The members of the Thai royal family were very enthusiastic about charity, so I went to as many places as I could, including visiting charitable events.
As the ambassador's wife, I was busy with official duties, even though I could have breakfast with my young daughter. But after breakfast, I often had to leave my daughter to the maids. My mother came from Japan to take care of my daughter, but when I was getting ready to go out, she cried and shouted, "Mommy, don't go." Leaving my little daughter in Bangkok, I often traveled to the provinces with my husband, but felt the utmost reluctance — my daughter's loneliness hurt my heart, and I still feel that I did something harmful to her.
Later, when my daughter completed kindergarten, we returned to Morocco and my husband became head of the protocol department. However, 10 months later, there was a sudden announcement that my husband was appointed as ambassador to Portugal.
Question: What did you try to do in the new country?
The official residence of the Moroccan Ambassador to Portugal is a large building with a long history, and the interior is decorated with historical furnishings and paintings. I had to pay extra attention to etiquette, such as properly handling tableware.
Question: Did you notice your daughter's developmental disability at that time?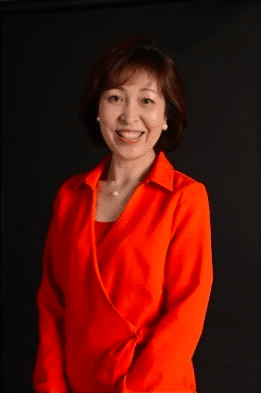 At that time, my daughter was in kindergarten, and after that she entered a French elementary school. When she entered first grade, I was told by her teacher that my daughter might have dyslexia, and a doctor then officially diagnosed that. I came to understand why I had mixed feelings about my daughter, such as her lack of sense of rhythm and her inability to recognize handwriting.
As a mother, I knew I had to learn about dyslexia, so I researched very hard, and I tried to figure out how she could be helped. With advice from her school, my daughter spent some sessions with a psychotherapist and a speech therapist. Since she was at a French school in Portugal, she was exempted from taking a Portuguese class. She was assisted by a speech therapist during that time instead of taking Portuguese class.
I heard that the Davis treatment method, which was launched by the Institute for Dyslexia in the United States, would be good for her, so I found a Davis method teacher in France, whom I invited to our home. The teacher stayed with us for about two months for language therapy. When I heard that there was a Japanese researcher at Cambridge University, I invited the researcher to stay with us.
The teacher told me that dyslexia was not only my daughter's problem, but also my own problem. In other words, a mother plays a big role in her child's development.
She speaks Japanese with me, and she must inherit Japanese culture as a Japanese person. We used her French school holidays to frequently visit Japan.
My daughter had to learn the importance of French and Japanese in Morocco, so we were spinning the globe around and discussing all the countries where Japanese and French are spoken. Also, by making letters out of clay and using reading rulers, my daughter has overcome her dyslexia quite a bit. Her elementary school days were really tough.
Question: Then you were transferred to Japan, and what did you do?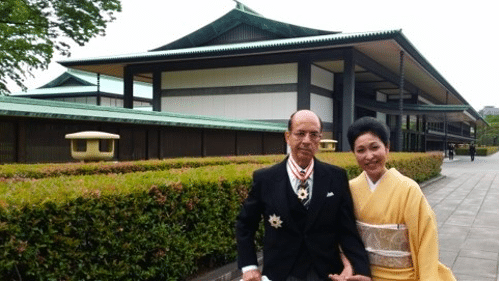 After that, I returned to Japan due to my husband's new position, and my daughter entered a French school in Japan. However, my daughter was viewed differently at this school. One reason is that my daughter is not from a 100% French family.
Her teacher even said, "Your child's chances are zero." I even considered transferring her to a Japanese school. However, my daughter had never lived in Japan and she had never been to a Japanese school. My daughter can speak Japanese, but I was worried about her reading and writing ability. In addition, there was no special support for my daughter in Japanese schools. For that reason, my daughter continued to go to French school. However, the Great East Japan Earthquake occurred at that time, and the school was closed as of the next day. In reality, the French principal and teachers at the French school, as well as the children of French nationality, all returned to France on chartered flights sent by the French government. After that, my daughter started studying at Jiyu Gakuen in April of that year.
At Jiyu Gakuen, my daughter was treated with respect. As an example, she also had a Japanese teacher to improve her ability to read kanji(Japanese characters). After spending her middle and high school years at Jiyu Gakuen, my daughter entered Temple University.
That college was my husband's choice. My husband had the opinion that she should go to an American university in Japan because there is no safer country than Japan. My daughter had a wonderful four years with intellectual freedom as a student at Temple University. She studied at the Faculty of Communication, and also studied art, and she was commended as an excellent student.
I was raised in a competitive environment and hated being compared with others. That's why I didn't want my daughter to receive a standardized education. My daughter's dyslexia also brought me a lot of opportunities. There is one woman I can't forget — she was the mother of another child with developmental disabilities and later founded an organization called "Switch." I also met many activists who support children with developmental disabilities. I was busy with official duties as the Ambassador's wife, but supporting, educating, and understanding children with developmental disabilities was a big part of my life's work.
Thank you, Utako, for sharing your valuable experience with us.