Bill's Partyline June 9th, 2000
Always pleasantly surprised when I see those people out there so happy and willing to help each other. Elaine Stolz answered my call again for shoes for kids in the Philippines and villages bordering the Sahara. She not only collected the shoes, but also loaded the heavy bags and boxes in her car, met me at Starbuck's in Roppongi and helped me transfer them from her car to mine. Gene Pelc had his son Ted do basically the same thing with a couple hundred quality T-shirts which have for the most part been shipped to less fortunate all over the world.
Levi's Japan President Bob Gargani came up with several hundred pairs of men's, women's and kids' Levis that should be arriving for flood victims in Mozambique about now. On the local scene, Nestle's Project Manager Guenter H. Spiess donated some of their great choco­lates for a party for handicapped kids at Kingyo, and I still have enough to send out to orphanages.
Once again, my thanks to Mitsuo and Lilo Maruyama, Chichan Plessner, Ron and Maria Anderson and Grace Saito. The kind and caring people help with the postage and sending clothing, toys and other needed items to the Philippines, south­ern Tunisia and northern Pakistan. As Corky often says, love you all madly.
Hanae Morie 2000 Spring-Summer Haute Couture Collection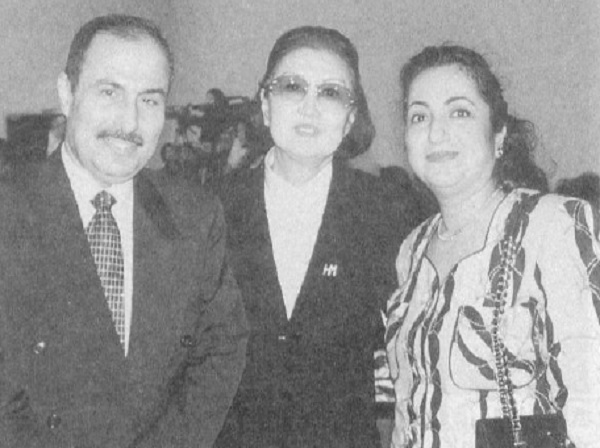 Hanae Mori's showing of the 2000 Spring-Summer Haute Couture Collection attracted as always an SRO crowd. Princess Takamado, looking terrific with a new short hairstyle, was special guest, and it was as ex­pected high fashion at its best for a fashionable crowd.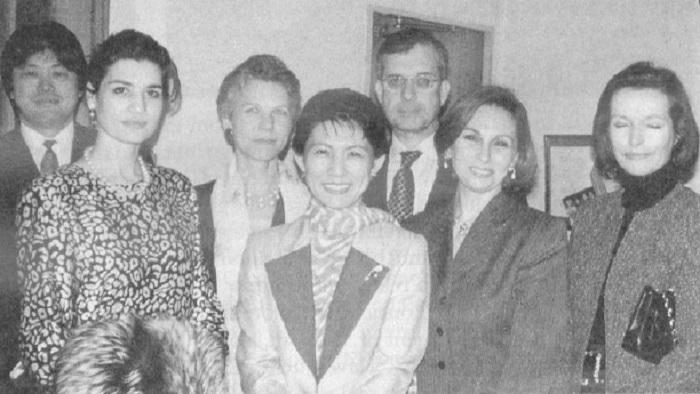 One of the world's best-known designers, Hanae is also a very special lady. After years of international recognition and acclaim, she's one of the nicest and most humble people I know. She has redone most of the shops in the Hanae Mori Building on Omote-sando and added several new ones. Drop by and check it out.
Irish Mid-Day Reception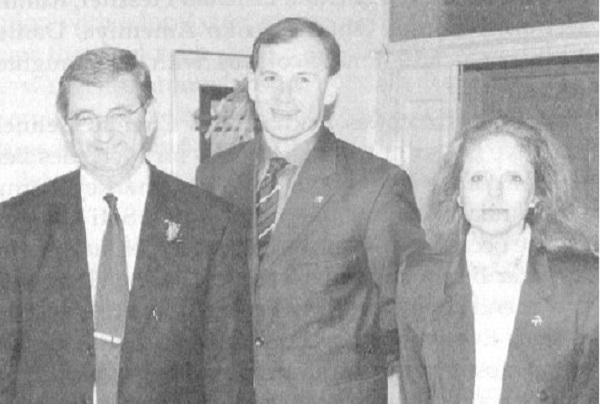 There was a big turnout for Irish Ambassador Declan O'Donovan's mid-day reception to celebrate St. Patrick's Day. The color code was, of course, green and most of the ladies wore chic green fashion, while the men wore green ties, pocket handkerchiefs or a shamrock on their lapels. There was an Irish air at the affair, and everyone enjoyed the hospitality, conge­niality, Irish music and food.
Declan never slowed down that day with a party for the Irish community in the evening. It would really be nice, I might add, if everyone had a personal assis­tant as efficient as Declan's Kathy Wilson.
Ron and Maria Anderson Evening Party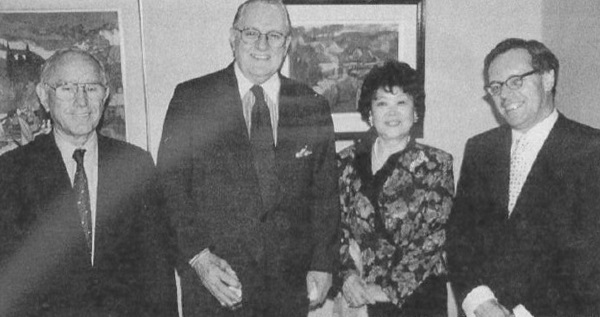 There was a full house and garden as well at the beautiful Roppongi residence of Ron and Maria Anderson. Ron, as many of you know, is that big personable man who is chairman and CEO of AIG Group Companies, Japan and Korea. Maria, his lovely wife, is Lebanese and has made a multitude of friends through her tireless involvement in all kinds of worth­while organizations and charity projects.
It was a laid-back evening with Ron and Maria's many friends. These included former U.S. Minister ­Counsellor to Japan William Clark and his wife Judith. They now live in New York City where Bill is the President of the Japan Society. Bill was once the U.S. ambassador to India.
The evening also gave me the opportu­nity to say adios and vaya con dios to popu­lar diplomat and good friend, Ecuadorean Ambassador Juan Salazar Sancisi. I was traveling when Juan hosted a big sayonara a week or so later.
Gabon Reception at New Otani

My thanks to Gabonese Ambassador Vincent Boule and his wife Manna for the opportunity to meet Gabon's Minister of Foreign Af­fairs Jean Ping and his wife Jeanine at a power-packed reception the Soules hosted at the New Otani.
People there included Japanese government offi­cials, business leaders and diplomatic couples. Minis­ter Ping gave a short and meaningful speech on Japan­-Gabon friendly and business relations and his country's hope for a long and even closer relationship between the two countries.
Later, when I was talking with Minister Ping, men­tioned how fortunate Gabon was to have the Boules as its chief representative, he thanked me and said, "We know. That's why we're keeping them here." With so many good diplomatic friends leaving, that was really good news.
Going to Berlin for Norio Ohga's Concert
If all goes as planned, and I sure hope it does, I'll be hopping on Lufthansa's flight to Berlin (via Frankfurt) this Sunday, June 11. My primary purpose in going to Berlin was for the grand opening of Sony Center am Potsdamer Platz on June 14. That same evening Sony Chairman Norio Ohga will conduct the Berlin Philharmonic.
I spent five days in Berlin a year ago in January and, though it was cold and snowing, I fell in love with the booming, bustling and dynamic city and its friendly and helpful people. I am really looking for­ward to exploring the parks, seeing the museums, checking out the cabarets and laying back at a few of the many sidewalk cafes in what people have told me is one of the nicest months in Germany. From what I hear, the big Sony event will give me the opportunity to celebrate with Tokyo friends and also see a lot of friends I haven't seen for a long time.
Tokyoites going include Chichan Plessner, Kumiko Hattori, Katsumi Ohta, Fumiko Amemiya, Daniele Yoshikoshi and Jane Scolinos with her daughters Kay and Pat. Former Tokyoites Eckhart and Chantal Behncke who live in Berlin where he works for Mercedes Benz will of course be there, and James Sharkey, former Irish ambassador to Japan, and his wife Sati will fly in for the occasion. Jim's now posted to Denmark.
*First published at the Tokyo Weekender