Bill's Partyline November 19th, 2004
PEOPLE
Warner Bros. held a dynamic red carpet premiere at NHK Hall for the highly acclaimed Chinese film "House of Flying Daggers" ("lovers" in Japan). Special guests included the film's top-rated director Zhang Yimou ("Raise the Red Lantern," "Hero"), Hong Kong and Japan heartthrob actor Andy Lau, Taiwanese-Japanese heart-throb Takeshi Kaneshiro and the gorgeous Beijing-born actress Zhang Ziyi. It was my first time to meet Andy, and he was as nice and as fun as I hoped he would be when a screaming group of his fans at the premiere gave him a Chinese dynasty dressed teddy bear, he held his finger to his lips and said, "shhh." This shut them up long enough for him to say, "domo arigato" before entering the theater.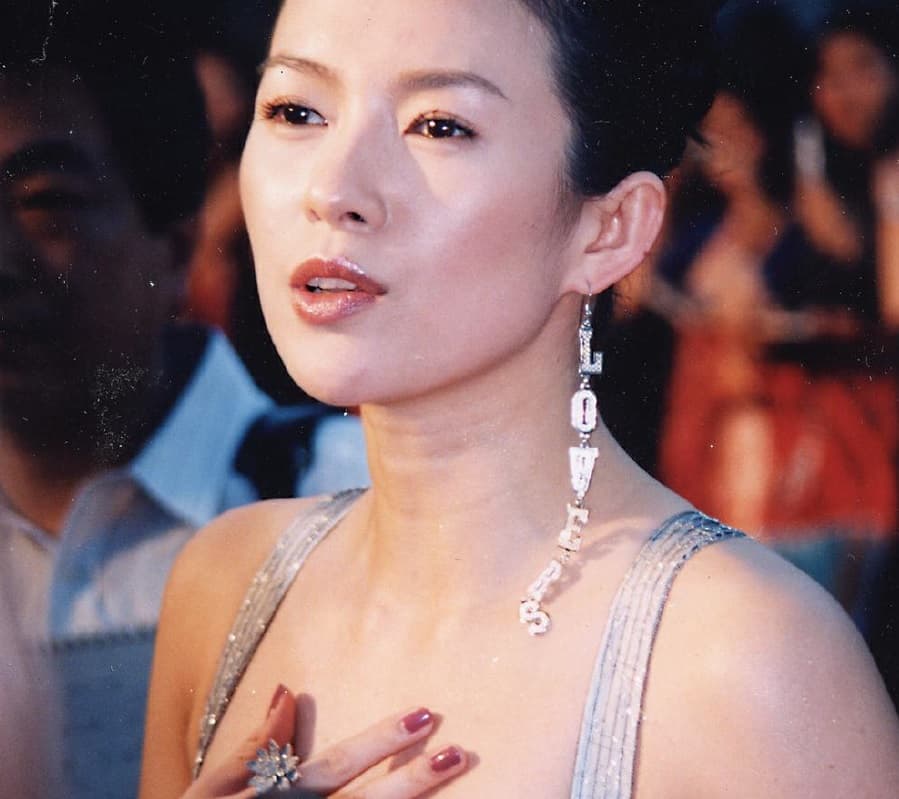 I had met Zhang when she was here to promote "Hem," and was amazed at how much her English had improved since then. "I study a lot by listening to English on my CD player," she told me. Kaneshiro, whose fans know him as Aniki, graduated from the Taipei American school and speaks four languages. In addition to Asian films, he's done several TV commercials. The good-looking, talented actor, 30, is a bit shy around crowds. One lady who knows him said Aniki hasn't grown up yet.
Got to know the director and cast quite well during their visit here and really enjoyed time talking with all of them. Zhang lows living in LA. She's also really into fashion. For a Warner Bros. dinner at the Grand Hyatt's Juniper restaurant she wore a chic black cocktail dress, for the premiere she was head-to-toe Dior, and at a W.B. dinner at the Hama Steakhouse in Roppongi she wore a trendy top with jeans.
When I commented on her long earrings that spelled "Lovers' she told me she had just made them. Her other jewelry at the premiere was from Van Cleef & Arpels. From Tokyo, Andy went back to do a Cantonese pop concert before going on to Taipei to shoot a Taiwanese film there. Zhang, as you probably know, has been cast in the lead role of Sayuri in Rob Marshall's "Memoirs of a Geisha." Hollywood friends tell me she's really destined to be an international superstar.
PARTIES
Our Austrian friends have been even more busy than usual. On Oct. 12 Austrian Ambassador Peter Moser and his wife Elisabeth hosted a reception at their home to meet Dr. Andreas Maillath-Pokorny, Executive City Councilor for Cultural Affairs for Vienna, who gave a presentation on the "Mozart Year."
The Mosers held another reception Oct. 6. This was co-hosted by Dietmar Spranz and Hideya Okamoto. The occasion was the 15th anniversary of the philharmonic gold coin. My upstairs neighbor, Volker Jaindl, who heads both the Austrian National Tourist and City of Vienna offices here never slows down. In the past few months, in addition to several overseas trips, he's had many delegations here to promote the beautiful city of Vienna and the wonderful country of Austria. Austrian Airlines General Manager for Japan and Korea Georg Illichmann has had a lot of VIPs here to see the airlines' chic new offices in the Yurakucho Denki Building.
It was, of course, a red, white and blue celebration when U.S. Ambassador Howard H. Baker Jr. and his wife Nancy Kassebaum Baker hosted an American-all-the-way reception on the occasion of the 228th anniversary of American independence. Highlights of the event included congratulating the Bakers (who were flanked by two marines), a bountiful buffet in the dining room, hotdogs and hamburgers on the patio, live music in the garden, and a marvelous mix of interesting people. I especially enjoyed talking with Jan Vulevich's father Eddie, who was visiting here from Alabama. He is justifiably proud of his daughter's many achievements.

Congratulations to all concerned. It was a special day as well when newly arrived Russian Ambassador Alexander P. Losyukov hosted a well-attended reception on the occasion of the national day of the Russian federation. Guests included top Japanese government officials, diplomats, business leaders and members of the Russian community here. The two Russian brothers, Soslan, 24, and Batraz, 22, who made sumo history when they became the first foreign brothers to have the title of sekitori, were the center of attention at the reception. Both are very nice guys.
PLACES
The 10th anniversary Press Appreciation Party at the Park Hyatt Tokyo was, as is everything at one of the worlds' best hotels, first class all the way. Hyatt Hotel's Japan President Bernd Chorengel was in from London for the special event. Also present was Grand Hyatt Tokyo General Manager Xavier Destribats and, of course, Hyatt Hotel Japan President Chikami Koga. I appreciated outgoing Park Hyatt General Manager Malcolm Thompson, who's been a real friend to me (and the Weekender), introducing me to his successor, Robert Barker. Malcolm is now general manager of Park Hyatt Los Angeles. Robert came here after three and a half years as general manager for the luxurious Grand Hyatt Hong Kong. It was a relaxing evening with interesting people, excellent wine and gourmet food.
Our congratulations to the hotel's food and beverage manager, Toshi Koyabu, and his staff. Kudos to Princess Takamado, honorary president of Birdlife International, and TAJ Enterprises on the gala charity dinner and event at the Hilton Tokyo. It was titled "Wings of Love and all proceeds were donated to Birdlife International. It was an elegant black-tie affair that was well attended by diplomats, business leaders, society figures and familiar faces from the art, fashion and entertainment worlds. The program started with very meaningful speeches by Princess Takamado and Noritaka Ichida, Birdlife Asia division director.
*First published at the Tokyo Weekender