Bill's Partyline April 21st, 2000
PEOPLE
Congratulations to Barry Spence and his wife Judith Curtis on the birth of their daughter Sophia Margaret Aiko Spence, at 7:21 p.rn. on Mar. 28. Barry, a teacher at Sacred Heart, has not only helped me in some of my charity projects, but also has several projects of his own.
Happy to hear from former Tokyoite Kathy Kriger. I last saw her in Prague about three years ago. Kathy who worked with the American Embassy there took me out to dinner at Prague's most popular Irish pub. Those Irish do get around.
You can bet your boots (or clogs) that Paddy Foley's manager Craig Schneider is going to miss his co-worker and buddy, Canadian Kevin Haveron. Af­ter five years in Japan, Kevin and his wife Anne (she's American) just made the move to one of America's most popular cities, Seattle. Kevin will be missed by all of us who got to know him, and we wish him and Anne all the best in the good ol' USA.
I'm so happy for Annie Arguelles, wife of the Philippines Ambassador. She accompanied the Phil­ippines First Lady, Dr. Luisa P. Ejercito Estrada, to the Vatican recently. The two exceptional ladies had an audience with Pope John Paul II, and that has to be one of the experiences of a lifetime.
PARTIES
Sinisoos' Reception for Estonia's National Day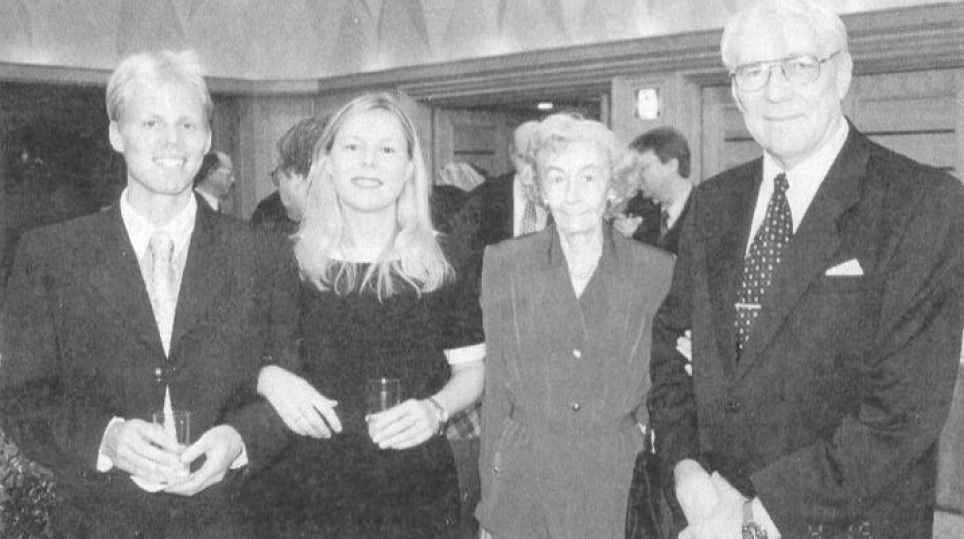 On Feb. 24, Estonian Ambassador Mark Sinisoo and his wife Ingrid hosted a glittering reception at the Imperial Hotel on the occasion of the 82nd Anniver­sary of Independence of the Republic of Estonia. It was a thoroughly enjoyable evening of interest­ing people, lively conversation and good food. It was nice meeting Mark and Ingrid's daughter Maria and her fiance Nikolas Bergenheirn. (He's from Finland.)
Asian Ladies Friendship Society
It was a real privilege being invited to the Asian Ladies Friendship Society's first event of the millen­nium … introductions, a luncheon and entertainment program at the Kajima K1 Building. The ALFS was founded in November of 1968 by Mutsuko Miki, widow of the late Prime Minister Takeo Miki. The goal of the organization is to pro­mote international understanding and friendship be­tween women of Japan and other Asian countries through cultural and fund-raising activities. All proceeds go to worthwhile charities or to provide emergency funds to Asian victims of national disasters. There are 21 member countries with 200 Japanese and 100 non-Japanese members. Princess Hitachi was a spe­cial guest at the luncheon. The program included greetings by ALFS Execu­tive Director Mimi Kuriyama, introductions of the ambassadors' wives, new members, chairperson Benchapa Krairiksh and vice-chairperson Rafia Hussain of this year's Asian Festival.
Lord of the Dance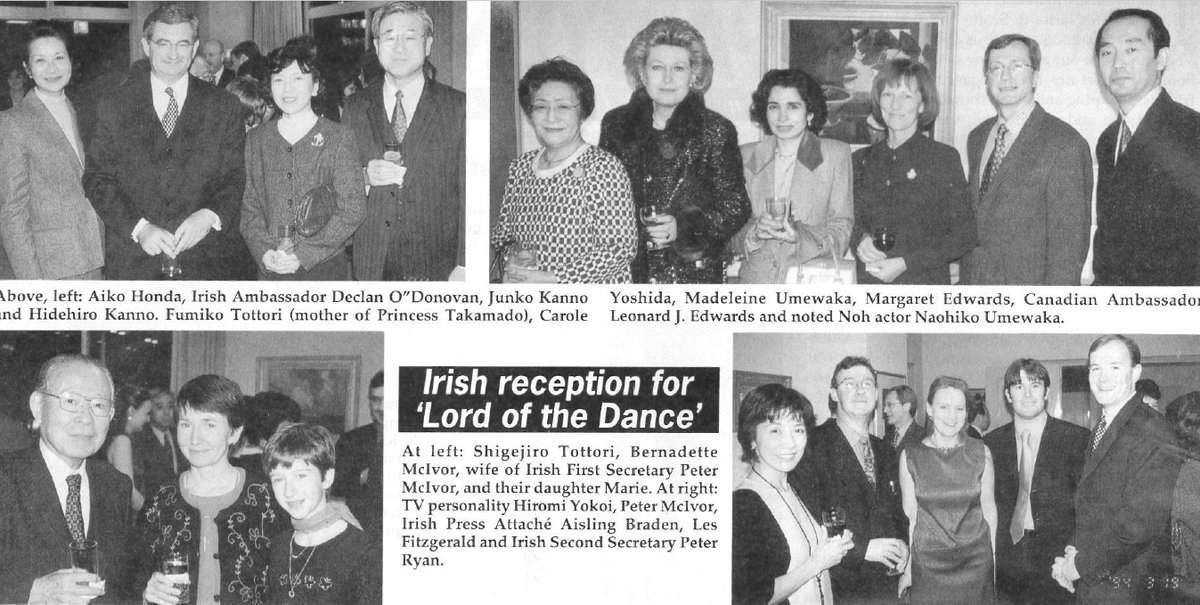 Irish Ambassador Declan O'Donovan hosted a pre-theater ("Lord of the Dance") reception at his home during the sold-out run of the super-successful Irish song-and-dance show. As always, it was a di­verse and interesting group of people at Declan's home. He had to leave a bit early to meet Prince and Prin­cess Takamado who, along with their three daugh­ters, were special guests at that evening's performance.
PLACES
BLUE NOTE EVENT
It was a very special evening in every way over at the Blue Note when U.S. Ambassador Tom Foley, his wife Heather and Goldman Sachs (Japan) Ltd. hosted an Evening of American Jazz. The featured artists were the legendary jazz pianist McCoy Tyner, Avery Sharpe, Aaron Scott and special guest Chico Freeman. After an hour or so of jazz at its best, guests en­joyed an excellent buffet. The Blue Note's relatively new venue has combined hi-tech decor with comfort. Every seat offers a view of the stage with the latest in sound and lighting technology. Don't know why, but co-host Goldman Sachs said no photos and I, of course, went along with their request. I suppose they have their reasons. Kudos to the Foleys and Goldman Sachs (Japan) on a marvelous evening of the very best in American jazz.
Hilton Tokyo has been busier than usual with a series of colorful and exciting inter­national cultural festivals. A few months ago there was a very successful Egyptian Festi­val with an Egyptian buffet and performances by a Cairo-based folkloric group. A few weeks ago, I dropped by the hotel's Marble Lounge for an hour of exciting and mellow music by a top steel drum band from the Caribbean. The next big cultural event at the hotel will be a flamenco show on May 1 and 2 in the Kiku Ballroom. United Air­lines and Lufthansa are cooper­ating with the Hilton to bring in noted flamenco dancer Maria Carrasco and four other dancers from Spain.
*First published at the Tokyo Weekender
*Images Copyright: Tsukasa Shiga