Bill's Partyline April 7th, 2000
PEOPLE
My thanks to 20th Century Fox Japan General Manager Geoffrey Boissiere who made it possible for me to invite Thai Ambassador Sakthip Krairiksh and his wife Benchapa, Thai Air G.M. Bhukkana Wallop and his wife Jaruwan, and Thai First Secre­tary Pornpong Kanittanon to a special screening of "The Beach." The much-anticipated film based on Alex Garland's book of the same name will be released in Japan on Apr. 22.
At the St. Patrick's Day cel­ebration put on by Irish Ambassador Declan O'Donovan, Irish Press Attache Aisling Braden told me she grew up in Thailand and speaks Thai. Wow! She also said Thailand's beloved King H.M. Bhumibol, an avid saxophone player, did a special rendition of "Danny Boy," and this has made the Irish classic quite popular throughout Thailand. Music re­ally does make the world smaller.
Going back a bit, one of my most interesting trips to Egypt was with top models Jun Adams and Linda Yamamoto to shoot fashion on location in Cairo, Luxor and Aswan. Both girls are Japanese-American. Jun is now Jun Tsukamoto who, among other things, owns the popular J-men Club. Linda became a singer and still does shows and TV guest appearances. Anyway, we were coming down the elevator in the Cairo Hilton when it stopped and the great boxer Muhammed Ali got on.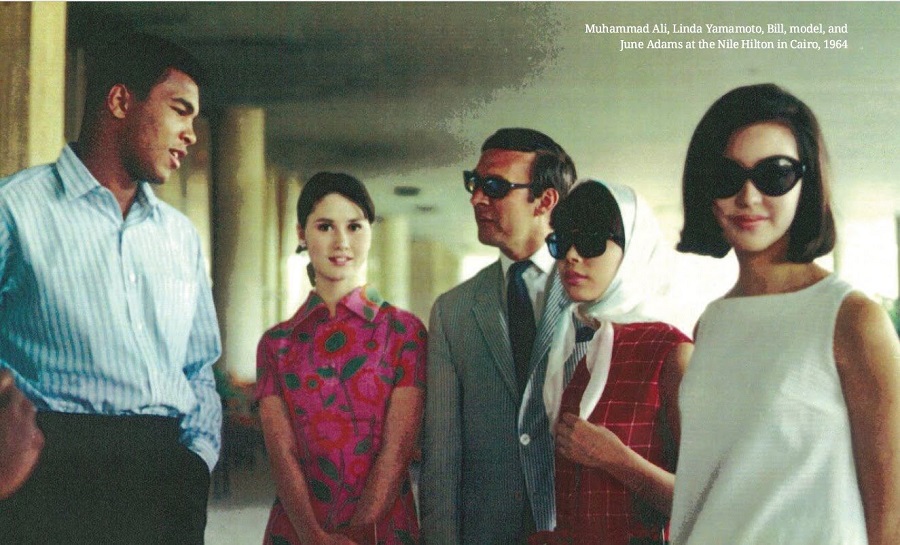 We talked as much as his two hang-on "assistants" would allow, and Ali did not make any effort to hide his infatuation with Jun. Talked to him later when I showed up at one of the shootings and actually got to spend some prime time with the man later. One night I came back from the Khan Khalili Ba­zaar quite late and ran into him walking in the hall barefoot. I said "Hi," we talked a minute, and he invited me to his suite for a drink-juice. We rapped for an hour about anything and everything and, need­less to say, this was one of the most memorable expe­riences of my life of memorable experiences.
PARTIES
The first party I attended in the New Year (the Millennium) is certain to be one of the most memorable of the year for those who had the privilege of being there. Two of our city's (they actually live in Utsunomiya) most illustrious hosts, Mitsuo and Lilo Maruyama, invited friends to lunch aboard the beautiful restaurant ship Vingt Et Un.
It had rained the night before but, almost magi­cally, the clouds moved on and the sun came out for the Maruyamas' special day. Guests enjoyed the To­kyo Bay cruise which took us past Odaiba and gave us a great view of the Tange-designed Fuji-TV headquar­ters building. This was my first time to sail under the Rainbow Bridge, and it really is an impressive sight ­and structure. The Maruyamas' son Helge was there to help guests have a good time.
April, as always, will be busy. The International Ladies Benevolent Society (ILBS) Cherry Blossom Ball happens Friday the 14th and, with Muazaz Kasrawi (Jordan) and Maria Edileuza Guimaraes Reis (Brazil) as co-chairpersons, it is bound to be one the best yet. I just heard the Kasrawis, after almost 10 years in Japan, will be returning to Jordan in June. More-lots more­on the popular couple later.
Egypt's Year in Japan
Thanks to the efforts of former Egyptian Ambassa­dor to Japan Nabil Fahmy and his wife Nermine, cur­rent Egyptian Ambassador to Japan Mahmoud Karem, his wife Yasmina, the Egyptian Tourist Authority and Egyptair, their fascinating country is getting the recog­nition and respect it deserves here in Japan.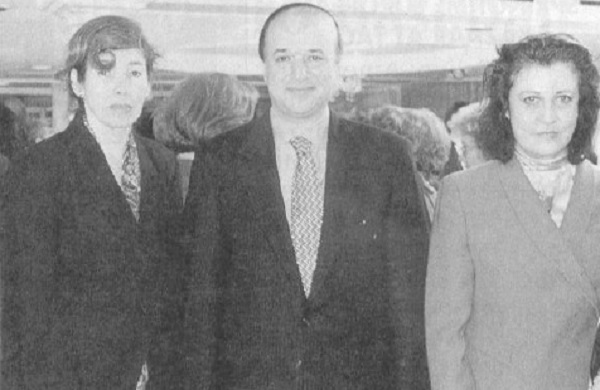 Last April, Egyptian President Hosni Mubarak and Japan's Prime Minister Keizo Obuchi designated the year 2000 as Egypt's Year in Japan. To start the year of Egyptian festivals and events, there was an Egyptian Night Festival at the Nippon Press Center, and the program included speeches by Ambassador Karem and several Japanese dignitaries, the screening of a special film on Egypt and a buffet dinner.
Malaysian Ambassador Dato M.N. Marzuki and his wife Dalin Nora invited friends to their home for Eid. This is an important part of the Hari Raya Puasa which is to celebrate the end of the fasting month of Ramadan. In Malaysia, it means housecleaning, new clothes, prayers for forgiveness, gifts for the poor and needy and visiting the homes of friends and relatives
Guests at the Marzukis' that evening included Japanese officials, diplomats and familiar faces from business and social worlds. I really appreciate Mimi Kuriyama whose husband is a former ambassador to the U.S., introducing me to several of her interesting friends. It was also nice meeting another chic and inter­national lady, Yoko Naito, wife of the Chief of Protocol. The interesting people, special food and warm, laid-back mood all added up to a truly enjoyable evening.
PLACES
It's pretty much an undisputed fact Vienna is the world center for the very best in classical music. That beautiful city also offers a wide variety of contempo­rary entertainment. While there in January, I checked out what was happening and what was scheduled for the next few months.
Events included the local production of "The King and I," Roman Polanski's musical "Vampire," "My Fair Lady," "The Music of Fats Waller" and "Mozart." London productions of "Joseph and the Amazing Technicolor Coat" and "The Rocky Horror Show" have opened by now.
Pop artists scheduled for Vienna concerts included Sting and the Pet Shop Boys. In addition to all that, more than 500 Brazilians were going to Vienna for "a spectacular show," "Gala Brazil."
The cathedrals and street musicians also provide some beautiful and interesting music in Vienna, all for just a few shillings donation. My timing was right, and I dropped by the magnificent St. Stephen's as a special religious music program was in progress.
*First published at the Tokyo Weekender