Bill's Partyline December 7th, 2001
PEOPLE
Congratulations to British actor Christopher Lee, recently decorated by Queen Elizabeth. I worked with Christopher, best known for his portrayals of a vampire, in Yugoslavia several years ago. He was acting in a film, "Kabu­to." Martial arts actor Sho Kosugi was producing and directing there. Christopher is great fun and was in Japan as a member of the jury for the Tokyo Inter­national Film Festival several years back. I enjoyed taking him and his wife, one of Europe's first supermodels, to parties at the U.S. and Austrian Embassies. His latest role is as the 8,000-year-old wizard Saruman the White in the soon-to-be­released "The Lord of the Rings." Christopher, by the way, is 79.
There's good news, but a little bad as well, from our friends at Northwest Airlines. Let's start with the good. Long­time friend Jun Mokudai, with Northwest since 1992, was recently appointed president of the airline's Japanese opera­tions. Our sincerest congratula­tions.
The bad (sad) news is hearing former Tokyoite Doug Killian who had been head of Northwest's corporate communications out of Minneapolis, was, thanks to Osama bin Laden, among the many caught up in all the airline lay­offs around the world. Doug is now working for the Mall of America (the biggest in the world). He knows his business, and I'm sure he's doing as great a job for the Mall as he did for Northwest.
Prior to the Kaestners' departure, the German ambassador bestowed the prestigious Knight Commander's Cross (Badge and Star) of the Order of Merit of the Federal Republic of Germany decoration to Sony Chairman Ohga. A few weeks later, Norio was awarded Japan's highest honor, the Grand Cordon of the Order of the Sacred Treasure, from the Emperor. Norio had some health problems while in Beijing conducting a recent concert. Our prayers are with him, his wife Midori and his many friends all over the world for a speedy and complete recovery.
I appreciate Mexican Ambassador de Icaza introducing me to Xavier Destribats and his wife Tatjana. Cathay Pacific's Michael Whitehead had told me I really should meet this man. Xavier has been Regional Director, Hyatt Properties and General Manager of Hyatt Acapulco, and is now G.M. of the new Grand Hyatt Hotel scheduled to open in that huge Mori complex in Roppongi in the spring of 2003.
PARTIES
It's easy to see why Mexican Ambassador Carlos de Icaza hosted a special reception to introduce his wife (they were recently married in Mexico), Luisa. I've had the good for­tune of getting to know Carlos and Luisa on several special occasions over the last few months. She's chic, charming and very outgoing. Carlos, a very qualified diplomat, is also outgoing and has a great sense of humor. They're a dynamic new couple on Tokyo's diplo­matic and social scenes.
German Ambassador Uwe Kaestner and his wife Dagmar are settling in their new home in Rio de Janeiro about now. After just two years in Japan, he's now his country's Ambassador to Brazil. Prior to their leaving, Uwe and Dagmar hosted a glittering reception at their residence on the occasion of the Day of German Unity. The evening also gave the hosting couple the opportunity to sayonara auf Wiedersehen to their many friends. Special guests included the visiting German State of Hesse Prime Minister Roland Koch, Sony Chairman Norio Ohga and one of Japan's top lawmen, Atsuyuki Sassa. You see him often on TV talking about terrorism.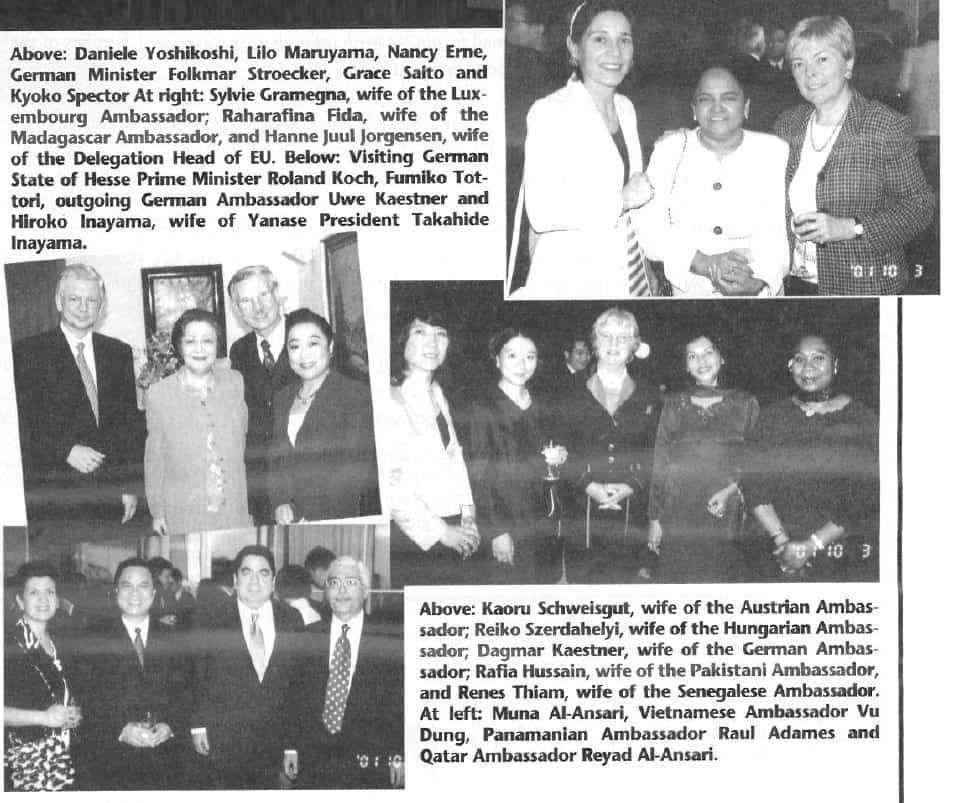 Nov. 13 was a full day of fashion events at the Hanae Mori Building on Omote Sando. At 11 :30 a.m. there was a showing of the designer's 2002 Spring/Summer Pret a Couture collection on the third floor. Then later, Hanae's daughter­in-law Pamela presented the 2002 Spring/Summer Hanae Mori Studio collection in the Hanamazuki Cafe on the first floor. She's just back from five days in Thailand where she visited the annual Silk Festival in Sakhornakorn. This is another of the many projects of Queen Sirikit to help the people of her country. Hanae always buys silk at the festival to use in her col­lections.
I did get to Geoffrey Boissiere's sayonara at the Foreign Press Club. Geoff headed 20th Century Fox's operations in Japan for five years and was making a big move back to the good ol' USA. He'll be working out of Los Angeles, overseeing international marketing and distribution at Sony-based Revolution Studios. Geoffs boss, Fox Senior Vice President for Asia/Pacific Paul Hanneman, flew in from Hong Kong and made a very moving speech about Geoff's time (actually eight years) with 20th. Warner Brothers' Bill Ireton kept the crowd in stitches with his humorous and meaningful speech on how he and Geoff first met-in a shower at the Tokyo American Club gym and their friendship over the years. Geoffs been a good friend to me and to the Weekender. We wish him and his family all the best at his new job with Revolution Studios and his family's new home in Santa Monica.
Our Jewish friends who start the observance of Hanukkah, one of the seven major holidays on the Jewish calendar, at sundown on Dec. 9. Hanukkah lasts eight days and is marked by lighting of candles in a Menorah, an eight­branched candlestick.
Our Islamic friends are well into their most holy month of Ramadan, and Christians are preparing for the many events to celebrate Christmas, the birth of Christ. It's a good time to meditate and pray for the people of the three major religious denominations and other religions to learn to live in peace and harmony.
PLACES
"Unnoticed Japan!? Through Diplomats' Eyes" was the title of the fourth annual photo exhibition held at the Printemps Department Store in Ginza Oct. 4-10. More than 500 pictures by 45 photographers from 25 countries were submitted for the special event. From the entries, the jury, headed by former Prime Minister Ryutaro Hashimoto, selected the 70 photos to be displayed. It was wall-to-wall people at the inauguration ceremony on Oct. 5. Special guests included Prince and Princess Takamado and Senior Vice Minister of Foreign Affairs Shigeo Uetake. Ecuadorean Ambassador Marcelo Avila's photo "Japanese Strong, Gender in the 21st Century" was the First Prize winner and was used on the cover of the program. On the exhibition Website, viewers chose a photo by Turkish Embassy Attache Ahmet Keten as the winner.
There was real movie magic all over the world with Warner Brothers release of"Harry Potter." Here in Tokyo, the premiere at the Tokyo Forum, a special screening at the Piccadilly for orphans and another at the British Embassy had nothing but raves for the well­done and fun film. Don't miss this one, and check out Gorky's review.
In the early 1950s Paul H. Sung opened his first Jaguar showroom in Roppongi. In 1973, he opened the latest of his showrooms on Aoyama-Dori in Akasaka. Paul and his wife Amy were well-known and popular in both the Japanese and ex-pat communities in Tokyo. In 1976, Paul died, and the showroom in Akasaka was closed. Now, 25 years later, Shohachi Katayama who's married to the Sungs' youngest daughter Mary, has re-opened Shintoyo Akasaka Plaza. To celebrate the occasion, Shohachi and Mary were hosts at a reception at the Plaza. People there were an interesting mix of Japanese and ex­pat society, and I was especially happy to see Amy, as nice a lady as you'll ever meet. I also enjoyed talking to Mary about her recent trip to Jordan. That sure brought back some great memories of Petra, Aqaba and Wadi Rum. The Katayamas plan to hold events at the Plaza and hope owners and lovers of Jaguars will drop by and check it out.
*First published at the Tokyo Weekender