Hersey's Partyline January 14th, 2000
Congratulations to Alitalia's Romano Mazzucco, recently decorated by the Italian government. The award was presented by Italian Ambassador Gabriele Menegatti at the embassy residence. Romano, the epitome of good things Italian, was given the decoration for his efforts in building good business relations between Italy and Japan.
Philippines Ambassador Romeo Aquelle's wife Annie was out of town, so he took time out of his busy schedule to drop by and help, as did a half-dozen Guardian Angels.
PARTIES
Viennese Gala Evening
It was certainly a grand night for singing when Austrian Ambassador Martin Vukovich, his wife Ursula and Walter Nettig, President of the Vienna Chamber of Commerce and Industry, and Karl Seitlinger, Director of the Vienna Tourist Board, hosted a glittering event titled "Viennese Gala Evening" at the Imperial Hotel.
Austrian Airlines had flown in members of the Vienna Symphony Orchestra and two of the top opera singers, John Dickie and Marcela Cerno. The marvelous program featured Takarazuka star Maki Ichiro. She played the title role in the Japanese version of "Elisabeth," an Austrian musical based on the life of Empress Elisabeth.
ILBS Christmas Charity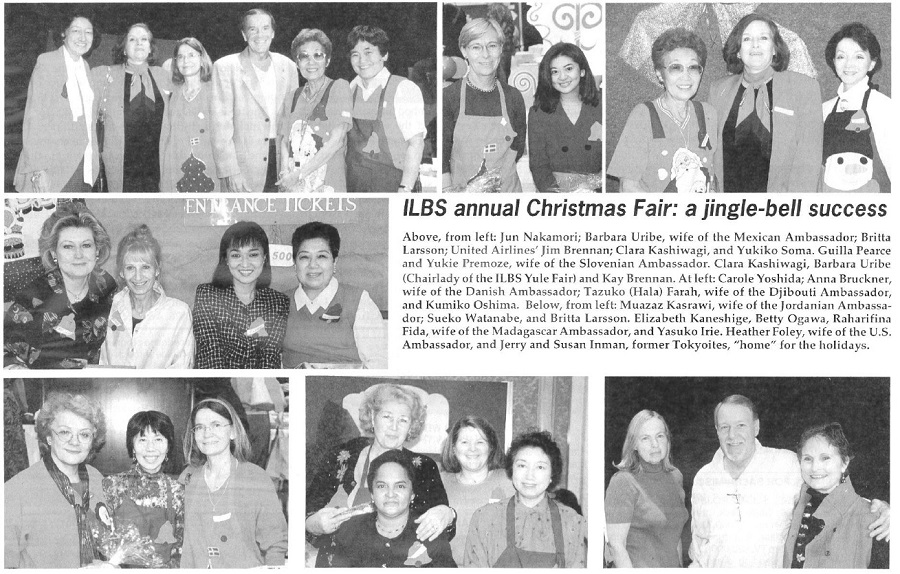 I really enjoyed getting together with and snapping photos of the hard-working bunch of ladies in the International Ladies Benevolent Society (ILBS). It was at their annual Christmas Fair at the Top O the TAC, Tokyo American Club, and they kept busy selling toys, holiday decorations, home-baked good and raffle tickets. The proceeds, as always with ILBS activities, went to several worthwhile and needy organization.
I had coffee with one of the Tokyo's most community-minded business leaders, Jim Brennan, and top prizes in the ILBS raffle were two round-trip tickets to San Fran and two to Hawaii in the Friendly Skies of United. I really like the sports jacket Jim was wearing, and we talked about fashion. He always dresses well, but I had no idea he was so interested in, and knows so much about, the international men's wear scene.
Muazaz Kasrawi, wife of the Jordanian Ambassador, along with several of the ladies, bought gifts at the fair for the orphan's party at the Hilton Tokyo. Muazaz has been super busy with ILBS activites and the visit of Jordan's King and Queen. The Karawi' son Omar lives in the U.S. and flew to Tokyo for the royal visit and to spend some time with his parents. Muazaz will keep on the fast track, as she's co-chairperson of this year's ILBS Cherry Blossom Ball, along with Maria Guimarres Reis, wife of the Brazilian Ambassador. It's a tough job, but no need to worry, Whatever they do, they do well.
The same can be said of Barbar Uribe, wife of the Mexican Ambassador who was chairlady at the Christmas Fair. She, along with her co-chair Clara Kashiwagi and a lot of hard-working ILBS members, made the Christmas Fair a big success.
Belgian King's Day
Once again, Belgian Ambassador Gustaaf Dierchx went all-out to make his celebration of Belgian King's Day something different and special. I got there before the crowd, so I was able to check out the residence art and sample a couple of Godiva chocolates.
There was a variety of photos of Prince Philippe and Mathide d'Udekem d'Acoz who were to be married on Dec. 4. Large monitors had been set up in the residence and on the terrace, with filsm of Belgian theater, opera and dance screened throughout the evening.
Dozens of colorful Japanese plastic masks (the kind you buy at a matsuri) floated in the residence swimming pool. It was artistic and effective, and the more than 900 guests enjoyed the bountiful buffets of superb food set up everywhere. Two chefs were kept busy making Belgian waffles, and talk about delicious!
The big Belgian Festival in Japan in 1999 was a huge success. Bruxelles/Brussels is one of the several cities sharing the coveted title, "European City of Culture," and it will host many special events in 2000. It was indeed a special evening with Ambassador Dierckx and his friends. Our congratulations.
German Unification Day Celebration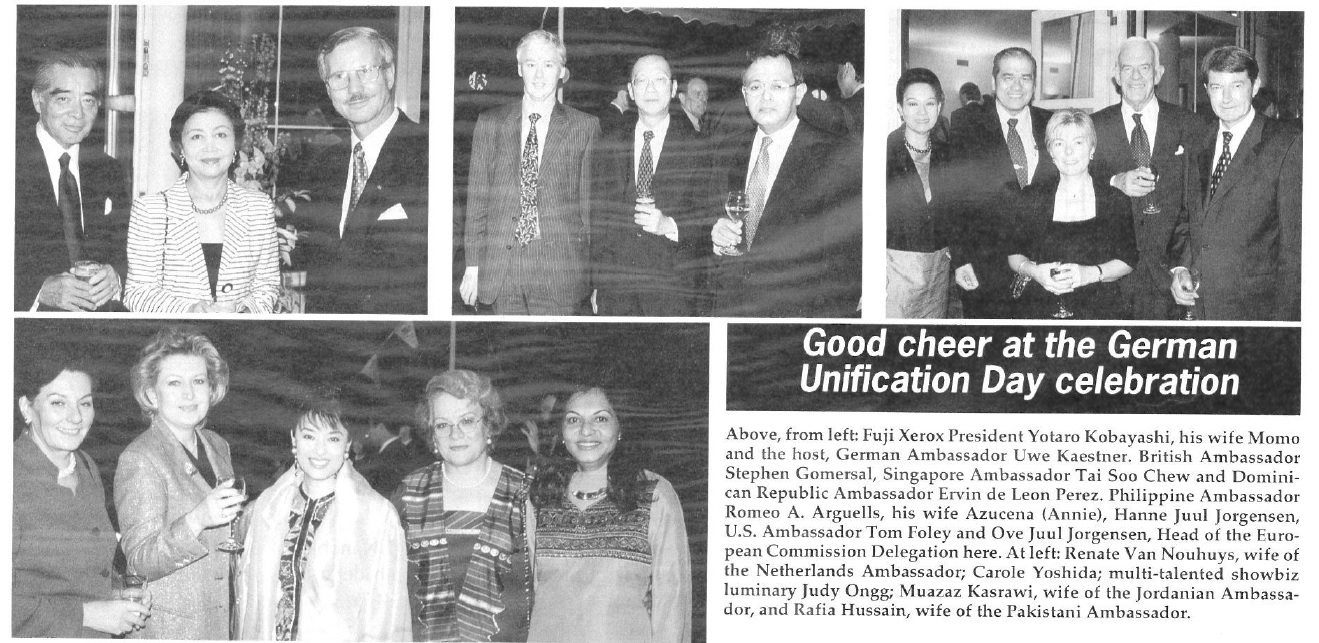 PLACES
Dec. 8 was one of those days, I started early preparing for the International Christmas Tree orphans' party at the Hilton Tokyo. U.S. Ambassador Tome Foley, as you know played Santa Claus, and he was great, as were the more than 30 Santa's helpers that included ambassadors' wives and socialites.
I was able to drop by the Tokyo American Club and, along with their many friends, bade sayonara to Steve and Joanna Bretschneider. I also got over to the Lex where Paul and Nobuko Saito had set up a bonenkai party for 150 people in the travel and tourism business. More on both these events later.
On Dec. 13, Japan Committee for UNICEF President Satoshi Sumit, and Director of the Japan UNICEF office Manzoor Ahme hosted a reception at Alaska Restaurant in the Japanese Press Center Building. The occasion was to commemorate 50 year of Japan-UNICEF cooperation and the launch of the State of the World's Children 2000 report. Our congratulations.
*First published at the Tokyo Weekender