Bill's Partyline January 28th, 2000
I got to know Harumi (Hopey) Yamamoto at the Lex where she would drop by from time to time. The "one of a kind" lady who dresses chick flamboyant would arrive in her beige Rolls Royce and tell her driver she'd call him when she was ready to leave.
Hopey owns a chain of very successful gift shops that cater to those who want the best and can afford it. In addition, she has taken time – a lot of it – out to help others. In June of 1997, she established the LDH Club, an organization whose main goals include helping handicapped and less fortunate children. Hopey's LDH Club recently hosted a glittering evening in the Crystal Palace at the Akasaka Prince Hotel. The crowd, as expected, was an interesting mix of diplomats, socialites and familiar faces from the arts, fashion and entertainment worlds.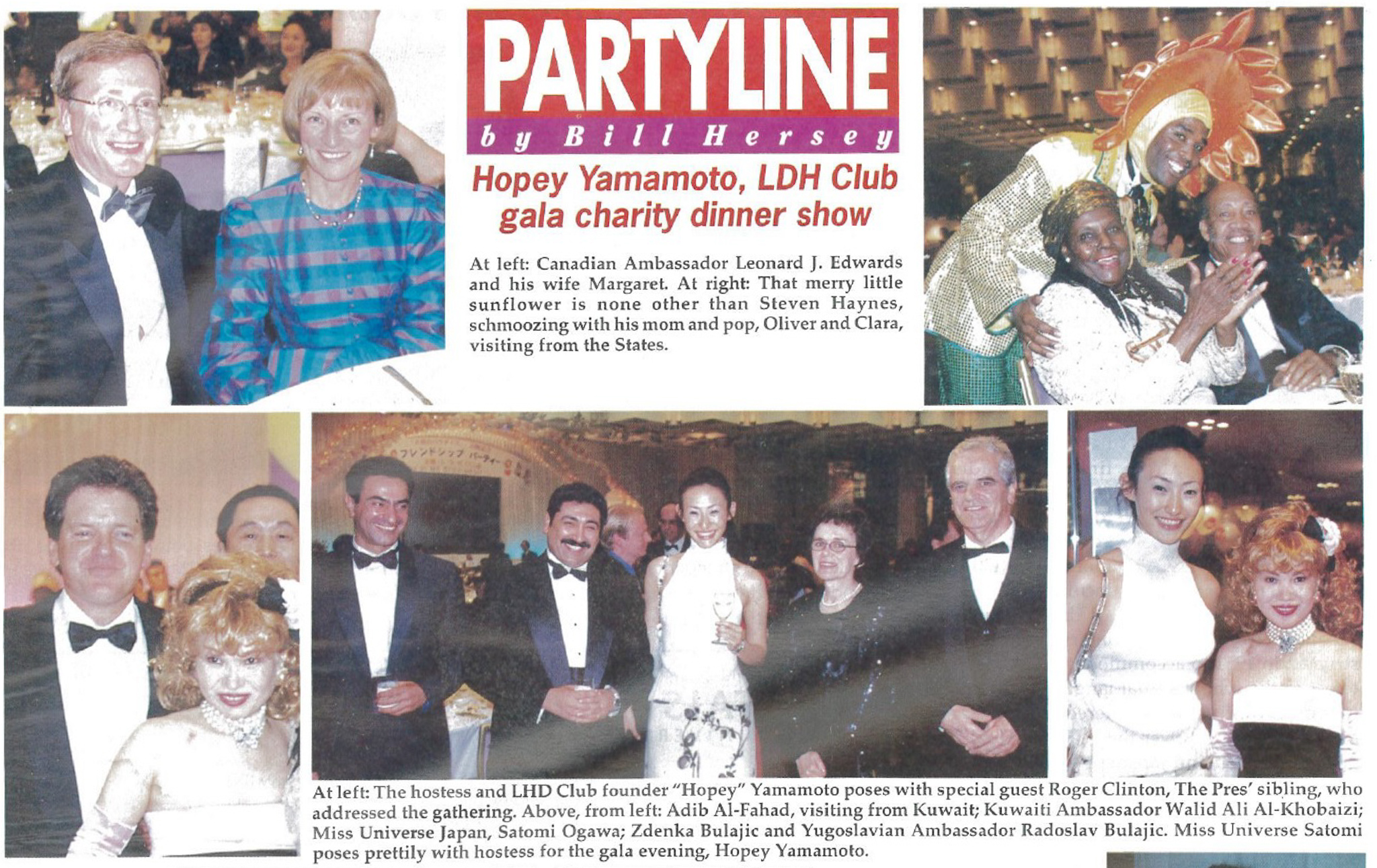 President Bill Clinton's brother, Roger Clinton, was the special guest, and he's a laid-back, outgoing guy who really resembles this brother. Thanks to a couple of groupies who kept hauling people over to meet "their friend Roger," he didn't have time to relax or even eat. Sometimes people just don't know when and where to stop.
Other very special people there included Oliver and Clara, the parents of Steve Haynes. Steve, involved in the LDH Club, along with many other worthwhile projects, flew them in from San Fan for the evening. He's a good son and an exceptional human being. Greg Irwin did a masterful job of emceeing the program. This included a presentation of the LDH set of illustrated books, Angel of Paradise. That feature LDH's three representative characters, Lifey, Dreamiko and Hopey. They have been published in English, French and Japanese.
PARTIES
Saudi Arabia's National Day reception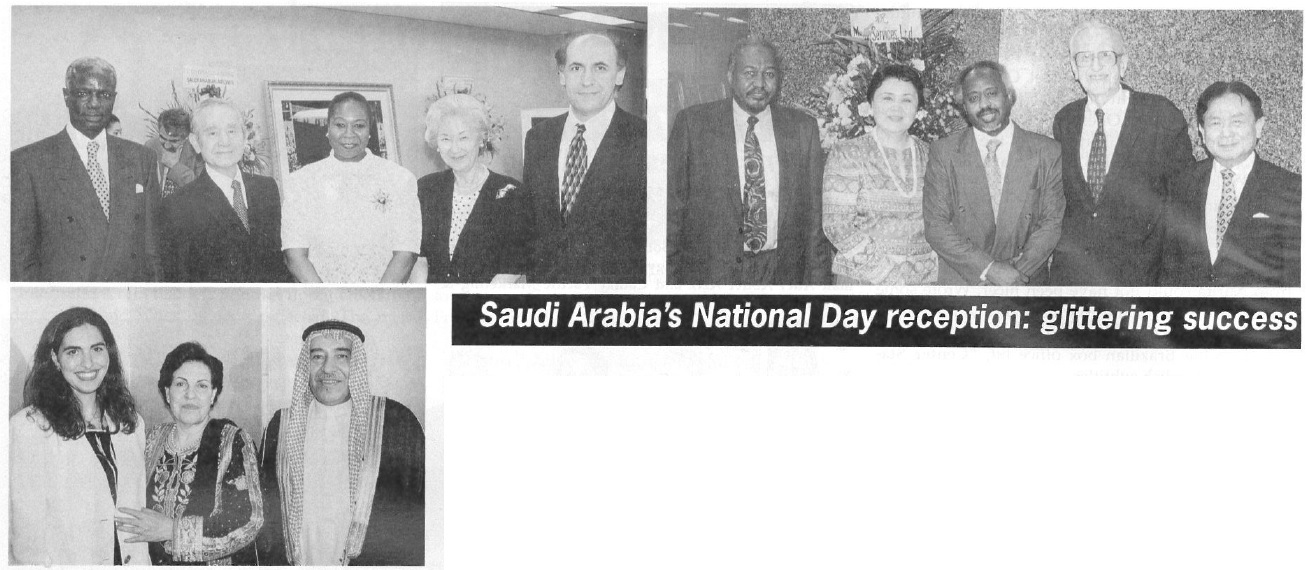 Above, left Senegalese Ambassador Aladji Amadou Thiam, Ambassador Isao Abe, Renne Fatou Konate Thiam, Tessie Abe and Khaloon Azhari, editor of the Press Club's No. 1 Shimbun. Above, right: Gaafar A. Ismail from the Qatar Embassy, Sylvia Goto from the Saudi Embassy, Osman Birkin of the Saudi Embassy, Dr. Eugene Aksenoff and Takamasa Tojo of the Saudi Embassy. At left: The host and hostess, Saudi Arabian Ambassador Mohamed Bashir All Kurdi and his wife Widad, proudly present their lovely daughter Amani.
Year of Egypt in Japan
There was also a special dinner party at the Hilton Tokyo, hosted by the Embassy of Egypt and the Egyptology and Tourism Promotion Office. More on that later as well. You've probably heard Prime Minister Keizo Obuchi has designated 2000 as "The Year of Egypt in Japan." There will be all kinds of special events here and, of course, in fascinating Egypt throughout the year.
Oman's National Day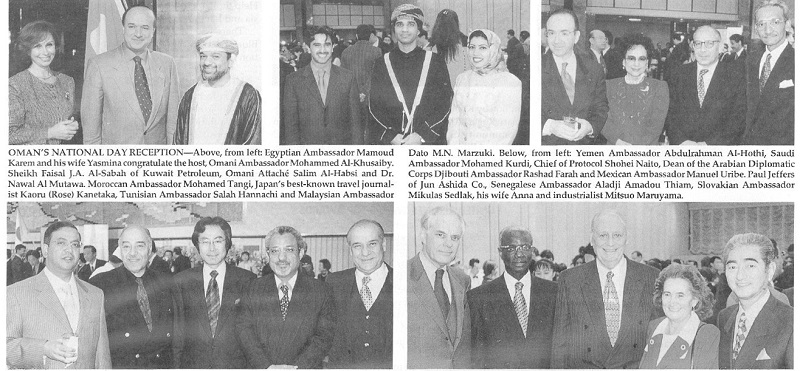 Omani Ambassador Mohammed AI-Khusaiby and his staff hosted a people-packed reception at the New Otani. The occasion was to celebrate Oman's National Day, and the ambassador and embassy staff were in tradi­tional Omani clothing and looked great.
I enjoyed talking with Kaoru "Rose" Kanetaka who, as many of you know, had the top TV travel program here for 30 years. Rose keeps busy as president of the Yokohama Doll Museum and as a leader in various city and government projects. The evening also gave me the opportunity to con­gratulate Djibouti Ambassador Rachad Farah. In ad­dition to being Dean of the Arab Corps, he recently took over as Dean of the Diplomatic Corps. He's a very international and extremely capable man. World travelers Mitsuo and Lilo Maruyama tell me "Oman is a magical country to visit."
PLACES
I had planned to spend a few hours checking out the four-day 12th Japan congress of International Travel and Trade Show at the Shinagawa Prince Hotel. JATA, as the show is best known, was so busy with interesting people and exhibits, I ended up spending a half-day or more at each of the four days of the show.
Started out at the coffee break hosted by Starwoods Hotels and Resorts and went to hear a speech on the current situation by dynamic Keio University Prof. Eisuke Sakakibara. After that, I did a lot of walking, checking out the exhibitions, seeing old friends and making new ones in the travel/ tourism businesses.
*First published at the Tokyo Weekender.