Bill's Partyline July 7th, 2000
The big party to open the futuristic Sony Center in Berlin on June 14 was special and spectacular. As part of the event, Sony Chairman Norio Ohga conducted the Berlin Philharmonic Orchestra. The program was Beethoven's Symphony No. 9 in D Minor op. 12 and, with the orchestra, four renown solo artists, Berliner Singakademie Choir and 60 members of the Sony Philharmonic Choir who flew in from Tokyo, there were nearly 200 people on stage.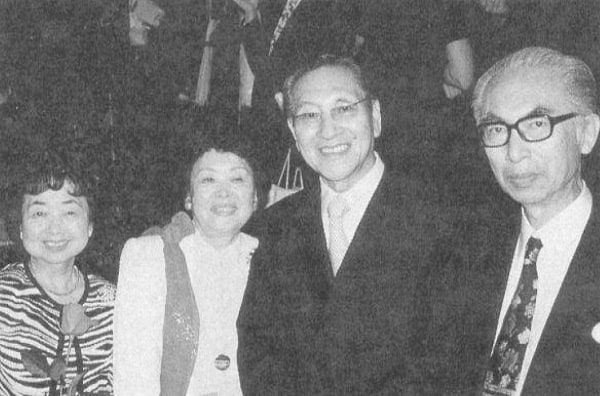 I always enjoy hearing about the successes of good friends, and there was a standing ovation arid nothing but praise (even from the most severe critics) for Norio's performance. I plan to do a rundown with photos of the Sony party, an update on the Berlin scene and a travel story on Ireland in the near future.
I received a beautiful postcard from Romy Christie who was spending some time in the United Arab Emirates. I hope she enjoyed Abu Dhabi and Dubai as much as I did.
Kudos to Cliff Wooley on his "Guitars for Guns Project." Cliff has a solid background in mu­sic and spent five years conducting social work activities in Cambodia, Laos and Thailand. Knowing the positive effect of music, he gives away musical instruments and lessons in exchange for turned-in weapons which will later be publicly destroyed. That's the way to go, Cliff.
Israelis in Tokyo – 52nd Anniversary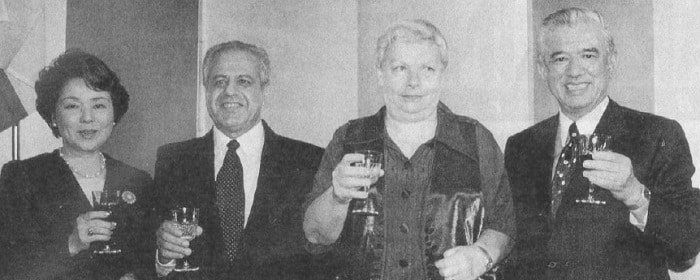 There was a huge turnout at the New Otani's Ho-Oh Room when Israeli Ambassador Moshe Ben-Yaacov and his wife Aviva hosted a reception on the occasion of their country's 52nd Indepen­dence Day. After greeting more than 1,000 guests, the Ben­-Yaacovs moved into the function room to mingle. The program included brief speeches by Ambassa­dor Ben-Yaacov and Minister of Construction Masaaki Nakayama.
I appreciate Fred Harris introducing me to his friends, U.S. Defense Attache, Naval Attache and Naval Attache for Air, Capt. Jeffrey W. Crews and his wife Terry. They are really a nice, outgoing couple.
I appreciate Fred Harris introducing me to his friends, U.S. Defense Attache, Naval Attache and Naval Attache for Air, Capt. Jeffrey W. Crews and his wife Terry. They are really a nice, outgoing couple. I was also happy when Japan's most well-known and respected law enforcement man Atsuyuki Sassa came over and said, "Bill, you'll be glad to hear the city government and police really are go­ing to clean up Roppongi."
Vienna Boys Choir Reception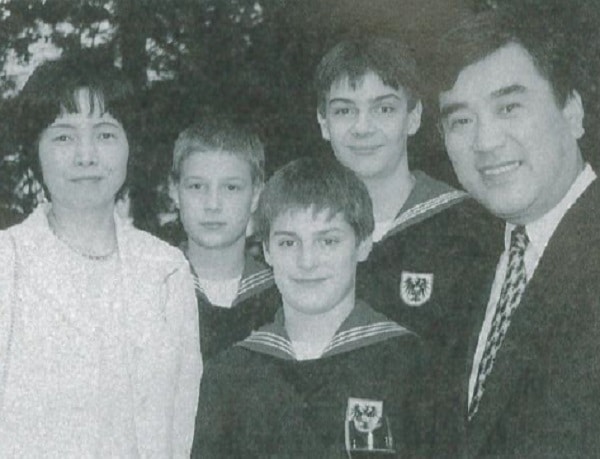 The world-renown and very popular Vienna Boys Choir was in Japan again for a series of con­certs and during their visit, Austrian Ambassador Hans Dietmar Schweisgut and his wife Kaoru held a reception at their home to introduce the mem­bers of the choir. The guests, a mix of Japanese government offi­cials, diplomats, business leaders and familiar faces from the music world, really enjoyed meeting and talking with the boys. The tall one you see in the photos told me he was 14 (the age limit for the choir), and this was his last tour. Their program that evening included familiar selections by Schubert, Brahms and, of course, Johann Strauss. They were great. Sorry I couldn't stay for the Austrian buffet. I heard it was excel­lent.
South African Freedom Day Celebration 2000
Muazaz Kasrawi is hostess at luncheon for Amman-Kai
In and Around Tokyo
On June 12, Philippines Ambassador Romeo A. Arguelles and his wife Azucena ("Annie") hosted a reception at their residence to celebrate the 102nd Anniversary of Philippines Independence. Later that same day, the popular couple hosted another reception to open "Just a Moment," a photo exhibit of Philippine scenes by Peter Oxley at the City Club of Tokyo.
On June 23, Luxembourg Ambassador Pierre Gramegna and his wife Sylvie held a reception from 11:30 a.m. and another at 5:30 p.m. on the occasion of their National Day. Our sincerest congratulations to all on these very special occasions.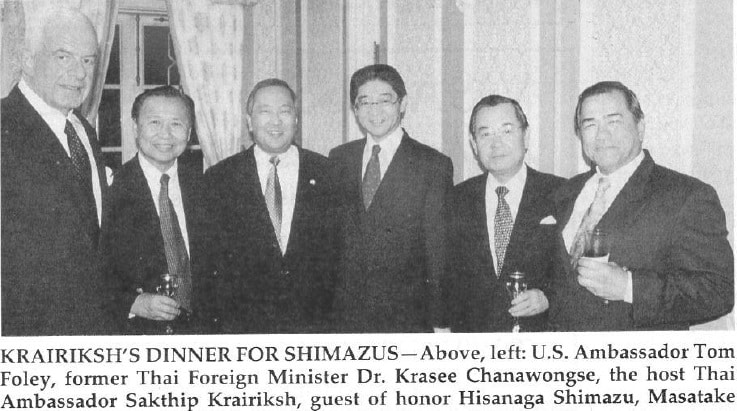 In Bret Easton Ellis' (American Psycho) book Glamorama, one of the characters says, "The aver­age life of a club in New York is-what?-about four weeks?" Needless to say, I'm quite proud of playing a part in keeping that funky little club, the Lexington Queen, going for 20 years. In just the last few weeks, members of Phish, Dogstar includ­ing Keanu Reeves, Rage Against the Machine, Dio, Smashing Pumpkins and Genatorture (Where do they get those names?) have partied at the Lex.
Our congratulations to Niels Thomsen on the opening of his beautiful restaurant, the Oasis Bar & Grill. Neils and his staff with their "world cuisine" have in the last few years earned a repu­tation for being one of the best restaurants in To­kyo. He lost his old location behind the Self-Defense Headquarters in Roppongi and has moved into the GH Roppongi Building right next door to the Lex.
*First published at the Tokyo Weekender