Bill's Partyline June 30th, 2000
Friends gathered where the elite meet, the Tableaux restaurant in Daikanyama, to help Eddie Quinlan cel­ebrate his birthday. Eddie's been maitre d' at Tableaux, one of the most popular of Koza Hasegawa's many eateries (Global Dining), for seven years. It was a mix of really interesting people at Eddie's celebration, and sorry I couldn't stay for dinner, the cake, the conversation and the, as is the custom, late arrival of fashion guru Francoise Morechand. Happy birthday, Eddie, and many more to come.
I really enjoyed being interviewed by a very pro­fessional and laid-back Charles Glover on his Inter FM radio program, "P.M. Drive Time." We talked about my 30 years with the Weekender, interesting people I've met and cleaning up Roppongi.
I first met Charles at the Lex when popular Hawaiian D.J. Kamasami brought him in. I was surprised to hear he grew up in Farmington, New Mexico, on the corner of the Navajo Indian reserva­tion. I spent some time there during my university days and drove through the small city (big town?) when I went to the Indian Tribal Ceremonial in Gallup, New Mexico. I also noticed Charles and I wore similar bracelets; they're from Tibet and are supposed to bring good luck. A few days after the interview, he took off for Thailand and two weeks of diving.
After the interview, I stopped by Roppongi Starbuck's and sat in my usual seat by the window. Four people came in to tell me they heard the pro­gram, and at home there were a half-dozen phone calls and a couple of faxes from friends saying they had also listened to the interview. Looks like "P.M. Drive Time" reaches a lot of people out there. My thanks to Charles and his assistant, Manami Kase.
Controversial and very successful film director Oliver Stone was in Tokyo a few days to promote his film on American football, "Any Given Sunday," for Nippon Herald. Prior to his visit to Japan, he had been directing TV commercials for Motorola and shot on location in seven Asian countries. I heard Oliver's next big project will be shot on location in Cambodia. He wasn't ready to talk about that yet.
Renny Harlin and Gwen Stefani No Doubt in Japan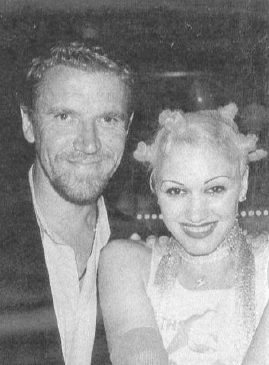 It was a pleasant surprise a few Saturdays ago when director Renny Harlin dropped by the Lex. Over sushi in the club's small food bar, he told me he was in Japan for just four days shooting race track and street scenes for a film on car racing that will star Sylvester Stallone. After Japan, he went on to meet Stallone in Canada. Most of the film will be shot on location there because "it's a lot cheaper." I introduced Renny to Gwen Stefani who was par­tying at the Lex with her band, No Doubt. Gwen's tall and, in a way, resembles Renny's ex-wife, actress Geena Davis. Needless to say, the two got along very well.
Asian Ladies Friendship Society Annual Bazaar
Benchapa Krairiksh, wife of the Thai Ambassador and chairperson of the Asian Ladies Friendship Soci­ety, and Rafia Hussain, wife of the Pakistani Ambas­sador and co-chairperson, really made a winning team. This year's Asian Festival, even with other important events around town at the same time, turned out to be one of the most exotic, colorful and busy festivals yet. Princess Hitachi, super chic as always, was special guest, and she enjoyed shopping for fashion and handi­crafts, and the food and entertainment from the mem­ber Asian and Pacific countries.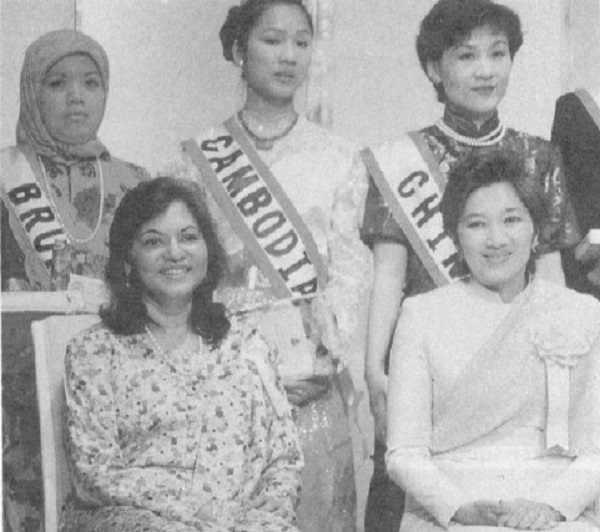 Kudos to ALFS President Mutsuko Miki, Benchapa, Rafia, wives of other ambassadors of the member coun­tries, their staff and ALFS Japanese members who all put a lot of time and effort into making Asian Festival 2000 a huge success. Proceeds go to various charity and emergency projects in ALFS member countries.
Imperial Hotel Execs Host Glittering Evening

It was a perfect evening in every way at the Impe­rial Hotel when the hotel's executive staff hosted a spring garden party. The huge Fuji Room was beauti­fully decorated with a rock garden, blossoming cherry trees and bubbling fountains. Long tables along three walls groaned under trays of western, Chinese and Japanese food that would please any gourmet. I and many of my friends really dug into the lobster; talk about delicious.' There were representatives of 70 embassies there, business leaders, political figures and the cream of foreign and Japanese society. After getting their fill, guests moved to another room where they enjoyed the many games you see at a shrine or temple during an omatsuri (festival).
The artist who cut paper profiles of the many people there was really good and the evening also gave me the opportunity to chat a bit with a long-­time friend Skip Cronin. His office, among other work, handles international P.R. for the Imperial Hotel. On the occasion of South African Freedom Day, Ambassador Karamchund Mackerdhuj and his wile Suminthra were hosts at a mid-day reception at their home. The weather was perfect, so once guests congratulated the hosting couple, they moved out into the garden where tents had been set up (in case of rain) and there was a buffet of South African food complemented by the country's finest wine. One comer of the gar­den where chefs were grilling the delicious South African farmers' sausages (boerewors) was really busy.
Jun Ashida's 2000-2001 Autumn and Winter Collections
One of our city's most dy­namic event venues, the Crystal Palace at the Akasaka Prince Ho­tel, had a full day of Tokyo's most fashionable people for the show­ings of Jun Ashida's 2000-2001 Autumn and Winter Collections. The staging was unusual with long ramps forming a square around the audience, and there were small stages at each comer. It was very well done and gave all the people there an opportu­nity to see Jun's innovative and very wearable creations.
Talked with and envied Maria Elisa Yanagihara. She was leaving for Orlando, Florida, and on to Cuba (a place I really want to visit) next day. I sat next to New Zealand Am­bassador Phillip Henry Gibson and his wife Chansuda (she's Thai). The ambassador told me Japanese tourism to New Zealand is really growing and, from all reports, New Zealand is a beautiful country and well worth visiting.
On the fashion scene, it was a glittering evening at Park Hyatt Tokyo when Fendi presented their 2000-2001 Autumn-Winter "Be Glamorous For a Golden Cocktail Show." My thanks to Koko Volpicelli for the invitation.
Discovery of Saudi Arabia in Japan
Saudi Ambassador Mohamed Kurdi has to be one of the busiest men in town. Still getting settled in his new offices and residence in the Saudi Arabian complex, he's taken time to write a comic titled Riyadh to let young Japanese people know more about Saudi Arabia. This was second "Discovery of Saudi Arabia" comic published.
On May 7, the Saudi Arabia Royal Cup, the Oasis Stakes Race, was held at Tokyo Racetrack. Rashed bin Abdul-Muhsen Al Zenaidy, General Director of the Equestrian Club in Riyadh, flew to Japan to present the trophy offered by Crown Prince Abdullah bin Abdulaziz al Saud. Our congratulations to Hiroji Takemura, recently appointed general manager of the Capitol Tokyu Hotel.
Hilton International Farewell Party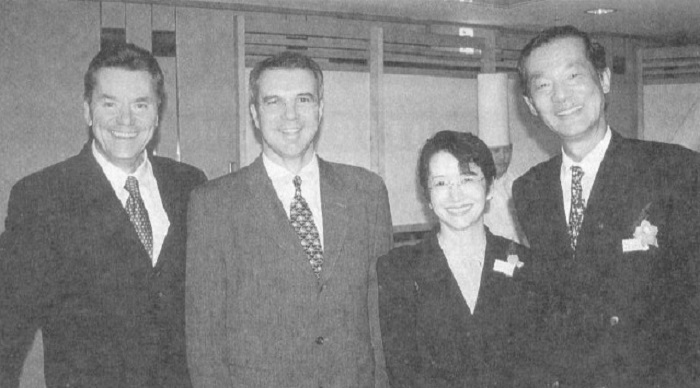 Hilton International Vice Presi­dent-Japan, East Asia and Micronesia, and General Man­ager of the Hilton Tokyo, Manfred H. Pieper, hosted a series of parties to say goodbye to the many friends he made during his stay here. At the same time he introduced his successor, Michael Nigitsch, whose title is V.P. Hilton International for Japan and Micronesia and G.M. of Hilton Tokyo. Michael, an Austrian who's been with Hilton since 1979, was most recently G.M. of the Hilton Colombo in Sri Lanka. Manfred's stepdaughter Michele was at the party and, as you can see by the photo, she's a beautiful girl. Michele was here visiting Manfred and her mother, Li Wei. She attends university classes in Florida.
*First published at the Tokyo Weekender