Bill's Partyline March 2000
A big bunch of birthdays the last month or so. Sony Chairman Norio Ohga celebrated his on Jan. 29, Chichan Plessner hers on Jan. 30, Corky his on Feb. 24 and well-known personal trainer Mark MacDonald his on Jan. 26.
I had hoped to be at Norio and Chichan's birthday dinner party at the New York Grill in the Park Hyatt on Sunday, Feb. 27, but that's the day I headed out to Manila. From all reports, Richard and Baby Handl's son Marc, manager of the New York Grill, really went all out to make it a very special evening in every way. Congratulations to all.
Our congratulations to Czech Ambassador Josef Havlas and his wife Ivana on the birth of their first grandchild. Teresa was born in Prague on Feb. 17 to Stephan Havlas and his wife Jitka Havlasova. I met Jitka when she was in Tokyo, and she's as attractive as her mother, Ivana. That's got to be a beautiful baby.
F-1 driver Eddie Irvine stopped in Tokyo for one day and partied at the Lex before going on to Austra­lia for the Grand Prix. As race car fans know, Eddie's no longer driving for Ferrari, but has a new contract with Jaguar. We wish him all the best.
PARTIES
On Monday, Feb 28, Kuwaiti Ambassador Walid Ali Al-Khobaizi hosted a grand reception at the Imperial Hotel on the occasion of the National Day of the State of Kuwait. I have some wonderful memories of three visits to Kuwait, and Walid is a true friend, so I really do regret not being with him and his many friends for what I hear was a great evening.

Thor and Eva Larsen invited friends to "An Evening With Joan." Joan Shepherd, that is. After more than 25 years of fame and accomplishments in Japan, Joan is making the big move back to the good ol' USA. That lady will be missed. An evening at the Larsens' gave guests the opportunity to see what a talented interior designer is Eva and that she and Thor are warm hosts.
I hope to get to know Bulgarian Ambassador Peter Andonov better in the future. Meanwhile, my thanks for the invitation to the reception he hosted in his home on Mar. 3 to celebrate the National Day of the Republic of Bulgaria.
St. Patrick's Day Parade 2000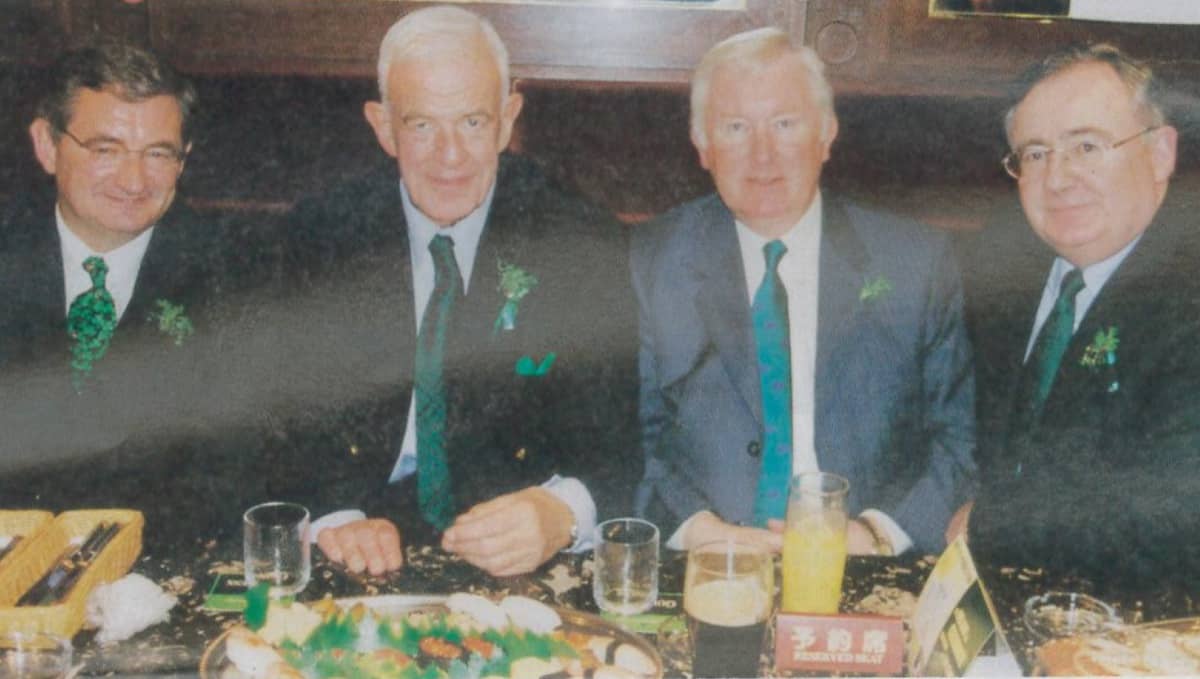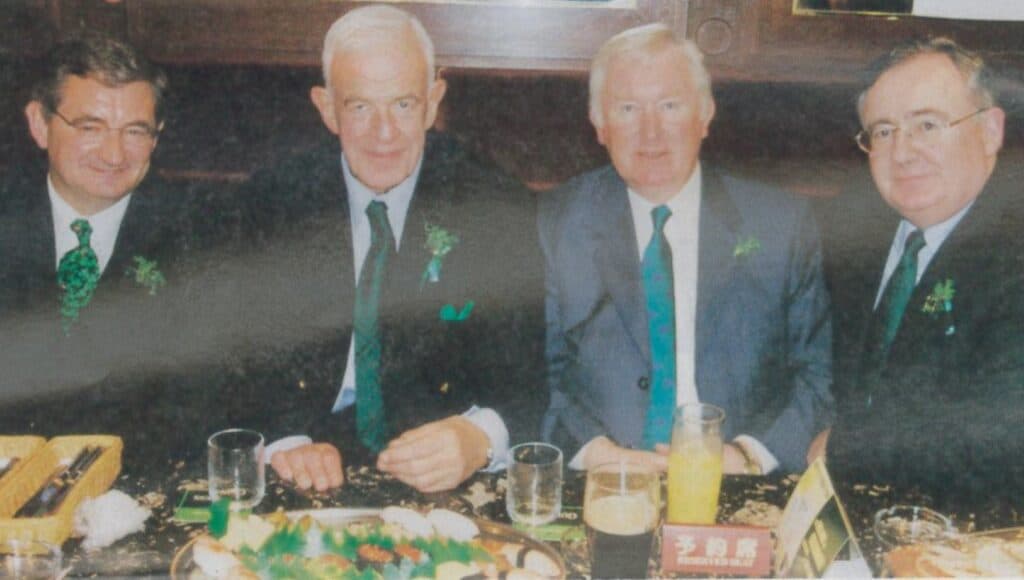 I love a parade and, believe me, the St. Patrick's Day parade on OmoteSando on Sunday, Mar. 12, was bigger and better than ever. U.S. Ambassador Tom Foley joined Irish Ambassa!lor Declan O'Donovan and two visiting Irish parliamentarians, Patt Rabbitte and Sean Doherty, in leading the long, colorful and very enthusiastic procession of bands, bagpipes, Irish dancers and local Irish, dressed or made up in Ireland's colors of white, orange and green. Deel an Collins was grand marshall of this year's very successful and spe­cial event.
After the parade, joined VIPs at the Irish pub The Pint where they continued to celebrate. Always busy Ambassador Foley had to leave early to "hop on one of Continental's convenient flights for Texas." Others at the parade included Estonian Ambassa­dor Mark Sinisoo and Hilton lnternational's V.P. Manfred Pieper and his son Mark who goes to Ari­zona State University where I got my degree in An­thropology. He's majoring in Journalism.
Reception Honoring Major League Baseball Commissioner Bud Selig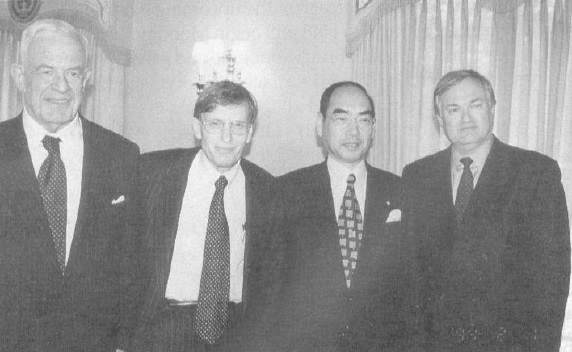 Baseball fans were in all their glory at the U.S. Embassy on Mar. 29 when Tom Foley hosted a recep­tion in honor of Major League Baseball Commissioner Bud Selig and MLB Players Association head Don Fehr. They were in Japan for the first official Major League games, as the New York Mets and Chicago Cubs opened the 2000 regular season with two games at the Tokyo Dome.
This was the first time in history regular MLB games were played outside North America and, in addition to the two-game regulation series, the visiting teams played pre-season exhibition games against the Yomiuri Giants and Seibu Lions.
The Foleys' spacious residence was wall-to-wall people on out into the garden, with baseball enthusi­asts who included Japanese government officials, sports personalities and Japanese business leaders. They and the embassy staff and Marine guards kept baseball superstars Mike Piazza of the Mets and Sammy Sosa of the Cubs and some legendary retired players busy signing baseballs, caps and other items, and posing for photos.
The Hall of Famers included all-time Major League home run king Hank Aaron, former Cubs stars Ernie Banks, Billy Williams and Lou Brock, and ex-Los Angeles Dodgers manager Tommy Lasorda.
Ambassador Foley made a great introductory speech, and I appreciate him introducing me to Minis­ter of Justice Hideo Usui.
PLACES
IKEBANA INTERNATIONAL FAIR
Kudos as well to the many hard-working and creative women who made the annual Ikebana International Fair at the Tokyo Prince Hotel another great success. I.I.F., as you probably know, is a worldwide organization dedicated to the promotion of mutual understanding and friendship through ikebana and other related arts of Japan. There are more than 180 chapters in 60 countries, with membership exceeding 10,000.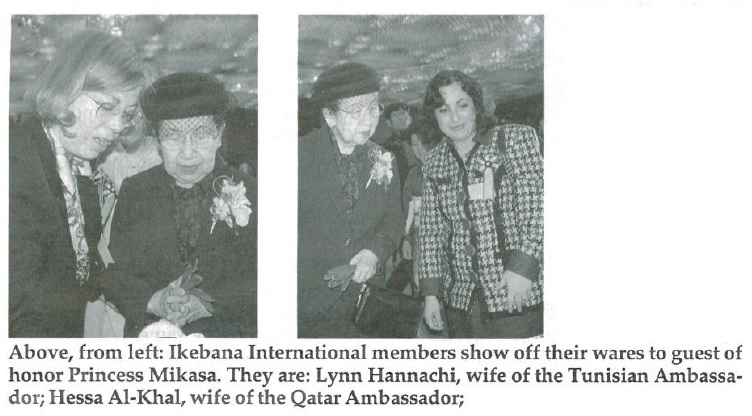 Ivana Havlosova, dynamic wife of the Czech Republic Ambassador, was the fair chairman. Princess Mikasa, following tradition, toured the ikebana exhibition and the international booths before taking part in the tape-cutting ceremony. The hotel's huge Magnolia Room was a beehive of activity as hordes of people, mostly ladies, moved around enjoying the marvelous ikebana arrangements, purchasing handicrafts, fashion and accessories from the embassy booths and homemade baked goods.
Princess Hitachi honoreed at Refugees Int'l Charity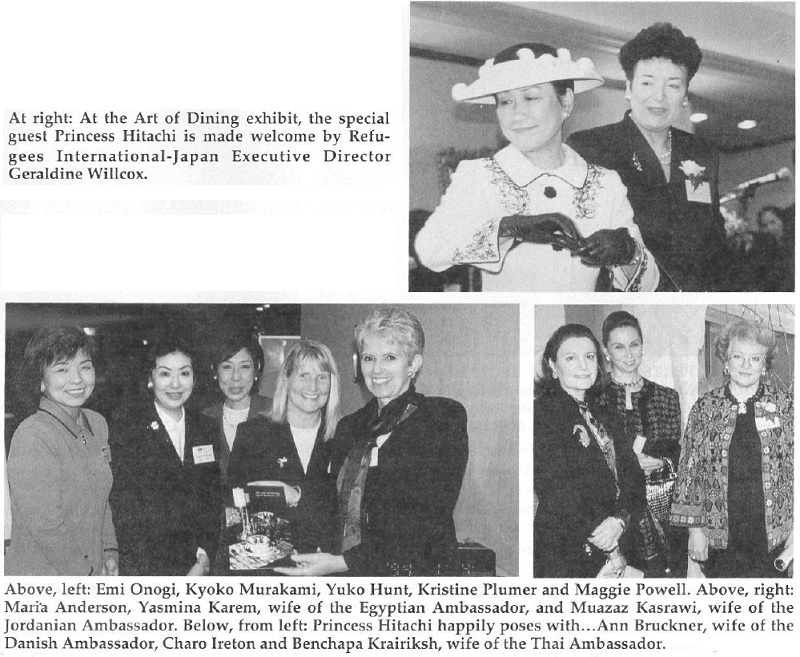 Kudos to Gerldine Willcox, executive director, and the many members who put so much time into making Refugees International-Japan's prime and prestigious charity event, "The Art of Dining," a super success.
The exhibition was held at the Westin Tokyo and officially opened with a ribbon-cutting by the always-gracious, always-chic Princess Hitachi, Participants this year included Muazaz Kasrawi of Jordan, Benchapa Krairiksh of Thailand, Anna Bruckner of Denmark, Geraldine, Ingeborg Ina Omachi and Charo Ireton.
The diversity of the table settings reflected the creativity and personality of the participants. Needless to say, it was a very well done and worthwhile exhibition.
EVENING IN GUAM
Executive Travel, Continental Airlines and the new Outrigger Guam Resort recently hosted an "Evening in Guam" reception at the Tokyo American Club. Just three hours from Tokyo, the island has a unique culture and a vast array of shopping at the completely renovated Micronesian Mall, with its more than 100 department stores, boutiques, shops and food outlets.
At the reception, Executive Travel President John Delp introduced Continental Airlines' Alexander K. Hardin who outlined the company's reliability, statistics, awards and destinations. In addition to their popular Micronesia routes, they're now pro­moting their flights to Houston, Mexico, Brazil, Peru and New York.
Outrigger Guam Resort Director of Marketing Tom Goresch talked about the many advantages of staying at his resort – the newest in Guam. The last time I was there, the Outrigger was just completing construction. From the looks of things, it was com­ing up with everything visitors (both business and pleasure) would want in a resort hotel. In addition to that, it's located right in the center of things, within walking distance to the Duty-Free Mall, City Air Terminal, Hard Rock Cafe, Sand Castle and Planet Hollywood.
*First published at the Tokyo Weekender