Bill's Partyline May 7th, 2010
PEOPLE
My big blues experience in Japan came when I set up two club concerts for actor, singer and harmonica player Bruce Willis and a hot blues band from L.A., The Red Devils. The Lex and now-defunct Java Jive clubs really rocked that night. The vocalist and lead guitar player, as well as the harmonica player, were awesome. Kudos as well to the female blues singer Leyona. It was easy to see how she earned the title 'the blues queen.'
A good time was had by all at the party Warner Brothers hosted at the New Lex for actor Jon Foo, who was here to promote his film Tekken. Jon, who I'm sure we'll see a lot more of in the future, is a super nice guy and made a lot of friends in Japanese show business at his party. The hosts had one big surprise for him when they brought in L.A.-based hip hop dancer Joey Beni, who turned out to be one of Jon's best friends back in California. Joey was in Japan as a backup dancer for pop star Jin Akanishi's solo concerts. I had met him when he was here at the age of ten and dancing at a concert in NHK Hall. Jon enjoyed the party so much that he stayed another night in Tokyo just to party with his new friends again and get to know them better.
PARTIES
I always enjoy events at the Vietnamese embassy. I feel lucky to have the embassy just a few minutes' walk from my house in Moto Yoyogi. In addition to that, Vietnamese Ambassador Phu Binh Nguyen and his wife Le Thieu Ngan are not only good friends, they're an extremely nice couple. The occasion for their recent party was the celebration of the 2010 lunar new year. The embassy was festively decorated in red and packed with interesting guests, and a there was bountiful buffet of Vietnamese favorites. Like many, I went back for a second serving of the delicious noodles. It was really nice seeing longtime friend Reiko Matano there. She and her late husband Kagechika have helped me so much over the years. His work assignments included director of immigration, as well as ambassador to Sweden and later Vietnam.
CHOPIN CONCERT
French Ambassador Philippe Faure and Polish Ambassador Dr. Jadwiga Rodowicz co-hosted an elegant evening of poetry and music titled Chopin Year Opening Concert at Kioi Hall. The occasion was to celebrate the 200th anniversary of Fryderyk Chopin's birthday. Part one featured piano selections by Patrick Zygmanowski and Tamayo Ikeda with narration by Fumiko Kaneko. Part two was piano music by the outstanding virtuoso of European jazz, pianist and composer Leszer Mozdzer. On a sadder note, my heart and sympathy goes out to Poland and the Polish people for the tragic loss of their president, his wife, and the many others who lost their lives in the tragic plane accident in Russia on April 9.
PLACES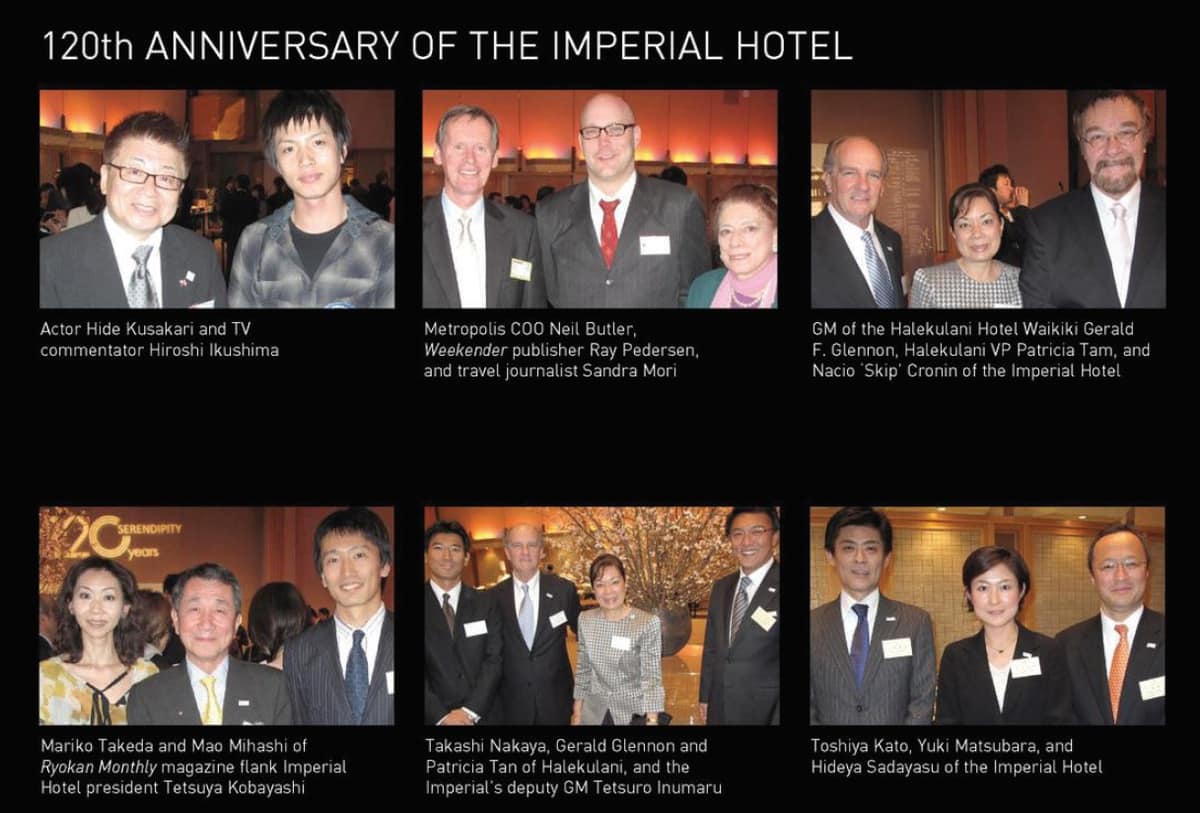 120TH ANNIVERSARY OF THE IMPERIAL HOTEL
In celebration of its 120th anniversary year and as a gesture of appreciation for their guests' goodwill and friendship, the executive staff of the world renowned Imperial Hotel hosted a very special spring party. Guests enjoyed the luxurious and relaxed atmosphere, meeting and mixing with interesting people, and a first-class gourmet buffet. Guests from overseas included representatives of the prestigious Halekulani Hotel Group of Hawaii. My thanks to Skip Cronin who does PR for the hotel. As always, he kept busy making sure all the guests enjoyed the evening and met people they didn't already know. Kudos to the many at the Imperial who make one of their themes, 'serendipity days,' a reality for their many guests and friends.
I headed out to the two-day Earth festival at Yoyogi Park on April 3 and 4, and what a good time it was. The park was packed with people of all ages, and the ambiance was one of friendship, goodwill, sharing and love. Food stalls offered a wide variety of unusual health foods, and there were all kinds of strange and exotic music…some on instruments I'd never seen before. I hadn't planned it, but my timing was perfect to see one of the best shows by a blues band I haven't seen in a long time. The Earth festival at Yoyogi was great fun in every way. You'll have to wait until 2011 for the next one, but with warmer weather here, there'll be a full calendar of two-day events coming up in Yoyogi. These include some great cultural festivals from Thailand, Sri Lanka, Bangladesh, India, the Philippines, Vietnam, Brazil, etc. Hopefully I'll see many of you there.
*First published at the Tokyo Weekender
*Images Copyright: Tsukasa Shiga