Bill's Partyline October 19th, 2001
PEOPLE
Kudos to Bill Ireton of Warner Brothers and his staff whose hard work and masterful marketing made the Steven Spielberg film "A.I." one of the biggest box office hits ever here in Japan.
Most of the friends I was able to invite to the premiere of "Pearl Harbor" at Tokyo Dome really enjoyed the Jerry Bruckheimer epic and, as always, a few did not. Whatever, I'm happy to report it did very well for Buena Vista here in Japan. Thanks to B.V. Japan's Managing Director Dick Sanno and long time friend Teri Ritzer Meyer, Senior Vice President, International Publicity, for Buena Vista International, I was able to set up a party at the Lex for producer Bruckheimer, director Michael Bay and superstar and super nice guy Ben Affleck. The club was wall-to-wall beautiful people (models, Japan showbiz) that night, and the Hollywood group partied until 4 a.m. Happy to report success has not spoiled Affleck.
Another evening, I sat by one of Hollywood's hottest producers, Jerry Bruckheimer, at a "Pearl Harbor" dinner at Nobu's. It was a great opportunity to get to know this dynamic and talented man. Jerry told me he was involved in three new productions, including "Black Hawk Down," about the U.S. military tragedy in Somalia, directed by Ridley Scott and shot on location in Morocco. After the World Trade Center attack, release has been put on hold.
I've met a lot of good people in my lifetime but, like Corky and Mary, I feel that former U.S. Ambassador Mike Mansfield was right there at the top. We've lost a good friend, the U.S. has lost a great man, and the human race has lost a very special human being. Mike, and his late wonderful wife Maureen, always made me feel like family, and I have thousands of good memories, and about as many photos, of them. One was Mike's setting up and serving coffee early in the morning for friends of mine who include Famous Amos Cookies founder Wally Amos and the legendary late break-dancer Oz Rock. Mike never got upset, and I really appreciated this on many occasions. Once, Kirk Douglas' black sheep son Eric, whom Mike let me invite to a party, came late and was caught trying to climb over the embassy wall. Mike's daughter Anne wasn't happy about it, but Mike just laughed it off. That's the way he was. I know, if I'm allowed in, I'll see Mike and Maureen in that Great Place in the Sky. Hopefully, that won't be for a while, though.
PARTIES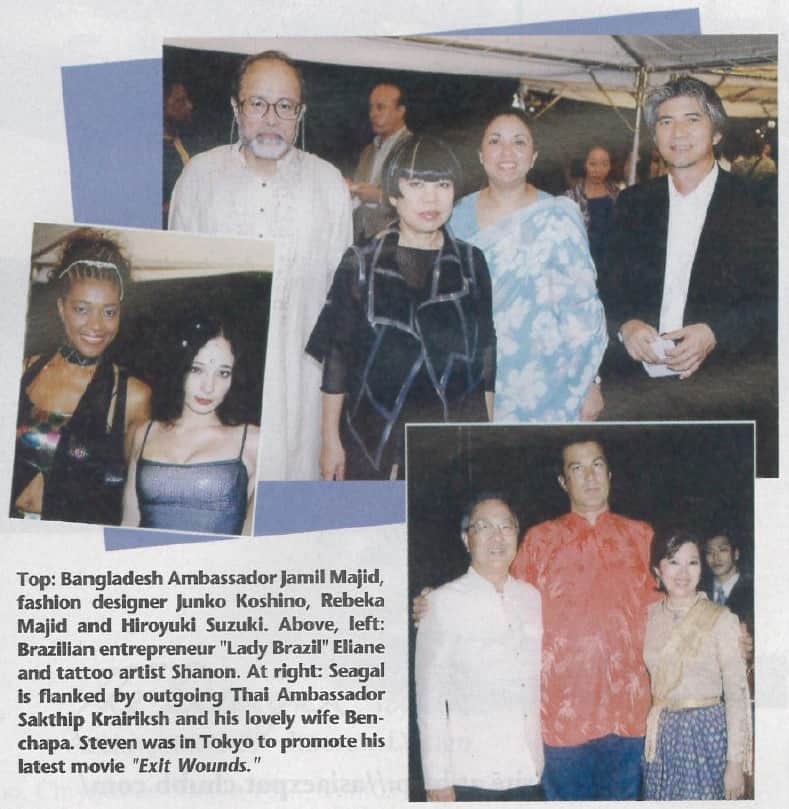 Warner Brothers Japan co­-hosted a Thai food and cultural evening with outgoing Thai Ambassador Sakthip Krairiksh and his wife Benchapa at their beautiful home in Shinagawa for actor Steven Segal. He was in town to promote his action film, "Exit Wounds." Steven, as you may know, is very much into Buddhism and "loves all things Thai." There was a big turnout, and the house and spacious garden were full of colorful and interesting people. Guests included former sumo ozeki and now showbiz superstar Konishiki, actor Hiroshi Fujioka, Miss Universe Japan Misao Arauchi, several of her runners­up, members of the Guardian Angels, diplomats and familiar faces from the sports world.
I was to be in Manila Oct. 14-20 so had to miss a few very important events here in Tokyo. Both were on Thursday, Oct. 18. At noon, the Apostolic Nuncio hosted a reception of the 23rd Anniversary of the Inauguration of the Pontificate of His Holiness Pope John Paul II. Our sincerest congratulations to Archbishop Ambrose B. De Paoli and the millions of Catholics around he world on this very special day.
That same evening Austrian Ambassador Hans Dietmar Schweisgut and his wife Kaoru hosted a reception at their Moto Azabu home in honor of Benita Ferrero-Waldner, Federal Minister of Foreign Affairs, here on an official visit. At the same time, guests had the opportunity to meet the Vienna Philharmonic Orchestra which was performing in Japan.
PLACES
For Halloween, check out Club Citta's "Rocky Horror Picture Show" presentation at Pylon, Friday, Oct. 26.
Also, the Lex is having its big Halloween blast on Saturday, Oct. 27. Prizes for the best costumes and spooky (and kind of sexy) show by French dancer "Florence."
Polly Ferman and Daniel Binelli will appear in a concert playing tango and classical music at STB I 39 in Roppongi on Friday, Nov. 2. Doors open at 6 p.m.; the show starts at 8. Polly is married to the former Argentine Ambassador to Japan.
*First published at the Tokyo Weekender