Bill's Partyline September 20th, 2002
PEOPLE
On the 28th, renowned Indian dancer Leela Samson will perform at the Tokyo International Forum. Nilima Seth wife of the Indian Ambassador, herself a dancer, has nothing but praise for the artistry of Leela.
One of my favorite dancers (and people), the world's top flamenco artist Joaquin Cortes, returns to Tokyo for Nov. and 2 performances at Tokyo International Forum. Joaquin has a big following in Japan, so get your tickets now. I just watched a video of him dancing with Jennifer Lopez at her concert in Puerto Rico. Talk about fiery passion!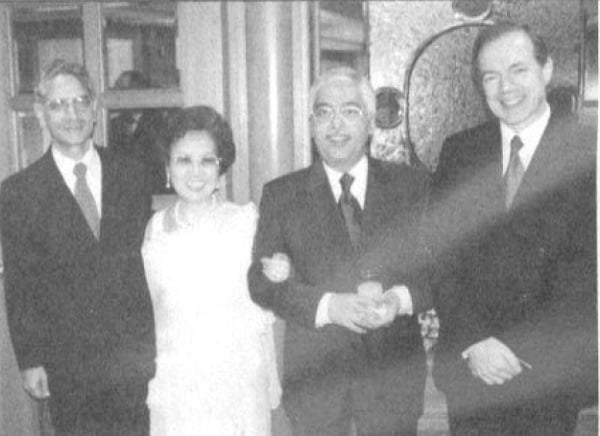 Philanthropist Grace Saito just never slows down. This summer she presented another of her piano and vocal charity concerts at Sogetsu Kaikan, proceeds from which went to help the Center of Child Abuse Prevention. Sorry I couldn't stay for Grace's always enjoyable concert but dropped by the City Club of Tokyo to congratulate her and to say hello to some of her many friends before the concert.
Congratulations to Majed al-Sabah, a nephew of Kuwait's Emir, who just opened his villa on the shores of the Persian Gulf in Kuwait City. I got to know Majed, a real trendsetter when he showed me around Kuwait during my first visit there. He had a modest, but very successful boutique at that time. His new 100,000-square foot glass-cube emporium which cost about $53 million was created by Italian architect Pierfrancesco Cravel. Majed told me he was going to make Kuwait City the style capital of the Mideast and, from all reports, he's done just that.
Congratulations, as well, to noted Austrian harpist, Prof. Josef Molner, celebrating his 50th year of living in Japan. I ran into Josef recently at the Hyatt Regency Guam where he was taking a break and enjoying the laid-back mood of the island.
PARTIES
The beautiful naval officers training ship Cuauhtemoc (named after the last Aztec Emperor) docked at Harumi Pier on Tuesday, Sept. 10, as part of its around-the­world cruise. On Sept. 11, Mexican Ambassador Carlos Alberto De Jcaza Gonzalez, his wife Luisa and the ship's captain, Alfredo Ortega Jaramille, hosted an evening reception aboard the majestic sailing ship.
The Heads of African Diplomatic Missions in Tokyo hosted a gala celebration at the Parliamentary Museum on the occasion of the Organization of African Unity's 39th OAU Day. The participating African nations went all-out to make it a special evening.
The program opened with speeches by former Japanese Prime Minister Yoshiro Mori, Dean of the Diplomatic Corps and Djibouti Ambassador Rachad Farah and Senior Vice Minister for Foreign Affairs Seiken Sugiura. Other special guests included visiting Gabonese Vice Prime Minister Emmanuel Ondo-Metogho. Highlights of speeches were this year's formation of the African Union as a successor to the OAU and NEPAD which symbolizes African countries' ownership of their own development.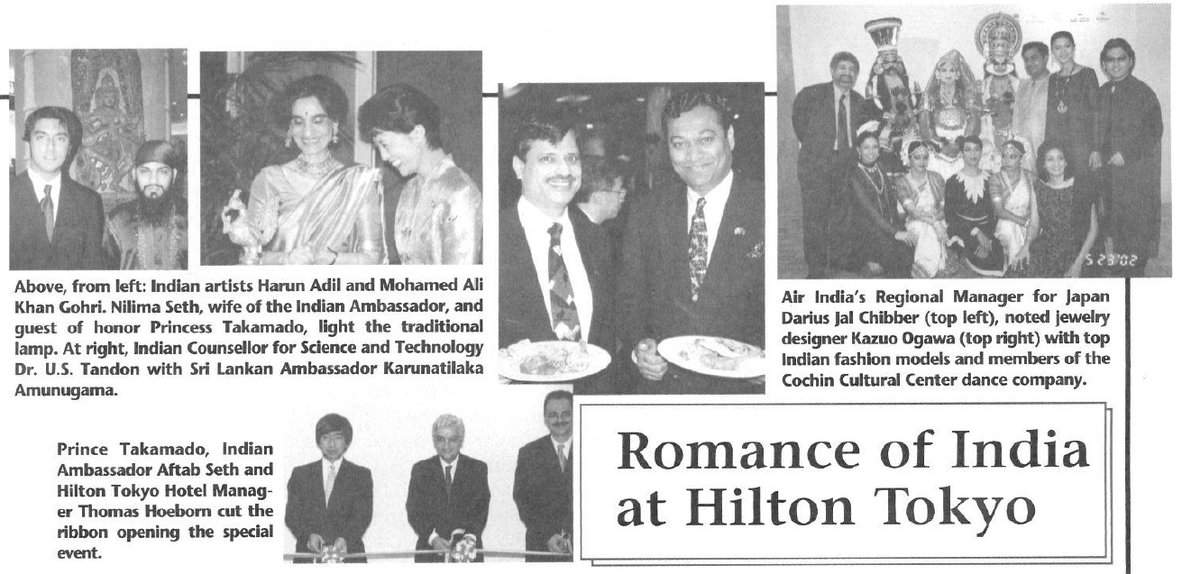 India is one of several important countries celebrating their 50th anniversary of diplomatic relations with Japan. For the special occasion, there is a series of special programs and events. One of the most colorful and diversified was the "Romance of India" 10-day event at Hilton Tokyo which brought together many dimensions of India's splendid culture.
The opening luncheon ceremony was a real culinary and culture experience. Prince and Princess Takamado, a very popular couple who obviously love life and people, were special guests that day. After welcome speeches by Prince Takamado and Indian Ambassador Aftab Seth, Princess Takamado joined the ambassador's wife, Nilima, in a traditional Indian lamp-Lighting ceremony. Master chefs from one of New Delhi's best-known restaurants, Bukhara, were flown in by Air India to prepare the food for the fabulous buffet. It was excellent.
PLACES
As part of Sri Lanka's 50 years of diplomatic relations with Japan, the Sri Lankan Film Festival in Tokyo will run Sept. 25 through Oct. 2. There will be afternoon and evening screenings of 10 Sri Lanka films at the Japan Foundation Forum in the Akasaka Twin Towers Building.
Sri Lankan Ambassador Karunatilaka Amunugama, his wife Nandika Dilum and the Sri Lankan community here, as well as Hilton Tokyo, have gone all­out to make this event very special. It is one of the main events in a busy schedule of happenings to celebrate the 50th anniversary of the establishment of diplomatic relations between Japan and Sri Lanka.
There will be the best of Sri Lankan cuisine by chefs flown in from Sri Lanka, a gala dinner, a fashion and jewelry presentation produced by jewelry designer Kazuo Ogawa. I'm looking forward to the dynamic and colorful dance performances by the Sri Lankan Navy Cultural Troupe and the Channa ­Upuli Dance Ensemble.
*First published at the Tokyo Weekender