Celebrating Georgian National Day
The Georgian embassy celebrated Georgia's Independence Day on May 26 at Meiji Kinenkan in Japan. Ambassador Extraordinary and Plenipotentiary of Georgia to Japan, H.E. Mr. Teimuraz Lezhava, has lived in Japan since childhood, as his father was a researcher there. Ambassador Lezhava speaks Japanese as his "native language," and makes use of his language skills to post on a wide range of topics, such as the daily life of the ambassador and about Georgia, on social media such as Twitter.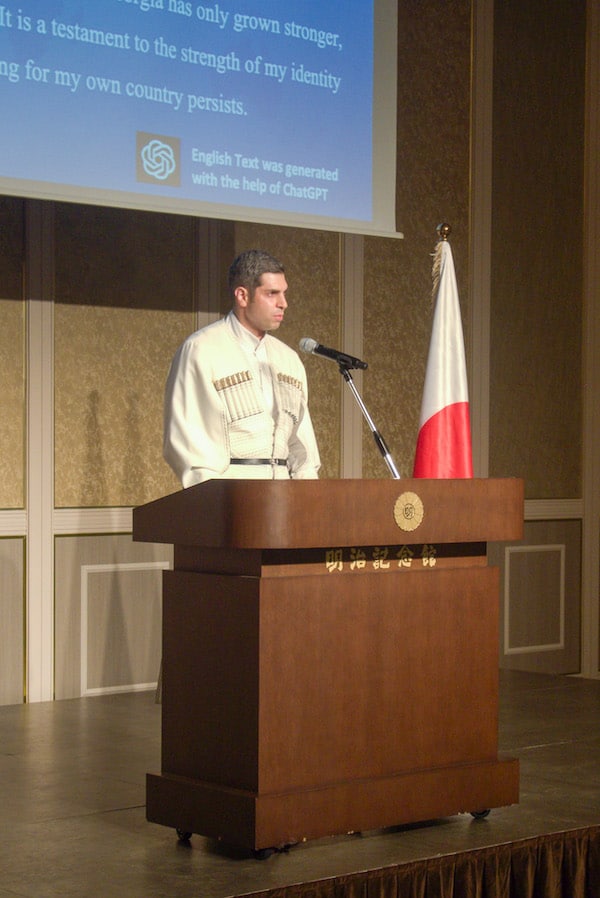 In his opening remarks said that the Georgian Embassy is attracting a great deal of attention in terms of diplomacy and various business fields, and that it also has deep economic ties with Japan. In the future, we can expect even greater development in the economic field.
There are many diplomats at the Georgian embassy who are fluent in Japanese, and thanks to the efforts of these people, awareness for the country of Georgia is rising in Japan.
Due to such diplomatic efforts, a wide variety of people gathered at this National Day reception. Ichiro Aisawa, a member of the House of Representatives and former State Minister for Foreign Affairs who serves as the chairman of the Japan-Georgia Parliamentarians' Friendship League; Taro Kono, Minister of Digital Affairs; Yasutaka Nakasone, a member of the House of Representatives; Keisuke Suzuki a member of the House of Representatives; Ken Akamatsu a member of the House of Representatives; Mitsuko Ishii; Ayaka Shiomura, a member of the House of Councilors; and many other members of parliament participated.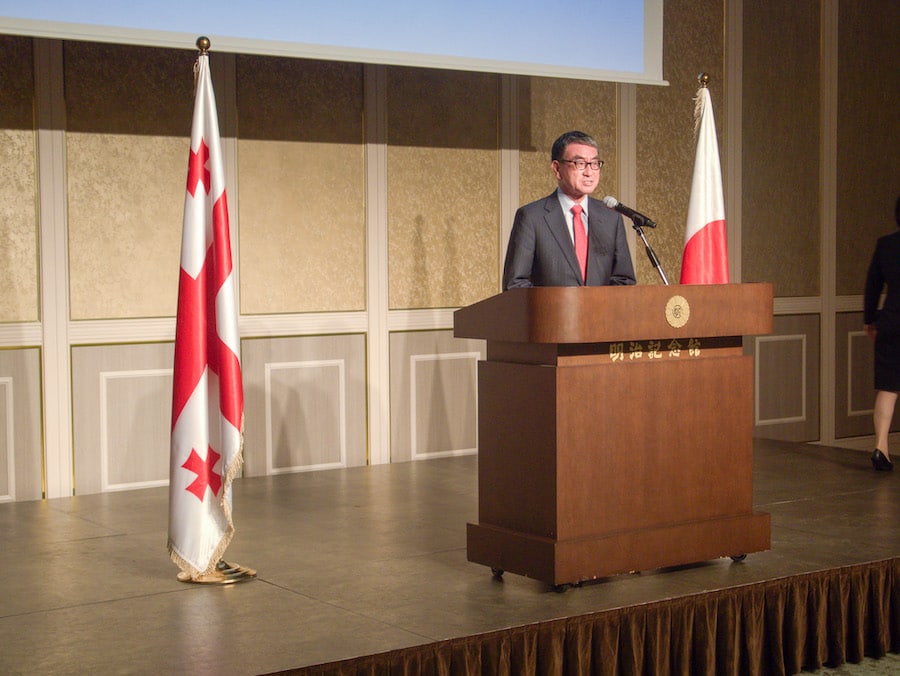 From the cultural and academic fields, Hitoshi Kusano, famous TV personality, Dr. Katsuya Takasu, Director of Takasu Clinic, Rieko Saibara, Manga Artist, Hirotada Ototake, and Gagamaru, retired sumo wrestler from Georgian sumo, participated in the reception. Many others also attended the National Day Reception, providing a glimpse of the breadth of Ambassador Lezhava's exchanges.
Georgia has recently made inroads into Japan in the field of food, particularly its national meals Shkmerli and kharcho. At this reception, shkmerli and khachapuri were also served, and the participants were interested in the authentic taste of Georgia. Georgia's world-class wine was served with a ladle from ceramic jars.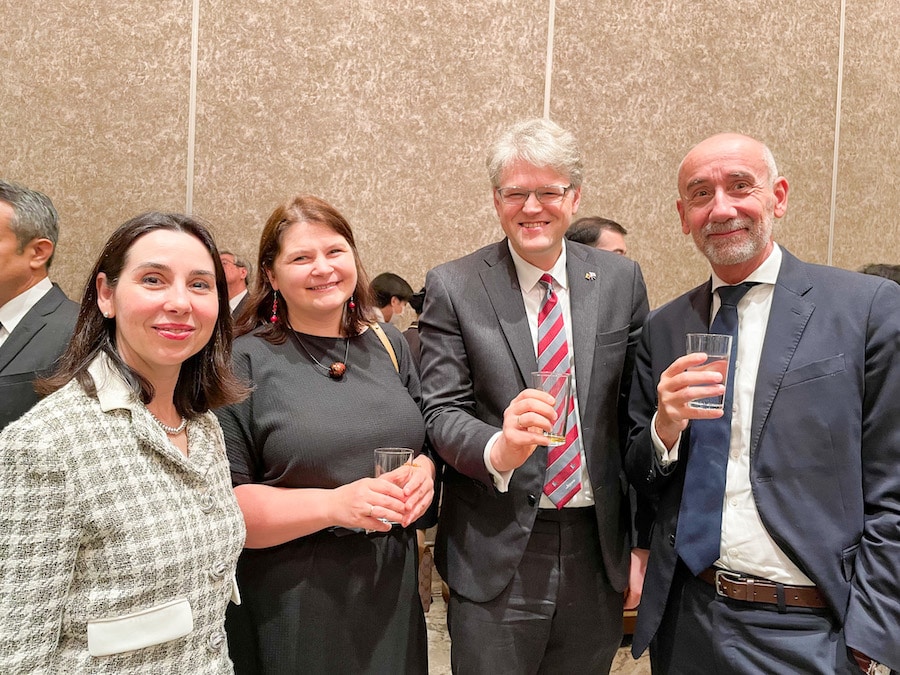 The reception also featured traditional Georgian songs performed by Geinoh Yamashirogumi. Geinoh Yamashirogumi has maintained close ties with Georgia since 1987, when they first performed in Georgia. The performance by Geinoh Yamashirogumi at this reception was wonderful, and the venue was so silent you could hear a needle drop. Indeed, all participants enjoyed the wonderful performance.
We look forward to attending future events held by the Georgian embassy.


For more information, visit: https://www.ge.emb-japan.go.jp/itprtop_en/index.html
Follow Ambassador Lezhava on Twitter