Celebrating Oman's 52nd National Day
To celebrate the Sultanate of Oman's 52nd National Day and the 50th anniversary of the establishment of diplomatic relations between Japan and the Sultanate of Oman.
The Sultanate of Oman and Japan, countries in the Middle East that are very close to Japan, established their diplomatic relations in 1972 and this year marks the 50th anniversary. However, actual bilateral exchanges date back 400 years. The long history of friendship can be understood from the opening remarks of His Excellency Dr. Mohamed Said Khalifa Al Busaidi, Ambassador Extraordinary and Plenipotentiary of the Sultanate of Oman. In addition, I was deeply impressed by the fact that the Sultanate of Oman is a country with foresight and is extremely advanced in terms of energy, etc., and that it has shown the world its stance of not sparing investment in human resource development in the future.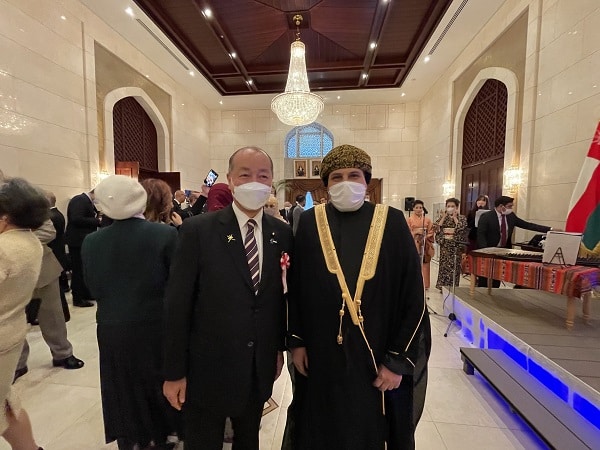 Currently, Oman, the new Sultan of Oman His Majesty Sultan Haitham bin Tarik, the Sultan of Oman, has ascended to the throne and is striving to achieve the goals of "Oman Vision 2040" led by the King himself. The aim is to promote the growth of various economic sectors.
Although Oman is blessed with natural resources such as oil and natural gas, it is currently emphasizing clean energy and has begun efforts to shift to that. In October 2022, the Omani government aims to reduce greenhouse gas emissions to zero by 2050, allocate approximately 50,000 square kilometers of land for renewable energy, and invest 21 trillion yen in green hydrogen-related projects. It also announced plans to bid.
Oman ranks first in the world in the percentage of science and engineering graduates among all undergraduate graduates. The government expenditure index per student by the Omani government ranks third in the world, and this kind of generous support and investment in students is bearing fruit everywhere.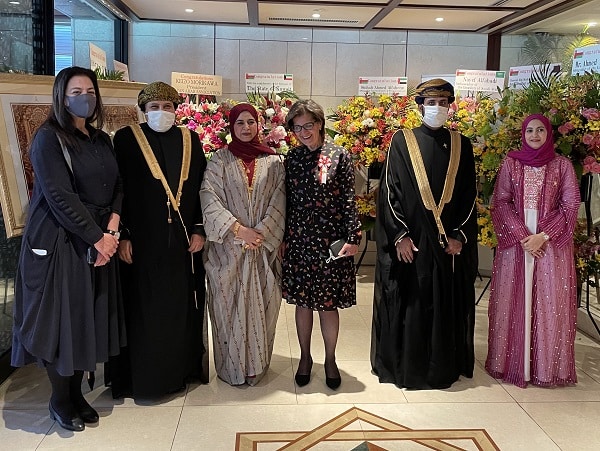 Oman is also blessed with tourism resources and is a safe and crime-free country. Due to these favorable conditions, it is highly expected that tourists from Japan will visit in the future.
Due to the deep friendship between Oman and Japan, many lawmakers from the Japanese government attended the reception this time. His Excellency Mr. YAMADA Kenji, State Minister for Foreign Affairs, His Excellency Mr. Eto Seishiro, Honorary Adviser of Japan-Oman Parliamentary Friendship League, His Excellency Mr. Yamaguchi Natsuo, the Chief Representative of KOMEITO, and His Excellency Nagasaki Kotaro, the Governor of Yamanashi Prefecture from afar gave congratulatory addresses.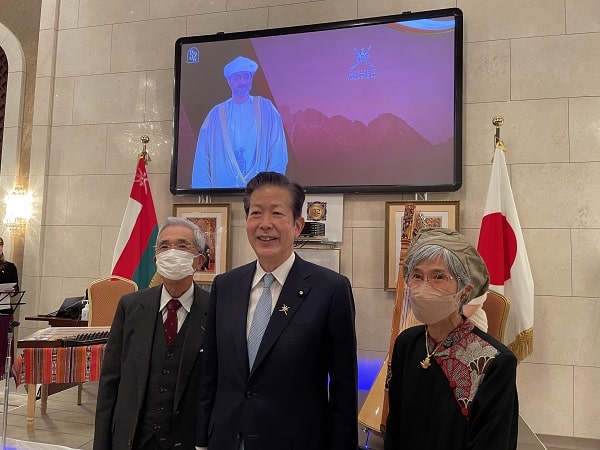 At the venue, the Embassy of Oman made entirely of marble and its garden, a tented living room reminiscent of an Omani residence was set up. Then we enjoyed Omani tea, dessert and conversation.
The cuisine is typical of Oman, a country of gourmet food, and the dishes are lavishly lined up. There are many Arab-style dishes that are rarely seen in Japan, such as roasted whole lamb, and all of them are delicious and appeal to Japanese people. It was such a wonderful lunch that I ate too much. The ambassador's wife, who is known to be a good cook, must have arranged, and given advice.
The bond between Oman and Japan is long and strong. I hope that we can continue to develop a good relationship and achieve great results in economic and cultural exchanges.