Embassy of El Salvador: Coffee and NFT Event
The Embassy of El Salvador in Japan held a unique event, "Connecting the future: Coffee & NFT," to promote and combine three aspects that highlight El Salvador's identity: coffee, technology, and art.
The event introduced El Salvador through food, coffee, art and technology; making possible to come into contact with its people and get a sense of the rich coffee culture, as captured in the exhibited paintings.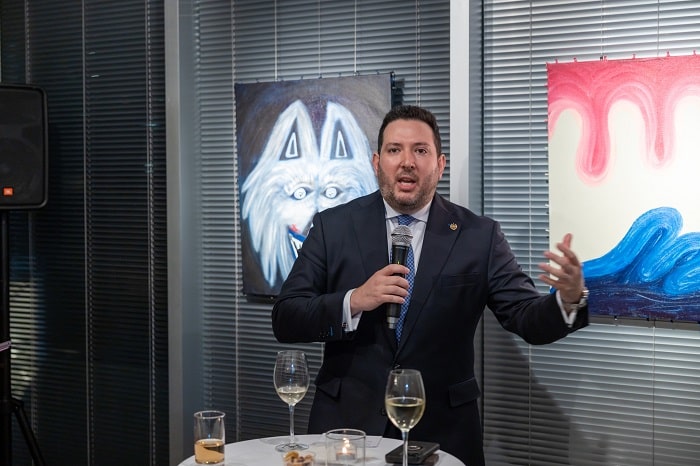 H.E. Mr. Diego Alejandro Dalton, Ambassador of El Salvador to Japan gave the opening remarks to an audience of friends and experts of coffee and the NTF market in Japan. He introduced Eiichi Kunitomo, CEO & Barista – Koffee Mameya Kakeru artist Kristoffer Kullengren, CEO of Art Dreamers, who showcased his art at the embassy.
It was a lively event, with engaging discussions, excellent coffee tasting and captivating art rich in history and culture.
About El Salvador Coffee and FinTech:
El Salvador is internationally recognized as a coffee-producing country and holds a leading share of the specialty coffee market in Japan. Coffee that is carefully made without mass production is delicious and is gaining popularity worldwide.
El Salvador became the first country in the world to introduce bitcoin as legal tender in September 2021. Currently, El Salvador uses both the U.S. dollar and bitcoin, but the government has established an official bitcoin wallet (an electronic wallet that stores bitcoins).
The reasons for this policy are several:
To decrease the percentage of people who do not have access to banking services. (By the time bitcoin was adopted 70% of the population didn't have a bank account).
Immediate entry to international markets, as it doesn't need intermediaries and is a global currency.
To increase the efficiency of international remittances, given the fact that around 20% of GDP comes from these transactions.
In El Salvador, it is becoming possible to exchange U.S. dollar banknotes for bitcoin even at ATMs in the city, and it is becoming a reality that virtual currency is widely circulated as the country's currency.
For more information on El Salvador visit: https://www.facebook.com/EmbajadaJaponESA/