Embassy of Turkmenistan Celebrates Its 32nd Independence Day
Turkmenistan, which gained independence from the former Soviet Union on1991, celebrated its 32nd Independence Day.
Turkmenistan is well known in Japan as one of the five countries in Central Asia, along with Uzbekistan, Kazakhstan, Kyrgyzstan, and Tajikistan, and has long been a region where cultural exchange and goods exchange have been active via the Silk Road — and it is still connected to Europe today. It is located at an important crossroads connecting Asia and the Middle East.
The current Ambassador to Japan is H.E. Mr. Atadurdy Bayramov. He presented his credentials to His Majesty the Emperor in October 2022. Since it was decided that he would be stationed in Japan, he studied Japanese very intensely, and all of his speeches on that day were in clear Japanese.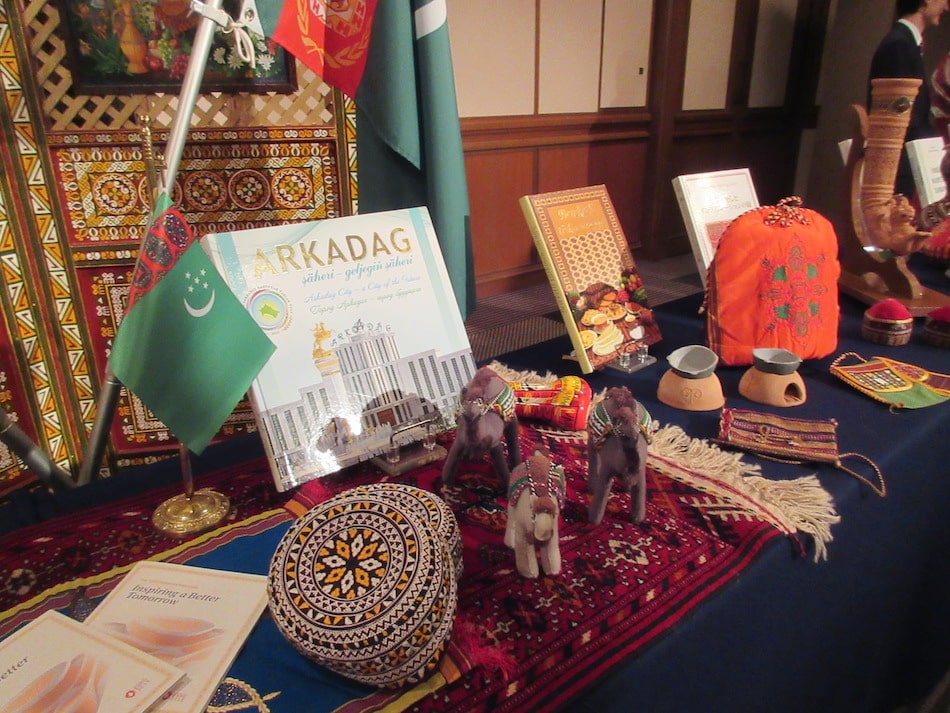 The Independence Day reception attracted celebrities from all walks of life, demonstrating Ambassador Bayramov's wide circle of friends. Shinpei Matsushita, a member of the House of Councilors, Chairman of the Secretariat of the Japan-Turkmenistan Inter-Parliamentary Friendship Group and Yoichi Fukazawa, the Parliamentary Vice-Minister for Foreign Affairs, also attended. In the time since last year, members of parliament have visited Turkmenistan, demonstrating the country's deep ties with Japan. In addition, many executives from Japan's trade and trading companies were present, giving us a glimpse of the country's rich natural gas and other natural resources.
Since gaining independence from the former Soviet Union, Turkmenistan has maintained peace and respect for all countries of the world as a permanently neutral country. Currently, the president, H.E. Mr. Serdar Berdimuhamedov, is in office, and the current president has unwaveringly walked the path of becoming a peaceful nation based on eternal neutrality. In diplomacy, from a neutral standpoint, he prioritizes strengthening world peace and security and expanding friendship and fraternity based on goodwill.
Last year marked the 30th anniversary of diplomatic relations with Japan, and relations between Turkmenistan and Japan are entering a new phase.
The President attaches great importance to further strengthening the friendly relations between Turkmenistan and Japan in terms of political diplomacy, trade, economy, and people-to-people exchanges. In addition, cultural and humanitarian relations in areas such as science, sports, and cultural exchanges are steadily developing. What is remarkable in this field is the Japanese language department, where the number of students is rapidly increasing. In Turkmenistan, six schools have introduced Japanese into their curriculum since 2016, and currently 13,360 students are studying Japanese.
In Japan, there is a farm in Aomori that breeds the Akhal-Teke, known as the "golden horse," of which there are only 3,000 in the world. The Akhal-Teke is a horse that originates from Turkmenistan and is known for its silky coat and outstanding speed and stamina, and it is speculated that Bucephalus, ridden by Alexander the Great, may have been an Akhal-Teke.
On this Independence Day, Michiko Aoe, the General Director of the Japanese Economic Society "Akhal-teke Affinity Co. LTD" received an award for horse breeding from the President of Turkmenistan in recognition of her many years of accomplishments. The award ceremony was held during the Independence Day reception.
Turkmenistan, which has celebrated its 32nd anniversary of independence, is a new country with a long history. The Embassy of Turkmenistan, led by Ambassador Bayramov, will continue to be active in Japan, increasing the country's profile and deepening exchanges. Also, I am sure that more Japanese people will visit Turkmenistan as they get to know the beautiful country and the heart of its people. I look forward to new diplomacy in the future.