Glenn Gould Tribute at the Canadian Embassy
Canadian Embassy Holds Glenn Gould Tribute: 90th Anniversary of His Birth and 40th Anniversary of His Death
Born in Toronto, Canada, Glenn Gould is considered to be one of the greatest pianists of all time, and one of Canada's greatest thinkers and musicians. This year marks the 40th anniversary of Gould's death from a stroke. If he were alive today, he would have turned 90 this year.
On October 4, the anniversary of his death, the Embassy of Canada in Japan invited guests who were related to Gould to a one of a kind tribute event.
During his lifetime, Gould gained global attention as a classical pianist with a unique approach to musical creation and performance. For example, he interpreted the keyboard works of Bach, particularly their contrapuntal aspects. Also, the piano chair he sat on while playing was handmade by his father after Gould injured his back. Gould took the chair everywhere with him and its adjustable height allowed him to sit very low and to exercise greater control over the keys. He was also known for humming or singing while performing. All in all, his unique performances made for an unforgettable experience for audience members and listeners.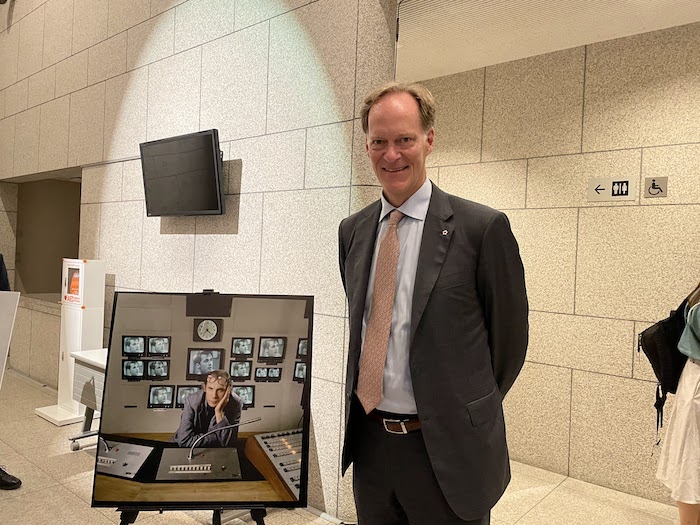 Much to the disapproval of other classical musicians at the time, Gould retired early from the stage to focus solely on recording. By turning away from the performative and instantaneous aspects of music, which he saw as overly competitive, he emphasized the durability of musical expression and creation. Gould was also known for having an inclusive and flexible approach to emerging societal scenes, norms and communities, including what is now referred to as LGBT. He is widely regarded as a pioneer who has helped shape the modern era, not only in terms of music, but also in relation to cultural and artistic values and practices more broadly.
Besides being a musical genius, Gould is considered to have been 10 or 20 years ahead of his time. Now, 40 years after his death, people alive today continue to rediscover and to appreciate the artistry and life of this great pianist.
Besides performances of Gould's work, the tribute event on October 4 also included spectacular talks and performances by people related to Gould. It's also worth mentioning that state-of-the-art AI technology has been used to revive and revitalize some of Gould's original work. The AI technology was developed by "Dear Glenn," a Yamaha project to pursue the possibility of co-creation in music between AI and humans.
At the tribute event, AI from the "Dear Glenn" project performed a reinterpretation of Gould's work based on the tendencies of the pieces Gould played. This was followed by short pieces by composers such as François Couperin, Georg Philipp Telemann, and Johann Fischer, whom Gould had never performed before.
Gould was known for his interest in the latest technologies, so it's interesting to wonder what kind of techniques he would favour if he were alive today. Thanks to the collaboration between the Canadian Embassy and Yamaha, the tribute concert provided fans of Gould's work with one possible answer.