Interactive Lectures on Japanese Culture at the Residence of the Dutch Ambassador
Ballet, Sumo, Takarazuka, Manga & "The Rose of Versailles Lady Oscar": Interactive Lectures on Japanese Culture at the Residence of the Dutch Ambassador
During her residency, Mrs. Joan Mitchell-van der Vliet enjoyed exploring Japan's unique culture and sharing it with EU ambassadors' spouses and ambassadors through her biannual "Coffee & Culture" interactive programs, held at the beginning and end of the diplomatic season.
Her noteworthy programs included "Close-up: Principal Dancers K Company", Japanese taiko drumming, and Grand Sumo and Takarazuka & Rose of Versailles/Opera.
After admiring intricate, original ballet costumes from K-Ballet, internationally renowned principal dancers held a light-hearted Q&A session with guests.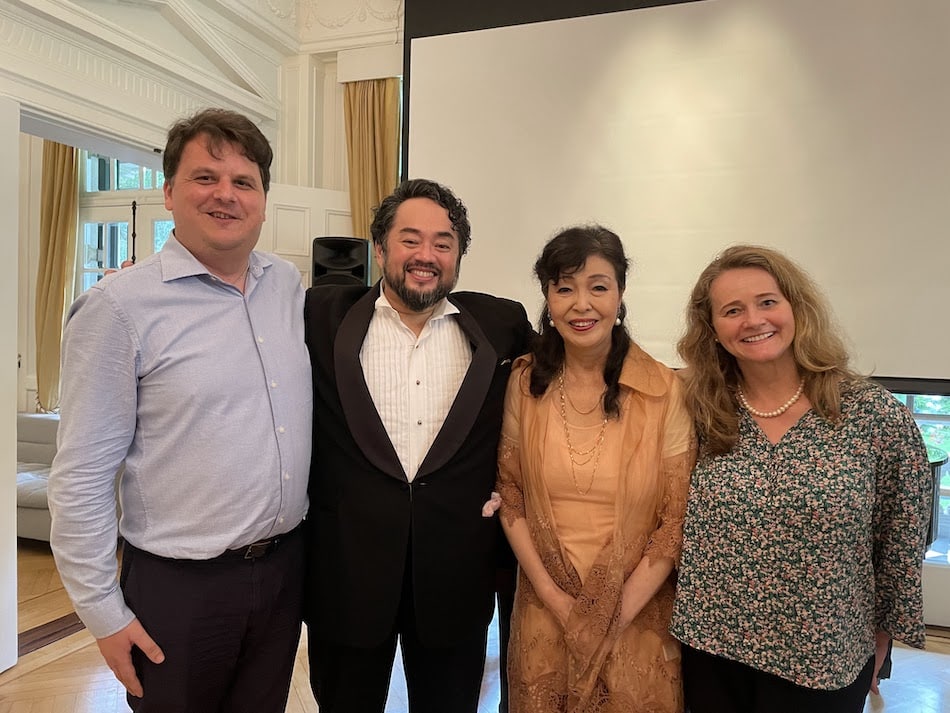 For the taiko event, drums were brought into the residence and invitees were treated to a performance by the Netherlands Embassy Taiko group.
Afterwards, they learned and performed a routine together. Sumo wrestling, as everyone knows, is Japan's national sport. However, "sumo codes & culture", common to Japanese people, are not familiar to most others. With the help of retired sumo wrestlers, guests participated in authentic warm-up exercises, had a fun match, and ended the afternoon with delicious Chanko.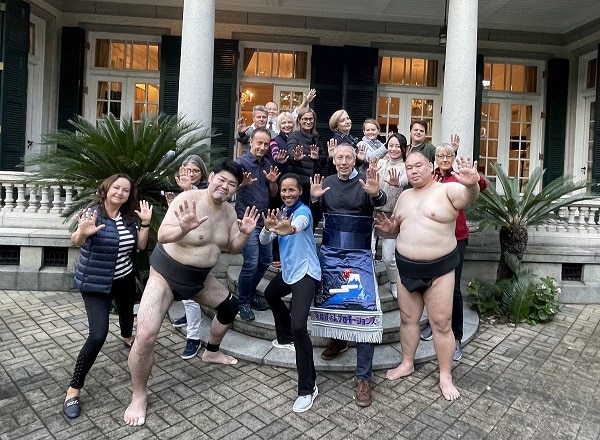 For her last program, Mrs. Mitchell-van der Vliet organized a rich 3-part event with several renowned performers.
In Part I, the mysterious world of Takarazuka Review was examined through a lecture by Masumi Ohara, retired Showa era Takarazuka female-role star. Performing a duet of "I Could Have Danced All Night" (from the musical My Fair Lady),
Ms Ohara appeared in a beautiful, delicate pink dress while Ms. Joan appeared in a pure white tuxedo with pink shirt, reminiscent of Takarazuka's Male role, wowing the audience.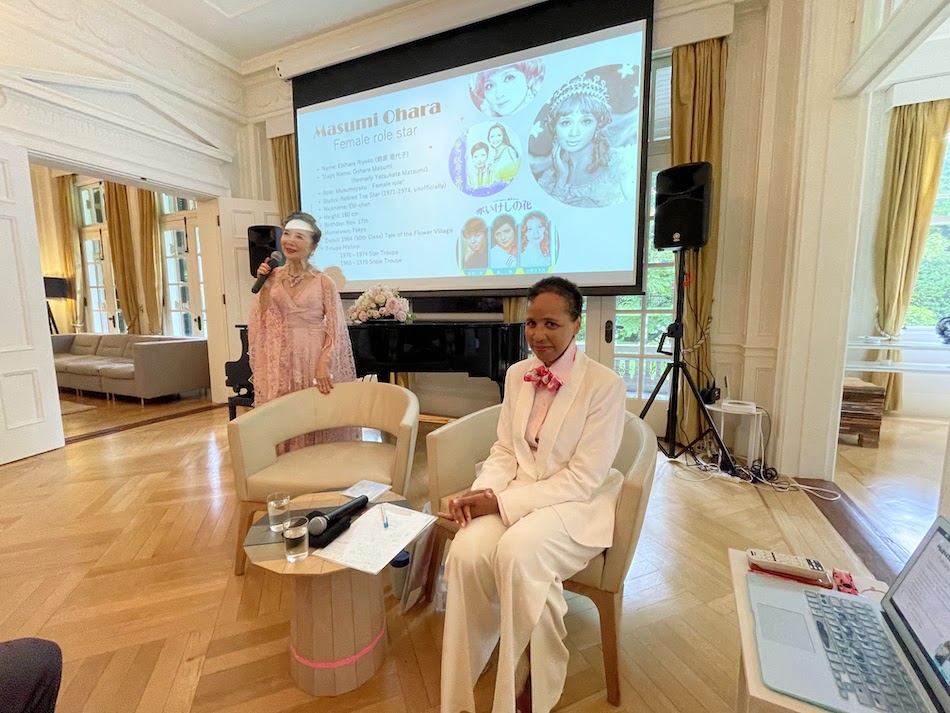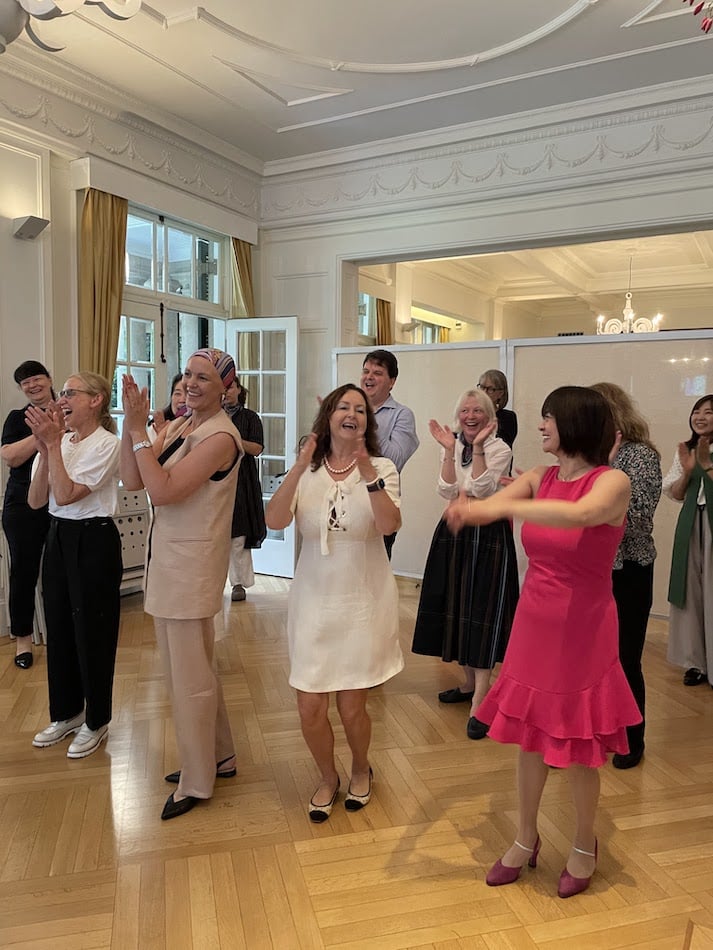 Afterwards, during the interactive section, Ms Ohara taught guests the famous "Sumire no Hana – violet flower" song and a short dance routine.
Everyone enjoyed learning Broadway-style movements under her adept guidance—even the Dutch ambassador, Peter van der Vliet, other guests, and Japanese staff. It was an unexpectedly entertaining time!
The second segment treated invitees to a medley of opera classics performed by the married duo of manga artist and opera singer Riyoko Ikeda, her husband, baritone Yoshitaka Murata, accompanied by pianist Yumi Okazaki. Mr. Murata, with his rich and emotive voice, sang a number of masterpieces from the opera "Carmen" to "Toreador's Song" and "Moon over the Ruined Castle".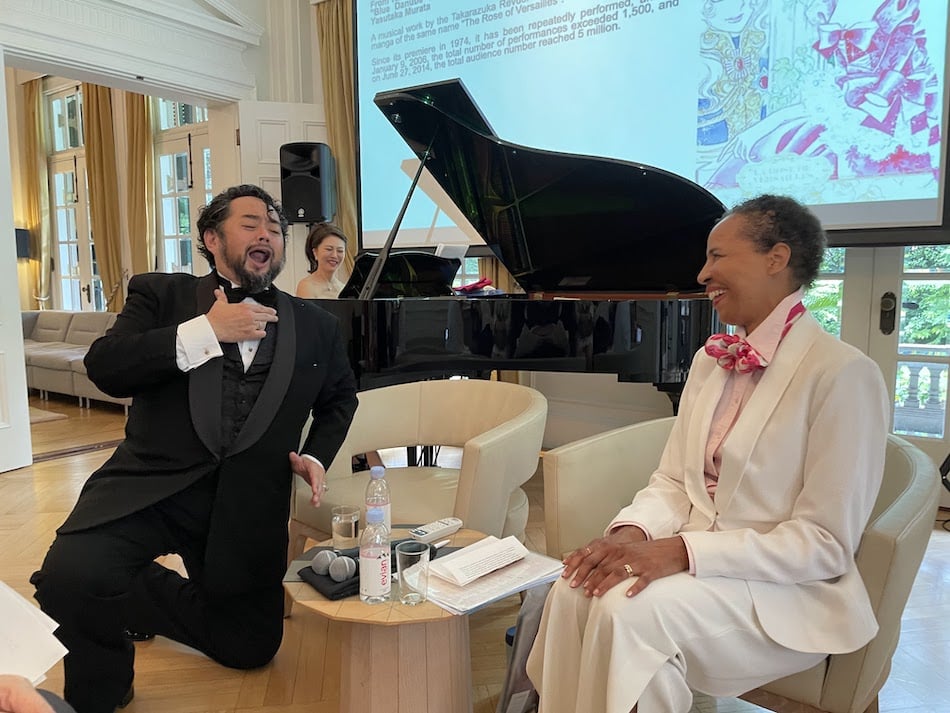 Ms. Ikeda talked about her memories of Azuma Atsuko, the famous Japanese diva, whom she studied under, and "Vissi d' arte, vissi d'amore" (from the Opera Tosca, "I lived for art, I lived for love) as if superimposing these lyrics on her own life.
They performed a romantic duet of "Shore of the Blue Danube" and "If you love" from the Takarazuka Revue "The Rose of Versailles"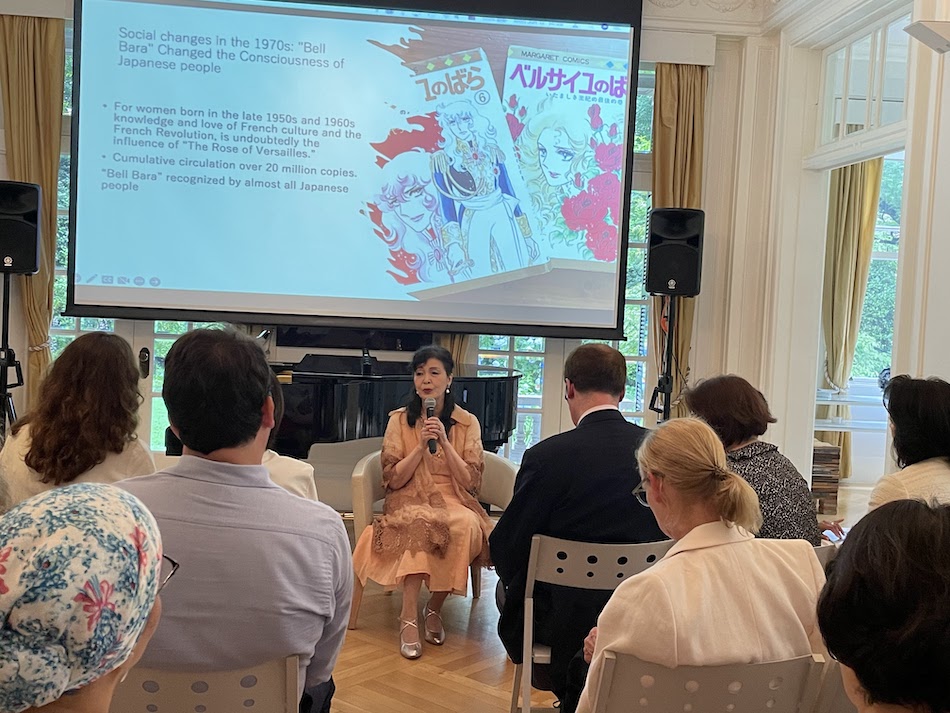 This was the perfect segue to Part 3: Manga, "The Rose of Versailles" and Riyoko Ikeda's impact on Japanese society and the art-form.
In Japan, there are many masterpieces of illustrations such as Master Kibi's adventure in China (collected by the Museum of Fine Arts, Boston), Kozanji Choju Giga, Hokusai Manga, and Kyosai Manga, but modern "Comics" did not stand as art.
The lecture and discussion revolved around how modern-day Manga influences Japanese culture–and the world–from the '70's up to today.
The lecture also examined the phenomenon of "The Rose of Versailles" that liberated a generation and let it dream– forever changing Japanese society.
Riyoko Ikeda, a pioneer who received the Legion of Honor from the French government and the title of Master of Comics from Italy, recounted her memories of writing and illustrating the masterpiece, mentioning that it was a difficult period, full of prejudices.
Through Ms. Ikeda's mangas, European history became more familiar to Japanese youth of that era, evidenced by the fact that high school and college students at the time "The Rose of Versailles" was published, know the French Revolution very well.
The Netherlands is also known as an advanced country regarding SDGs. For that reason, Ichina, a glove manufacturer in Kagawa Prefecture, exhibited products that are in line with SDG criteria. These products, ThinKnit, are made using WHOLEGARMENT technology cultivated by glove-making, a local industry in the City of Higashikagawa, Kagawa Prefecture.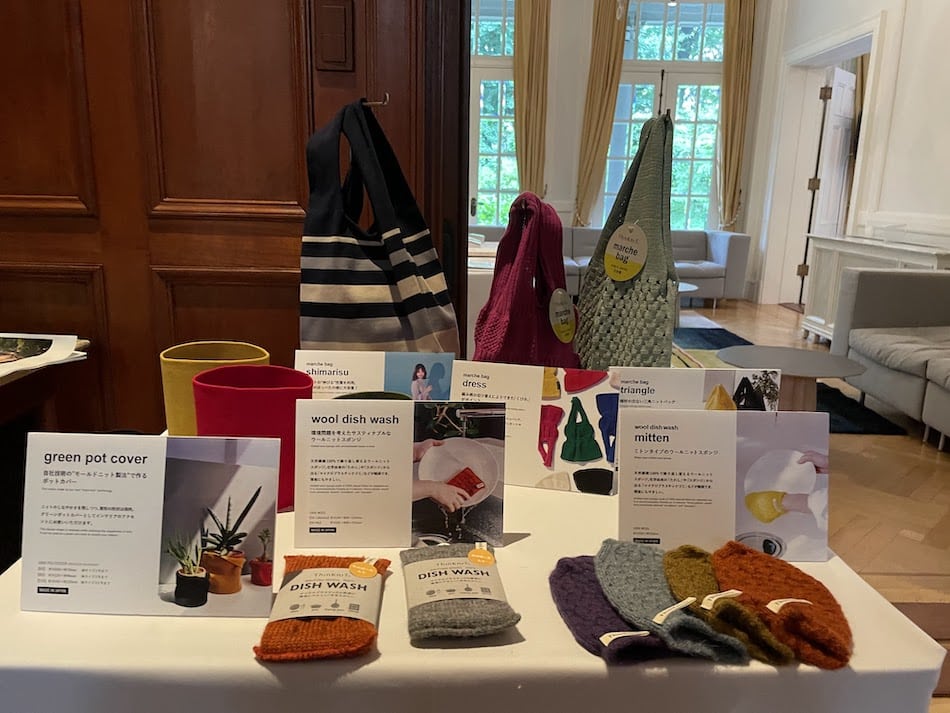 Mrs. Mitchell van der Vliet will move to Seoul, South Korea, following the transfer of her husband, Ambassador Peter van der Vliet.
We hope that she will continue holding such meaningful interactive lectures in South Korea.