Bill's Partyline April 2012
PEOPLE
Vietnam's diplomatic couple the Nguyens bid sayonara
After over 40 years of writing this column you'd think it would be easy seeing friends come and go. I'm well aware that the average stay for diplomats posted to Japan is three to four years but even so it's not easy. This was especially true when Vietnamese Ambassador Phu Binh Nguyen and his wife Le Thien Ngan, who were my neighbors and truly good friends, returned to their country recently. The Nguyens were some of the nicest kind people I know and like everyone who had the privilege of knowing them, I will really miss them. They were both involved in so many worthwhile community activities and did so much to promote friendship, business, understanding and good relations between their country and Japan.
Sayonara Old Friends
Two of my good friends and long-time supporters of the Weekender recently retired and we want to wish them all the best. First of all Mitsuru Sakuraba former CEO and president of Massimo Zanetti Beverage Group in Asia, he had a very exciting and fruitful seven and a half years here making Segafredo a real-world leader in coffee.
The second person I must mention is Chika Koda, director, and president of Hyatt Japan. I've had the good fortune of knowing for over him 30 years and like Mitsuru he's helped me so much in my work, in meeting so many good people and my travels, we also want to wish Mitsuru's successor, Toshiro Mori and Chika's successor Hire Abe all the best in their future ventures.
PARTIES
The Roos's Operation Tomodachi baseball event at the U.S. Embassy
U.S. Ambassador John V. Roos and his wife are a very active couple who are involved in endless worthwhile community activities. One is Operation Tomodachi, a public-private partnership forged after 3/11, led by the U.S. government, the Japanese government and the U.S.-Japan council. Organizers say that Tomodachi invests in Japan's next generation and thereby deepens relations between the U.S. and Japan. The program was showcased at the event at the embassy titled 'Helping to Bring Baseball Back to Tohoku', this included rehabilitating fields in Tohoku and building a stadium at Ishinomaki. Tomodachi is also helping re-equip Tohoku's youth baseball teams with equipment lost in the Tsunami and sending Tohoku students to Hawaii to attend baseball clinics. It was a very high spirited reception with special guests that included Major League hall of famer Cal Ripken Jr., Jane and Paul Yonamine (the wife and son of the late and great player Wally Yonamine) as well as coaches and high school baseball players from Tohoku.
India's Republic Day Celebration at the Okura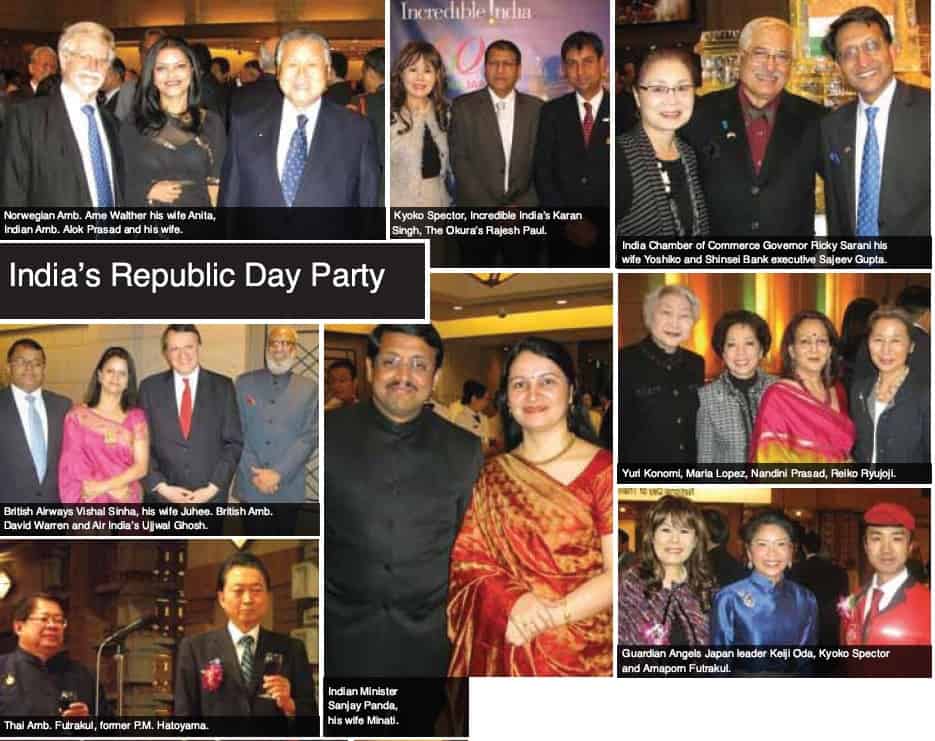 The Indian ambassador and Mrs. Alok Prasad have been posted here a relatively short time and have been super busy since their arrival. One of the highlights of their (what has to be) hectic schedule was the people-packed reception they hosted on the occasion of incredible India's Republic day, in the Okura Hotel's well designed Ascot Room. It was a colorful gathering with most of the Indian ladies in chic bright coloured saris. Their beautifully crafted jewellery was very special and the colourful buffet featured Indian, Western and Japanese favourites. Pictured to the left are Indian minister Sanjay Panda and his wife Minati. The ice carving of an Indian fort in the centre of the venue was very impressive. The program featured a welcome speech by the ambassador and a fast paced performance of traditional Indian dance, it was a laid back event, perfect for the occasion. To celebrate 60 years of India-Japan diplomatic relations there was also a photo exhibition and panel discussion at the Indian Cultural Centre. I went along to enjoy the music and dance extravaganza Ticket to Bollywood at the centre. It was truly incredible.
Futrakul's celebration for Thai King's birthday
Thailand's King H.M. Bhumibol Adulyadej has long been one of the most loved and highly respected leaders in the world and the reception to celebrate his birthday, held at the Imperial Hotel here in Tokyo, was perfect for the important event. The huge hotel venue was wall-to-wall people and guests included many Japanese government officials, most of the international diplomats posted here, business leaders, familiar faces from the arts, fashion and entertainment worlds and the cream of both Japanese and foreign society. The turnout was proof positive of the popularity of the king and his top representatives here; Thai ambassador Virasakdi Futrakul and his dynamic wife Aumapom. The program that night included short speeches by the ambassador and several Japanese dignitaries, traditional music by a group from Bangkok and an exciting dance performance.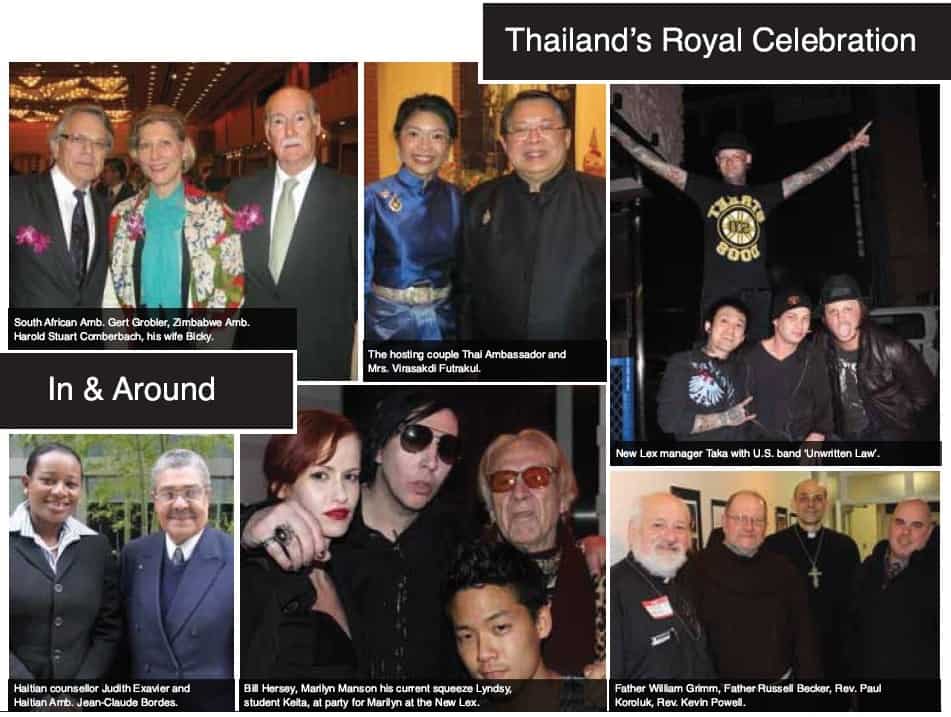 PLACES
Tokyu Hands in Shibuya is a really amazing store. Whenever I go there, which is quite often, I usually spend several hours and a considerable amount of yen. The eight floors are tastefully set up to show you the awesome variety of anything and everything they have to offer and in addition to just selling merchandise, the store has all kinds of workshops that include woodwork, handicrafts, jewelry designing, leathercraft—you name it. Tokyu Hands displays, which always show the latest gadgets, are constantly changing. They recently redid the top floor and have an interesting snack-bar in a fun setting that includes prehistoric animal models and a greenhouse with all kinds of unusual plants. Everyone likes a bargain and before we move onto the party scene, I want to remind readers to visit the newly renovated Shibuya branch of Tokyu Hands, the superstore is open seven days a week from 10:00 a.m. To 8:00 p.m.—Go and check it out!
*First published at the Tokyo Weekender
*Images Copyright: Tsukasa Shiga