Bill's Partyline January 12th, 2005
PEOPLE
Young actor Hayden Christensen has a huge following here, and during his recent visit for GAGA Communications to promote Shattered Glass there were groups of Japanese girls hoping to spot Hayden going in or out of the Lex. I learned he's a serious and hard working actor who didn't really go out —except for dinner with GAGA Films President Mitsumasa Sakamoto and GAGA Communications Honorary Chairman Tatsumi Yoda. I just read an interview with Rosario Dawson (Kids, Alexander, Sin City) by Hayden for Warhol's Interview magazine. He really knows what he's doing. He'll be back in Tokyo this summer to promote Star Wars: Episode III for Twentieth Century Fox.
Pop singer Ashlee Simpson, whose sister Jessica is also a superstar, dropped by the Lex when she was here to promote her debut album Autobiography.
I was really surprised when Courtney Love, her guitar player and two friends walked into the Lex. I had just read a judge ruled she could come to Tokyo for a music festival if she followed a few rules he laid down. One was that she not go into any establishment that served alcohol. Courtney's erratic behavior is constantly in the news with stories such as "When Love isn't enough" and "Love on the rocks." She's also been lifting her skirt on the Letterman show, baring her boobs at a New York Wendy's, throwing a mike and injuring a man at one of her club concerts, diving from the stage and injuring another spectator, getting caught for drug possession, and arriving late for her court dates. Whatever – she looked great and was super-nice at the Lex.
It was great seeing Belinda Carlisle (The Go­Gos) again, as it was the members of Green Day, The Libertines, Mugg, Brides of Destruction, Mambo Taxi, Hope of the States, Razorlight, Block Party, The Backstreet Boys, and Fountains of Wayne, who wrote a song about the Lex.
Model-actress Devon Aoki's (she starred in The Fast & the Furious) brother Steve was in town and dee­jayed at the Lex. The guy is good. Devon and Steve are the children of Rocky Aoki of Benihara restaurant fame. She's now shooting her part as an assassin in a new Robert Rodriguez film that stars Bruce Willis and Benicio del Toro.
Model Naomi Campbell was also in Japan to promote a diamond line. Just happy she didn't drop by the club. I got turned off on her a few years back when she turned down an absolutely beautiful – and nice – Brazilian girl called Iliana that she worked with here. The girl asked for a photo together after the job was finished. Campbell's reply was, "I don't take photos with people I work with." Just read Naomi head butted and bit her assistant. That and her record of assaulting two other assistants, as well as the foul language she used, is sort of proof positive of what fame and too much head butting can do. It's easy to see why the world's top Spanish dancer Joaquin Cortes (a great guy), as well as many of her other boyfriends, dropped her.
When Gwyneth Paltrow came to Tokyo for GAGA Communications to promote her film Sky Captain at the film festival she brought her makeup artist Scott Barnes with her. This is the highly respected man Jennifer Lopez fired recently. From a comment in a gossip rag, "Her new look is really harsh." Seems like she should have kept Scott. Gwyneth by the way has joined Brad Pitt and his wife Jennifer Aniston in working with the Italian Jewelry line Damiani.
After 30 years of writing this column I've seen a lot of nice people come and go, and should be used to sayonara by now. Even so, it was really difficult when AIG's Ron Anderson and wife Maria, after 11 years in Japan, moved to New York City. The Andersons were one of our city's most active and popular couples. In addition to Ron's heavy schedule as chairman of AIG here, he was on the board of directors for the City Club of Tokyo, a member of the Skol Club and active in many community activities. Maria (she's Lebanese) is the epitome of kindness and thoughtfulness. She served as president of the prestigious International Ladies Benevolent Society, and was involved in many charity projects.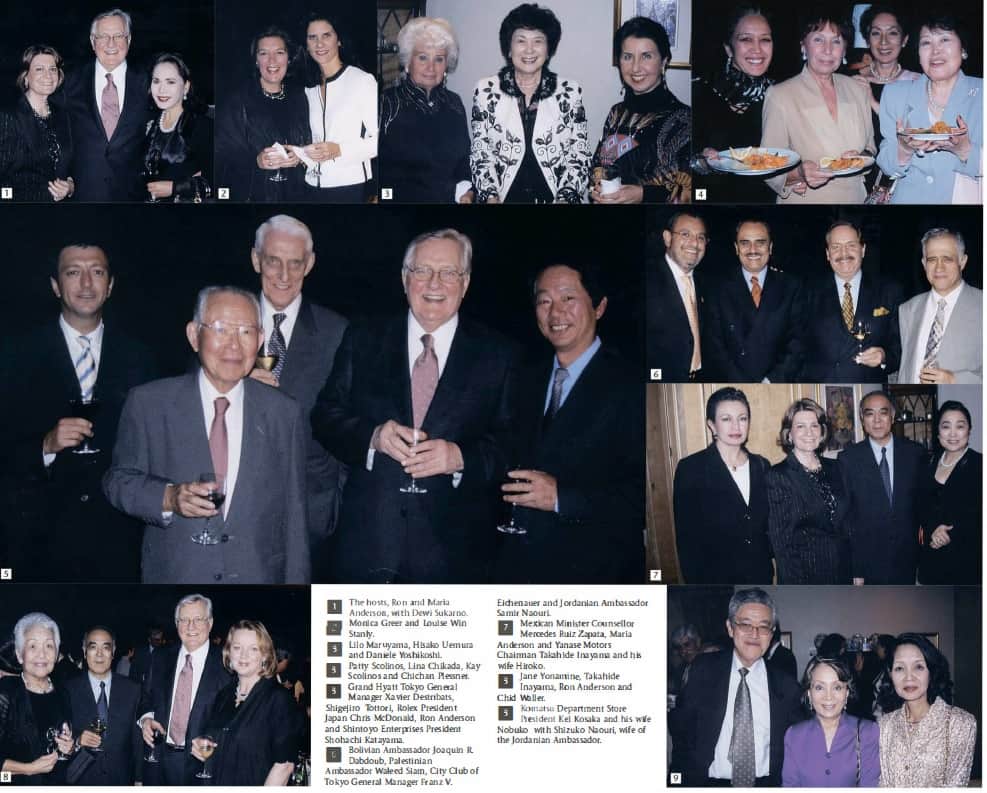 The couple made so many friends from all walks of life – not only here, but in Shanghai, Hong Kong and Seoul. They not only traveled on AIG business to these places, but were invited for special events by the mayors of Seoul and Shanghai. For a month or so prior to their departure it was a steady stream of breakfasts, lunches, dinners and even a few bridge games for the Andersons. Shortly before they left they hosted one of their legendary evenings in their home. As always, it was wall-to-wall people, a superb buffet and a thoroughly laid back and warm Anderson ambience. Like most people who know Ron and Maria, I have a special place in my heart for both of them. Maria, I might add, really worked with me on sending clothes, toys and other things to kids in the Philippines, Papua New Guinea, Vietnam, Cambodia and Tunisia. That's the special kind of person she is.
PARTIES
Saudi Arabian Ambassador Faisal H. Trad and his wife Nadia as well as daughters Rozan, Loujian, Afnan, Nouran, and son Rayan were only in Japan a short time before they hosted a glittering reception at the New Otani Hotel on the occasion of their country's National Day. Earlier that evening I went to the South African Freedom Day celebration with ACTV's Daniel Smith and Richard Colombo. Somehow, between the three of us, we managed to lock my keys in the car. Believe me, a locked BMW is not easy to get into. Dan and Richard stayed on until J.A.F came, and I took a taxi to the New Otani for the Saudi celebration. Glad I did, as it was a beautiful party in every way. In addition to the huge tsuru room being full of interesting people, there was a bountiful buffet of Arabic, Western and Japanese food. A special touch added was a traditional Arab room, Dewaniya, where guests could relax while enjoying dates and mint tea.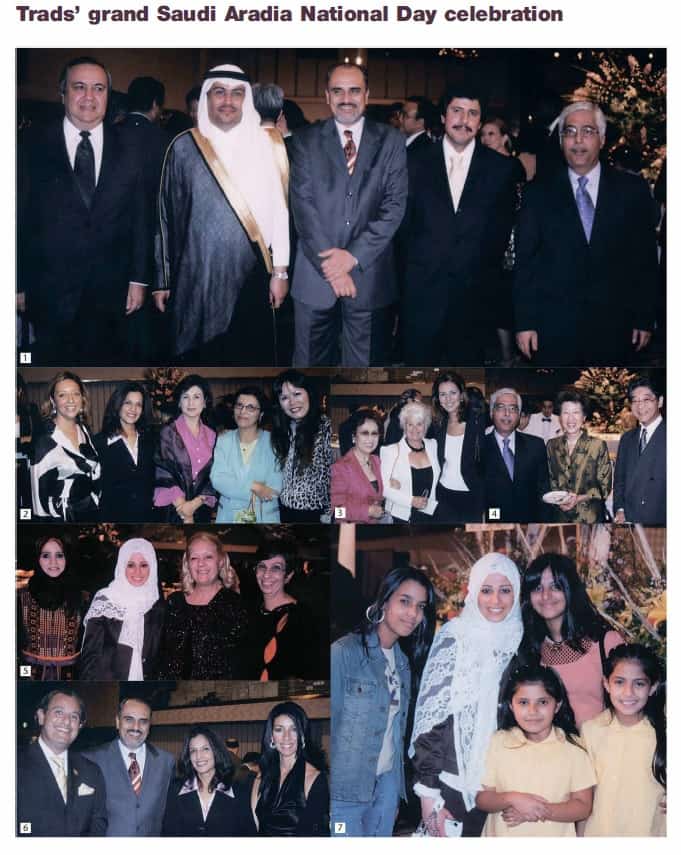 As expected, the Jaguar gala party at the Westin Hotel, hosted by Jaguar President Japan David Blume and his wife Hiroko, was la prima classe in every way. It was a black tie affair and the hotel's Galaxy Room was tastefully decorated in black and white. Several dream cars, including Jaguar's XJL and XKR Black Knight, were the center of attention for the many connoisseurs of fine cars there. Kudos to chef Toshio Numajiri. The buffet was gourmet Japanese, Chinese and Western food at its best. Japan's top sommelier Shinyo Tasaki made sure there were the best champagnes and wines to compliment the food. I appreciated Mary Katayama introducing me to Chisa Osanos, the daughter of one of Japan's best­known land and hotel tycoons. I also appreciated the Andersons introducing me to Graham and Janet MacNaughton. He heads Hong Kong Shanghai Banking Corporation operations in Japan. Maria Anderson told me HSBC had hosted a magnificent dinner party at the Park Hyatt a few weeks earlier in honor of a big delegation of Hong Kong's most impor­tant businessmen.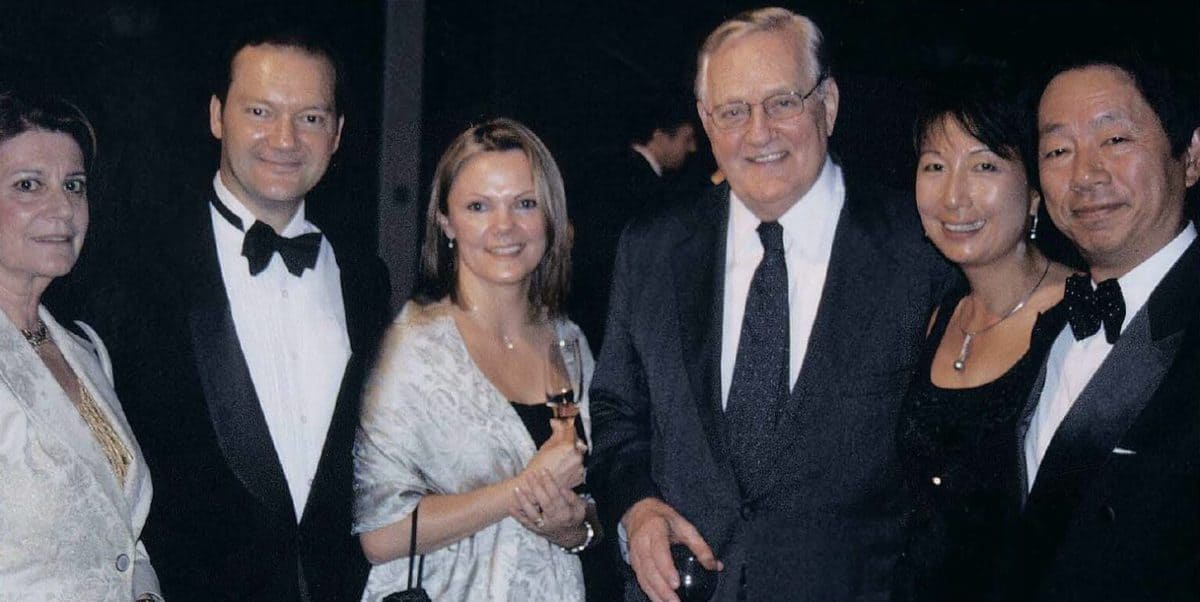 PLACES
Warner Bros. people hosted a luncheon at the Grand Hyatt for the media and theater owners to announce their line up for 2005 and early 2006. W.B. international execs Sue Kroll and Veronika Kwan-Rubinek flew in from L.A. to join their man-in-Japan Bill Ireton and his staff for the presentation. Looks like, as always, W.B has a great line up with a lot of real winners. These include Ocean's, which opens next week, the much anticipated A Very Long Engagement, Constantine, that starts Keanu Reeves, Batman Begins, with a new Batman, Christian Bale, The Island, with Ewan McGregor and Harry Potter 4, with the usual great kids.
The four mast Chilean naval officers' training ship Esmerelda, illuminated with its strings of thousands of lights, looked awesome docked at Harumi Pier. It was a truly memorable evening for those invited to a reception on the decks of the Esmerelda during its visit here. The evening, hosted by the ship's captain, Antonio ldiaquez, and outgoing Chilean Ambassador Demetrio Infante, included being piped aboard, a buffet, tours of the ship and salsa dancing to the ship's band. Guests included diplomats, Japanese naval officers, business leaders and familiar faces from the fashion and entertainment worlds. I really appreciated the ambassador's secretary Lucy Kinoshita's help in meeting so many nice peo­ple. She was there with her lovely daughter, Ayumi, who just graduated from Lawrence Academy.
CHECK OUT the Swedish Promotion at Hilton Tokyo's Marble Lounge from Jan. 21-30. Executive chef Neil Ponsonby from Hilton Stockholm Slussen flew in to work with Hilton Tokyo in preparing the Swedish buffet – or smorgasbord as the Swedes say. Lunch is noon-2pm, Monday to Friday, with a Saturday and Sunday brunch 1 lam-2pm.