Bill's Partyline August 1st, 2008
PEOPLE
Congratulations To construction and development tycoon Minoru Mori, who celebrated his birthday on July 14th. I  saw Minoru and his wife Yoshiko at US Ambassador Thomas Schieffer's, and as always, he had a great golf (I think) tan. Also to HIFI Princess Takamado, one of the most capable and hardest working ladies I have the privilege of knowing. She's always involved in so many worthwhile projects, but there is just no space to list them all here. Anyway, the Princess's oldest daughter Tsuguko is back after finishing her studies at the University of Edinburgh in Scotland, and on July 22 her daughter Noriko turned 20, which makes her an adult here in Japan. The late and truly great Prince Takamado has so much to be proud of.
PARTIES
Over at the Austrian Embassy residence, Ambassador Jutta Stefan-Bastl, her husband Peter Stefan, and Tanaka Kikinzoku Kogyo la President Hideya Okamoto hosted a reception on the occasion of the retirement of Dietmar Spranz. He's been the President and Master of the Austrian Mint for ten years. The special evening included a welcome speech by the Ambassador, greeting speeches by Mr. Spranz and Mr. Okamoto, and a toast by Hoseki No Tamaya President Fukabayashi. Glitz and glamour were added to the event by a gorgeous model wearing a solid gold dress in the Philharmonic Gold Coin Fashion Show. After the show there was a superb buffet of Austrian food where guests had the opportunity to get to know each other better.
For me, Italian fashion is the best so this style issue is perfect to cover the huge mid-day reception at the Italian Embassy. In addition to celebrating Italy's National Day, the hosting couple, Ambassador Mario and Anna Cenerini Bova had the opportunity to say sayonara to lots of the many friends they made during their five-year posting in Japan. The weather was nice that day and in addition to all the main venues in the residence being filled to capacity, many of the guests had moved out into the Embassy's huge garden—one of Tokyo's most beautiful. Most of my Italian friends who hang out at Segafredo in Hiroo were there and that's a good group of mostly guys. I was also happy to have the opportunity to say sayonara to Giorgio Fomari, who I got to know through his work with Armani here. Giorgio, a good friend, has been transferred to India where he'll play an important part in Armani's operations there. I introduced him to two more friends, Polish Ambassador Martin Rybicki and his wife Adrianna, who I was sorry to hear will be leaving Japan soon as well. Talk about coincidence, the Rybickis were both wearing Armani that day. Check out the photo. As at any of Mario and Anna's events, there was a huge variety of Italian food. The risotto and tiramisu, as they say, were to die for. The Bova's have left by now and our best wishes for them back home.
PLACES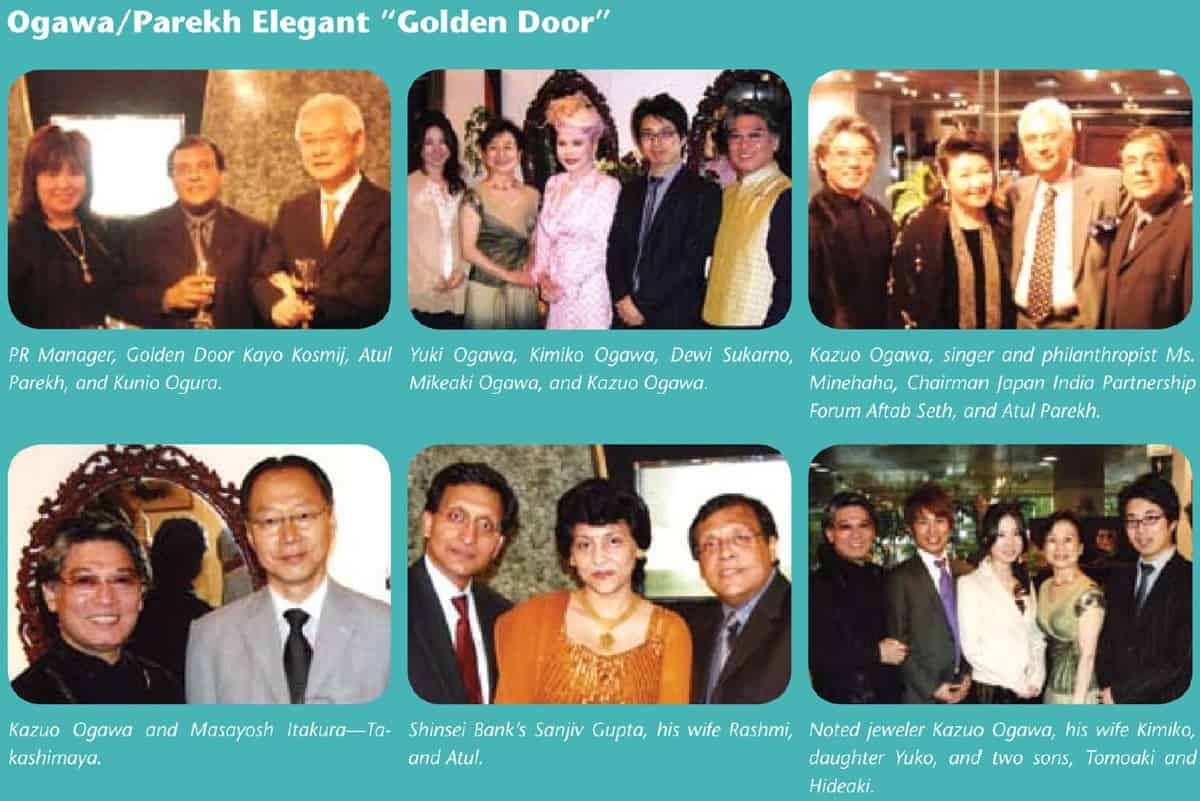 There was lots of class, as well, when Infinity Creations' MW Parekh and his partner, noted jewelry designer Kazuo Ogawa, hosted several days of opening receptions for their new venture, 'Golden Door.' The salon for culture, couture, and coiffure is, as I knew it would be, unique and the epitome of good taste. Kazuo had his wife, daughter, and two sons helping them and talk about nice people! I, of course, feel the same way about Atul's remarkable family; his wife was in Mumbai finishing another book on vegetarian cooking, his son, Alok, who's here now, was in London at that time, and daughter Ayesha was in New York City, where she works for Lehman Brothers. Others I met when I was at the Golden Door included Sanjeeva Gupta and his chic wife Rashim. Sanjeeva recently joined Shinsei Bank as one of their top executives. The Golden Door is located on the first floor of Plaza Edogawabashi at Sekiguchi 1-23-6, Bunkyo-ku, tel. 03-3228-0028. It's actually behind the Chinzan-so Gardens and Four Seasons Hotel.
There is lots of upscale development in the area now and Atul has promised me a report later. It was yet another enjoyable evening at the home of the Peruvian Ambassador Hugo Palma and his wife Kirsten. The occasion was to celebrate Peruvian-Japanese Friendship day. As with anything the Palmas do, the interesting people, superb Peruvian buffet, and warm ambiance added up to a thoroughly laid-back and enjoyable evening. I did take time out to check out a huge book on Colombian festivals on one of the tables there.
I've had the good fortune and privilege of having a good working relationship with Hilton Hotels for many years. Even so, it never ceases to amaze me how those at Hilton Tokyo never slow down and always come up with something new and exciting. The recent renovations include the new Executive Suites, the Executive Lounge, the Marble Lounge, the gym and pool area, and the addition of a chic chocolate boutique. It's easy to see why the hotel was recently awarded four pavilions ('order of comfort') and two stars for their acclaimed French restaurant Twenty One in the Michelin Guide Tokyo 2008. Hilton has reached new heights with the opening of the 506-room Hilton Niseko Village located at the base of the magnificent 1,309 meter Mount Annupuri in Hokkaido. The full-service, deluxe Hilton-managed hotel is Japan's premiere mountain resort offering unparalleled year-round winter and summer outdoor activities in an unbeatable location. Hotel facilities include indoor and outdoor onsens, a spa, fitness center, and a huge—the largest in Japan—lobby fireplace where you can relax after a full day of fun activities. These include a superb ski area, golf, horseback riding, fishing, ropes courses, white water rafting, and adventure options. As in all Hiltons, the guest rooms are comfortable, completely equipped, and tastefully decorated. There is a wide variety of restaurants and bars serv-ing both western and Japanese food. The media had the opportunity to enjoy some of the Hokkaido special-ties (yogurts, salads, soups, cheeses, etc.) at the recep-tion after the Hilton Niseko Village press conference at the Hilton Tokyo recently. It was all so delicious and so healthy. I hope to spend a few days at Niseko Village soon.
For more info, visit www.hilton.co.jp or www. hiltonworldresorts.com. Meanwhile, I really recommend you check out the Hilton Niseko Village yourself. I know it's very special.
*First published at the Tokyo Weekender
*Images Copyright: Tsukasa Shiga