Interview with Serbian Ambassador to Japan Aleksandra Kovač
Serbia, now a candidate country for the European Union membership, is well known for its palaces, fortresses, and excelling in tennis and team sports such as water polo, volleyball and basketball. With 2022 marking 140 years of Japan-Serbia relations, the year has been an important one for both countries with many reasons to celebrate. Speaking with the Serbian Ambassador to Japan, H.E. Ms. Aleksandra Kovač, we get to learn about Serbia's efforts to develop a good investment environment to attract investment from Japan and other countries. Ms. Aleksandra Kovač also highlights Serbia's stand on the protection of minorities as well as top industries the Ambassador is currently promoting including the automotive and IT services sectors.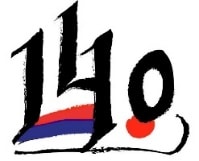 The Serbian Ambassador who began her term as Ambassador to Japan in 2021 records a long-standing diplomatic career. She was previously the Secretary General of the Commission of the Republic of Serbia for cooperation with UNESCO and also the Head of UNESCO Unit, Ministry of Foreign Affairs in 2018. Prior to that, she served as Minister Counsellor, Deputy Head of Mission, at the Permanent Delegation of Serbia to UNESCO in Paris and Director of Diplomatic Academy at the Ministry of Foreign Affairs.
How long have you been stationed in Japan as Serbian Ambassador to Japan? And how did you cope with the ongoing challenges of the global pandemic?
It's been already a year. When I look back now, I must say it's been an interesting period.
I have to admit I started working since day one. There was no period for me to acclimate — I had to actually deal with the challenges regarding the Olympics as soon as I basically stepped out of the airplane. And it was a learning process for both sides, from our side and Japanese side, because nobody had seen this kind of situation before.
I met with Madame Koike and I told her that we really appreciated what she and the government of Japan and Tokyo did. It was something to show to the world that despite of the challenge of something that you can't really control, you can still persevere and you can bring the international community together.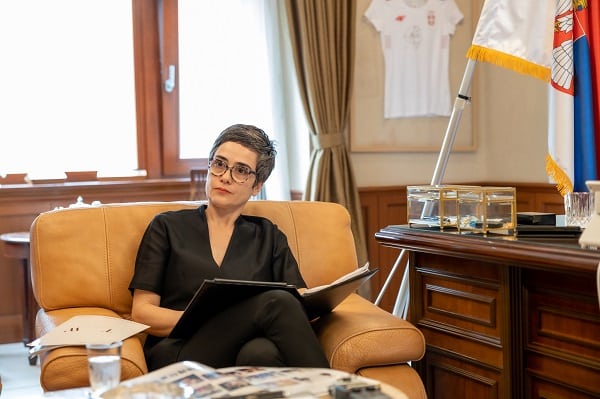 After we overcame the challenges, there was more breathing space. We could all actually focus on other activities because all the focus had been on the Olympics. So, I started to work on meetings with those who have been partnering with, not only our Embassy, but with Serbia.
My two top priorities are to maintain the political dialogue and to enhance the economic relations with Japan. For us, it was important, despite the pandemic that kind of slowed down this dialogue process, to actually continue doing it, while we alsoto prepare for this year. This year has been very important for us because we celebrate the 140th anniversary of friendship with Japan.
Tell us about some of the cultural exchange initiatives your embassy is planning this year.
December looked very optimistic, and then came January with the new Omicron variant starting rise again, so we had to abandon a lot of plans as well as my Japanese counterpart, the Ambassador of Japan in Belgrade. We both thought that we would do very big kind of kick-off events to mark the Jubilee in February because that's when our national days are, but that was met with huge obstacles. However, despite all these obstacles, we were able created a joint anniversary logo and we started to do smaller, more workable, scaled events for this important year.
One of the things that was very challenging for us was to actually bring people to Japan. When I talked with colleagues last year during the preparations for this Jubilee, I already knew that even the countries that had previously held the Jubilee couldn't have their artists come to Japan. It was a hardship but, of course, understandably so. We just started very slowly. On a smaller scale, we already hosted a number of events, like a concert and a photo exhibition held in April and an exhibition for an artist that was supported by our Ministry of Culture in Serbia.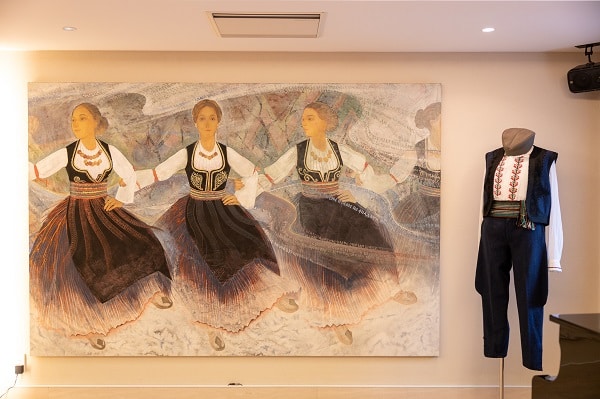 Novi Sad, the capital of Vojvodina Province, which is just north from Belgrade capital, has been the European capital of culture, last year and this year, due to the pandemic. We are working with the Japanese organization EU-Japan Fest that is actually helping with the exchange of artists within that framework. They've been doing it for 30 years. There are several artists and cultural institutions' representatives that are coming to Japan with their projects. We are happy that we finally have this pool of artists to actually present to Japan. We have many things to celebrate this year.
Our city of Sabac has a sister city in Japan- Fujimi in Saitama. This is an interesting relationship; it's actually marking its 40th anniversary this year. So, aside from the 140th anniversary of our friendship, there is also this important jubileee. What's interesting is that Sabac is a very important city in the history of Serbia, which actually houses a Japanese investment company, Yazaki Company. Sabac and Fujimi had many exchanges and visits, not just on paper. And this October, Sabac's delegation visited Fujimi.
A very interesting fact — I'm telling the media for the first time because it was newly discovered fact. Fujimi-shi was created from three villages and one of them is the village of Mizutani. Fujimi was very active in researching their archives for the Jubilee year. And they've found an interesting call by this Mizutani village chief. In the beginning of the First World War, when Serbia and Japan were allies, he actually pleaded for aid for Serbian citizens, saying that "Serbians also have families, they have brothers and sisters, they have kids, and they have elderly, they can't feed them." There was a very human appeal.
It's interesting that in some villages around Japan, there was this kind of appeal which later evolved into something even more formal. Japan did contribute aid to Serbia. There was the Serbian Relief Committee that was created. It was a humanitarian effort, and it was also meant to build hospitals for the soldiers, among others. This was something that significantly, I would say, made an impact as well.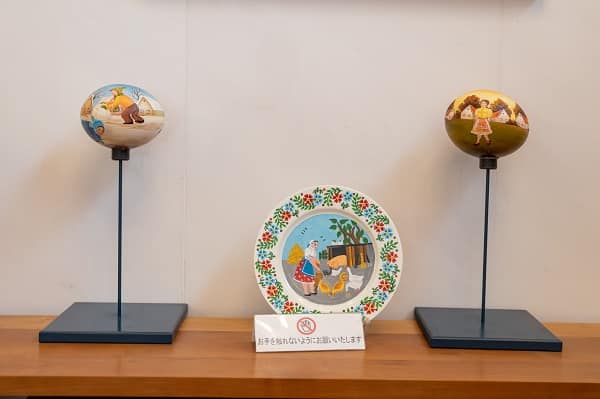 Fujimi has has recently signed an agreement with Sabac City on student exchange programs. Moreover, Fujimi was one of the host towns during the Olympics, and they hosted our wrestling team. I have to say one of the biggest moments that we are proud of is that all host towns, and there were four of them, helped our teams that were there to win a medal.
We were supposed to have more host towns, but there were some problems in some towns that were lacking infrastructure in the pandemic, so that created some difficulties. But this was really a proud moment for us. Another legacy from the Tokyo Olympics is to develop the relationships with those host cities and to actually expand them into something more.
Large Japanese corporations have already made extensive investments in Serbia along with many other multinational blue-chip companies. What makes Serbian economy attractive for Japanese?
There are a number of things, and it depends on the specific needs of each industry and interested party. In the case of Yazaki for example, I know that the skilled workers are always praised. When you train the workers and you see the result in the end — it was actually quite inspiring for the company. They created a family, they actually promoted those workers in the posters. I remember that one of the interesting moments was when we were meeting with the Japan-Serbia Friendship parliamentary league here and we had representatives of the companies speaking about their investments in Serbia.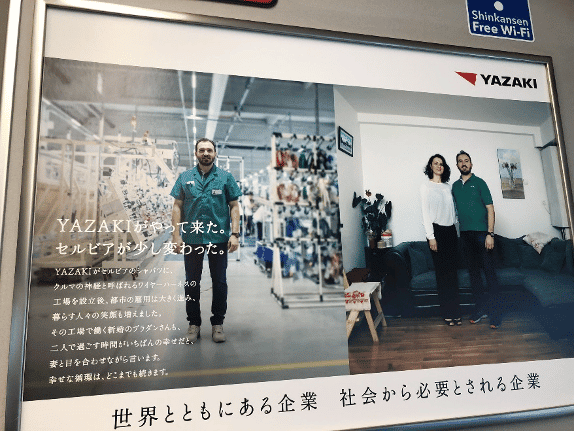 A Yazaki representative showed a poster — their global promotion activities. They not only promoted the skilled workers, but also the infrastructure as well. In the recent years, most investments have been from the automotive industry, and last year Japanese company Nippon Tsuun their in Serbia. We have industrial zones with tax incentive that are attractive to investors
We also provide support to investors in the form of a good investment environment, which is very much focused on keeping peace and stability. As you know, more than 20 years ago, that was the first and foremost challenge. It took a great effort to accomplish that.
Serbia is one of the candidate countries for accession to the EU. While we are doing our reforms and going toward this path, we've met with other countries in the region, like Albania and North Macedonia, to create an initiative called Open Balkan, which is aimed at accelerating the trade relations and cooperation in many fields. So far, the EU, and even the U.S., have praised this initiative as something that is contributing in a positive manner to the EU accession process.
What are the key industries and services that you're promoting in Japan?
A large number of new investments are in the automotive/car industry. This means the production, building the factories, and employment for a large number of people. We always try to find different opportunities for growth in the IT services sector.
For us, this is a very interesting export opportunity. In 2021, last year, we totaled the export of IT services to around 2 billion euros, with a surplus of around a billion euros.
We made an agreement with the World Economic Forum to open a center for the Fourth Industrial Revolution; it's 16th in the world, in the thematic areas of AI and bioengineering.
Recently, we became a member of EuroHPC JU. It's a European organization that focuses on supercomputers. It's one of the things that we want to accelerate.
We also adopted early the Strategy for the Development of Artificial Intelligence for the period 2020-2025, so there is a big focus on it, and we're aiming to promote it.
Could you please talk about the protection of minorities, and progressive trends in your country?
When we talk about sexual minorities, as you have mentioned, we have an openly gay prime minister, who, by being the top government representative, is leading the way and advocating for a better understanding about the same-sex relations, although that has not yet been translated into a legal framework.
At the end of 2021, we had made a draft law on same-sex relations. It was not always easy to work on laws during the pandemic, as it had to pass through the legal process. And now it's been slowed down because we had elections at the presidential, parliamentary, and local level.
We now have a newly formed Government, with the same Prime Minister. While we are trying to get on this bandwagon with the European Union, there are a lot of reforms to be done in the legislative field. The EuroPride was held in Serbia in September 2022. The Pride Movement is present; they even have an office in the center of Belgrade.
But when we talk about other minorities, for example, ethnic minorities, I would say that Serbia is at the top regarding that. The ethnic minorities can even have their education in their mother tongue.
When I was in charge of UNESCO, we worked with Slovak community to celebrate International Day of Mother Tongue. always had visits from the heads of the government and top ministers on this day. This has been a very good point for the communication between two countries and their peoples.
When we talk about cultural heritage, their practices — the artistic is called Naïve Art — have been part of our intangible cultural heritage. The number of applicants this year for schools in the mother tongue has been increasing. That's especially true in the case of Vojvodina, the northern part of Serbia which is very multi-ethnic in character.
Tell us about the bronze bust in the foyer of your Embassy depicting Nikola Tesla.
He was born in Austria-Hungary, but he was of Serbian ethnicity. Both of his parents were Orthodox. His father was actually a Serbian Orthodox priest. He was very proud of his Serbian origins, and he even visited Belgrade. Many Serbian scientists, who were very famous for contributing to world science, also had to go to Vienna and Geneva to study, since they were the hubs for science.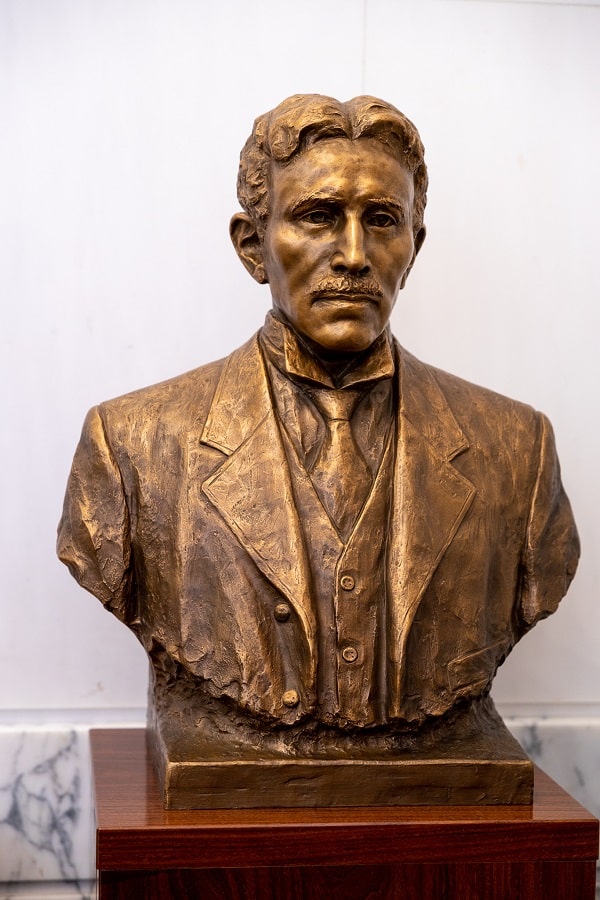 He tried his luck in the U.S. and the rest is history, I would say. Tesla has been embedded in the national pride and memory. All of his archives have been preserved in Belgrade, and they've been inscribed in UNESCO's documentation heritage "Memory of the World". The Tesla museum is undergoing expansion to accommodate tourists. I would say that's an interesting place for tourists who know about Tesla to visit. Unfortunately, general awareness for Tesla in Japan is low, and we, as an Embassy, are trying raise awareness.
We met with one of the Tesla enthusiasts, Mr. Osamu Hirashita, who is great supporter of our Embassy and who is now in the Japan-Serbia Society. During my first posting in Japan we went together to Toyama Prefecture, where we met with the artist who was actually making the statue of the bronze bust you mentioned.
The bust, made for TEPCO Museum History of Electricity in Yokohama, is now temporarily exhibited in our Embassy. There is also a group of Japanese professors who are writing about Tesla, but due to COVID, this project has been delayed. They also want to combine all the knowledge regarding Tesla in a more scientific point of view and to publish it. Of course, we want to promote it once it's available.
You had a very interesting encounter with Serbian tennis ace Novak Djokovic during the Tokyo Olympic games. Could you please tell us more about it.
I really wished for him to win Gold in the Tokyo Olympics. I think that was his primary goal that year. But as we say, you can't win them all. There is a limit to human strength. He wanted to support and inspire the younger tennis players in particular. You can see his signed jersey decorating my office.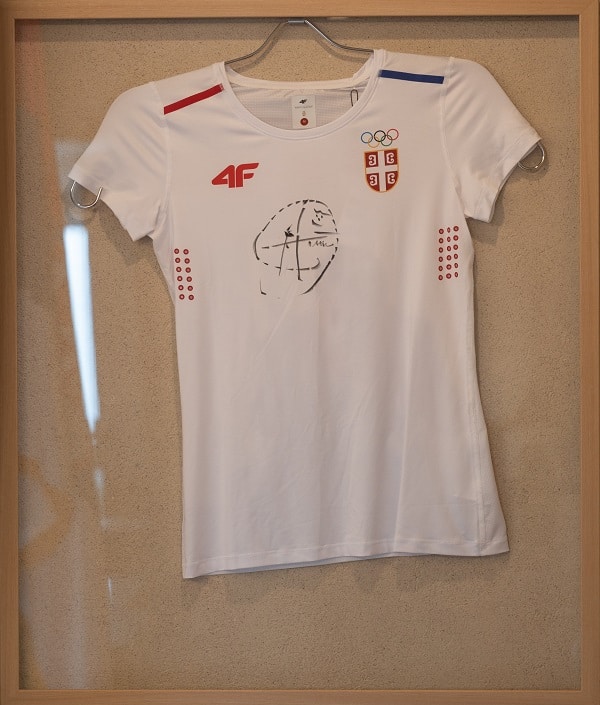 But it's not only in tennis that Serbs excel. We are very good in team sports: water polo, basketball, volleyball, football, etc. In football, we enjoy a long legacy, especially with Japan. Interestingly, our former captain, Dragan Stojkovic Piksi (Pixie) was here for a long time and has a statue in Nagoya. He used to play for Nagoya Grampus, he became a manager, and he had a very long-term bond with Japan. He even brought one of the assistant coaches from Japan to our national team.
On these fronts, there is an exchange, even though we have more than 9,000 kilometers of distance between our countries.
We thank Ambassador Kovač for this interview.
Read more