Hersey's Partyline May 2016
PEOPLE 
Oscar-winner Leonardo DiCaprio was in town for three clays to promote the award-winning film "The Revenant" for 20th Century Fox. Talked with him before his press conference at the Ritz Carlton. He looked very business-like in a dark suit with dress shirt and tie. He also looked very thin. When you see the film – and you really should – you'll understand why he told me that director Alejandro Gonzalez spent months preparing for each shot, all done in natural light. lt was a real challenge for the actor, often in remote locations (Argentina,  Alaska, etc.) in sub-zero weather. It's a great film by a winning director and a super-talented cast. 
I just bought the soundtrack for the film and loved the music, much of which was composed by Ryuichi Sakamoto. I first met Ryuichi about 35 years ago when he wrote a theme song for the opening of a Roppongi club I ran for about 32 years. Got to know him better when he was here with Italian director Bernardo Bertolucci to promote "The Last Emperor." He won an Academy Award for that film's soundtrack in 1988. He was recently back in Japan from New York, where he lives, to perform his first concert since undergoing treatment for throat cancer in 2014. Besides being a musical genius, he's involved in so many worthwhile projects – many of the same ones as Leonardo.       
PARTIES
BRUNEI NATIONAL DAY AT IMPERIAL HOTEL 
On the 32nd anniversary of Brunei Darussalam's national day, Ambassador Mahamud Ahmad and his wife Hadijh Idris hosted a reception to celebrate at the Imperial Hotel on February Z3. It was an interesting, laid-back evening and I really enjoyed meeting a very cool young Prince Muqtadir. The buffet, as always at the Imperial, was excellent, and I  especially enjoyed the table of Brunei favorites.        
PAPUA NEW GUINEA COMMISSIONING CEREMONY 
Papua New Guinea Ambassador Gabriel Dusava, his wife, and his staff went all out at the New Otani. The occasion was the formal commissioning of Kazunori Kuribayashi as honorary consul of Papua New Guinea for the Hokkaido region. The ceremony included the traditional breaking of the sake barrel after which guests enjoyed an excellent buffet. It was an enjoyable evening and I was happy to learn that Papua New Guinea's economic situation is improving and that they have good relations with Japan.
KUWAIT RECEPTION — PALACE HOTEL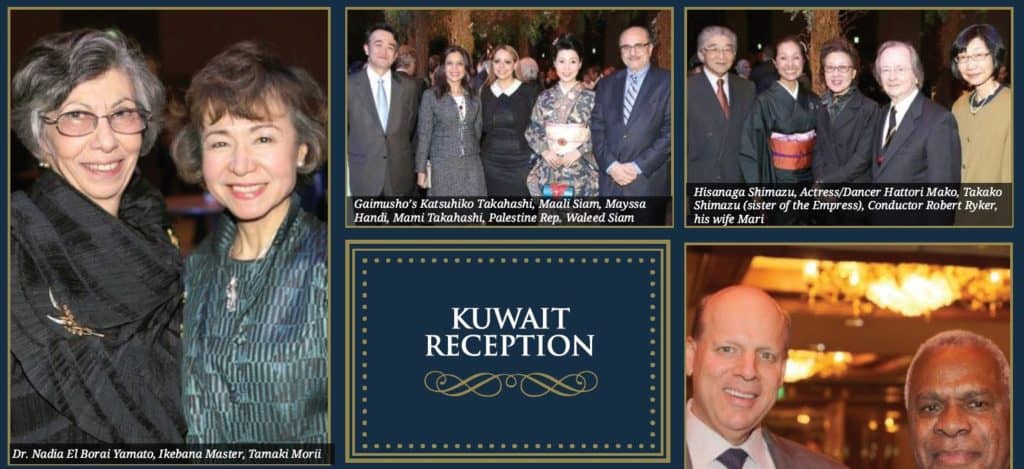 My dear friends Ambassador Abdul-Rahman Al-Otaibi, his wife lamilah and their children hosted their national day party this year at the luxurious Palace Hotel. The occasion was Kuwait's 55th national day and the 25th anniversary of the Liberation of Kuwait from Iraq. I've had the privilege of visiting Kuwait three times. The first time was during the celebration of the first year of their liberation and, as an American, I was treated royally. Jamilah has a marvelous sense of color and décor and she worked with the embassy and hotel staff to create a magical atmosphere at the hotel. The highlight was an island of trees, plants, and tables of pastries, international chocolate delights, and Arabic desserts — all artistically arranged. 
PLACES
DEWI'S PICNIC AT YOYOGI PARK
Left Oakwood and headed for Yoyogi Park where Dewi Sukarno had gathered a group of interesting friends (many in showbiz) to join her and her 14 beautiful little dogs for a really fun sakura viewing party. It was four fun hours of good food, interesting people, and, thanks to Dewi, our picnic area attracted much attention — so much, in fact, that half a dozen friends called the next day to say they saw us on TV. There's no business like show business.
*First published at the Tokyo Weekender
*Images Copyright: Tsukasa Shiga