Historic Belgian Economic Mission to Japan
From December 5th (Monday) to the 9th (Friday), Her Royal Highness Princess Astrid of Belgium will lead a Belgian economic mission to Japan on behalf of Her Majesty the King. This mission is the largest Belgian economic mission to Japan to date. In anticipation of this historic visit, the Belgium embassy in Tokyo held a press conference for representatives of Japan's print media.
The Belgian Economic Mission, which was postponed due to the COVID-19 pandemic, finally came true.
The Belgian official delegation was headed by Her Royal Highness Princess Astrid, sister of the current King Philippe. The delegation included H.E. Ms. Hadja LAHBIB, Belgian Minister of Foreign Affairs, H.E. Mr. Jan Jambon, Minister President of Flanders, H.E. Mr. Pascal Smet, Secretary of State in the government of Brussels-Capital Region, and H.E. Mr. Matthieu Michel, Secretary of State for Digital Affairs.
This selection of personnel showed just how important Japan is as a trade and investment partner for Belgium.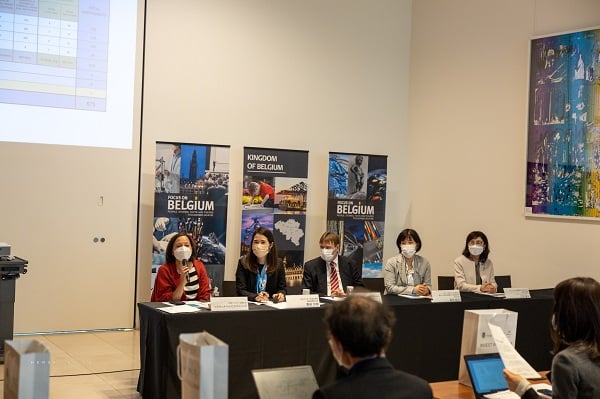 The royal and imperial families of Belgium and Japan have a very close relationship, and Their Majesties King Philippe and Queen Mathilde have often visited Japan. Belgium, known as a very beautiful European kingdom, is very popular with Japanese tourists.
Belgium is a federal state, and is multilingual, multicultural, and decentralized. Since each region in Belgium has its own economic zone, the delegation this time was also composed of three regional and metropolitan governments: the Flanders Regional Government, the Walloon Regional Government, and the Brussels-Capital Region Government.
Currently, Japanese direct investment in Belgium is strong in all regions and metropolitan areas. As a result, 237 affiliated companies have been established, creating employment for approximately 35,000 people in fields spanning the automotive, chemical, pharmaceutical, biotechnology, and offshore wind power generation industries.
On the other hand, Belgium's direct investment in Japan also has a large impact, with about 80 Belgian companies related to chemicals, pharmaceuticals/biotechnology, automobiles, food/beverages, renewable energy, etc., and it's continuing to expand.
This year's business delegation aimed to further increase investment in Japan and Belgium. A total of 276 Belgian companies from all sectors and industries participated in this delegation, and the mission is expected to result in some 49 agreements between governments and companies.
Among them, the most noteworthy was the decarbonization initiative that Belgium is promoting. Belgium is at the forefront of the world in green initiatives such as promotion of SDGs and sustainability. The start of the initiative is very early and ambitious, and, in fact, has succeeded in already considerably decarbonizing the energy supply. This delegation also included missions related to hydrogen production, transportation, and storage.
A panel discussion on decarbonization was held at the Hotel Okura on December 6, demonstrating the Belgian government's commitment to this important human issue.
It was also a time when I realized once again that Belgium is not only a country in the center of Europe, but also a country that leads the world in every field.
A variety of programs were prepared for the delegation's visit to Japan, including topics such as the economy and decarbonization. An overview of the agenda is below:
December 5: Belgium-Japan Opinion Exchange Meeting for Female Entrepreneurs 2:00 pm to 4:00 pm – AUX BACCHANALES Kioicho
December 6: Panel discussion on decarbonization 1:30 pm to 6:00 pm Hotel Okura
December 6: Market Access Seminar 9:30 am Finance seminar 2:00 pm Akasaka Intercity Conference 301
December 6: Energy-saving architecture lunch session 12:00 pm to 2:00 pm. The Okura Tokyo
December 6 to 11 (held indoors) – Belgian Beer Weekend Shinjuku Sumitomo Building Triangle Square
December 7: SHOWCASE <Brussels Craft> 9:30 am to 12:00 pm – Okura Tokyo
December 9: Folon Sculpture Exhibition Opening Ceremony 1:30 pm – 4:00 pm Hakusasonso Hashimoto Kansetsu Memorial Museum (Kyoto)
Game Jam Award Ceremony from 3:30 pm Kyoto International Manga Museum
For more information visit: Embassy of Belgium in Tokyo