Rhythms of the Caribbean: The Charms of Cuba
Enjoy performances by Cuban singer Carlos Cespedes and a music band, as well as dance lessons (salsa, rumba, cha-cha-cha) with professional dancers! A chance to taste authentic Cuban food and drinks with the cooperation of the Cuban Embassy in Japan. We also sell Cuban specialties. Organized by JAPOLAC.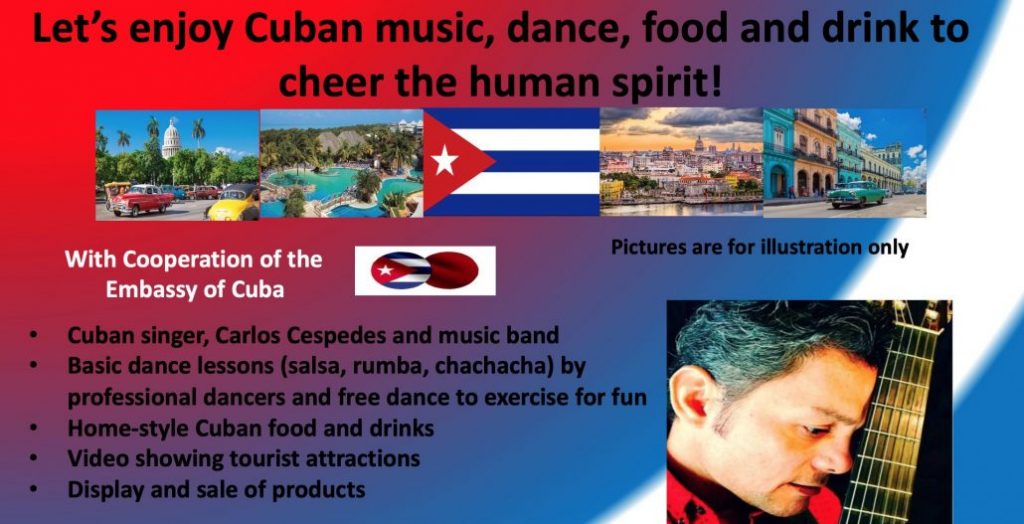 Date and Time: Saturday, 12:00-16:00. Doors Open at 11:30 a.m.
Venue: Takeshiba Port Studio, 8F, "Tokyo Port City" at Takeshiba Office Tower, 1-7-1 Kaigan, Minato-Ku, Tokyo, 105-7590
Access: 2 min. Walk from Takeshiba Station/ 4 min. walk from Hamamatsucho Station/ 5 min. from Daimon Station
Dress Code: Smart casual, jacket without tie.
Admission Fee:
Advance payment of 6,000 yen per person by bank transfer (please include transfer fee). The admission fee covers the above items.
Payment at the Reception on the day of event: 7,000 yen per person in Cash or PayPay.
※Children from 7 years old to 15 years old pay half price (6 years old and under are free).
Registration: If you wish to participate, registration is required due to limited capacity. Please enter your name, number of people and email address in the following link and choose the payment method:
https://forms.gle/kUU2w634msrpaH3j8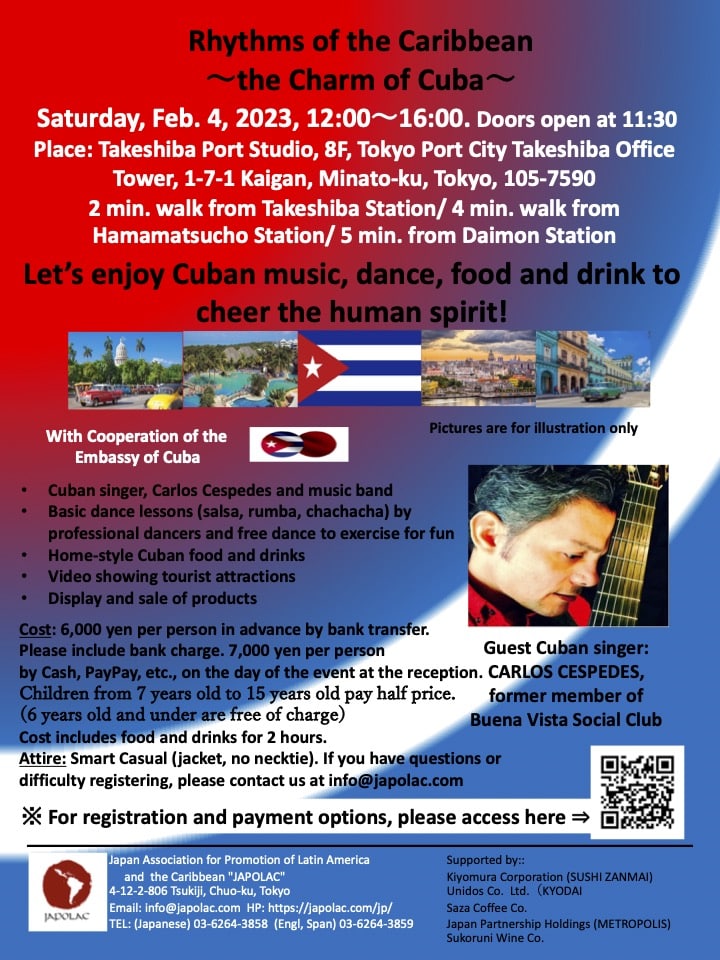 Charity Support: A portion of the funds raised at this event will be donated to a Cuban welfare organization specializing in the education of economically vulnerable people.
COVID-19 Prevention Measures: Participants are required to take their temperature, disinfect their hands, and wear a mask at the venue. We also appreciate and ask participants to take their own prevention measures to avoid possible contagion.
Cancellation: The event will be cancelled in case of major disaster or new restriction measures imposed by the government due to COVID-19. JAPOLAC will reimburse half of the admission fee in order to cover anticipated expenses in preparation for the event as well as bank commissions for reimbursement of the fee.
Questions or Queries: Please write to us at: info@japolac.com
Organizer: Japan Association for Promotion of Latin America and the Caribbean (JAPOLAC), 4-12-2-806, Tsukiji, Chuo-ku, Tokyo 104-0045
TEL :(Japanese) 03-6264-3858 (English, Spanish) 03-6264-3859
Email: info@japolac.com; HP: https://japolac.com/jp
With Cooperation of the Embassy of Cuba
Sponsors:
Kiyomura Co., Ltd. (Sushi Zanmai)
Japan Partnership Holdings Inc. (METROPOLIS) Unidos, Co. Ltd (KYODAI)
Saza Coffee Co., Ltd.
Sukoruni Wine Co., Ltd.