Spain Santiago Pilgrimage Road Exhibition Held in Kagawa
Sponsored by the Embassy of Spain in Japan and NPO Pilgrimage and Omotenashi Network, Spain Santiago Pilgrimage Road Exhibition will be held.
In Kagawa Prefecture, there is the Honorary Consulate of Spain (Honorary Consul: Kiyohiro Matsuda) and the Kagawa Japan-Spanish Society, so exchanges with Spain are very active, and events and seminars are often held with the support of the Embassy of Spain in Japan. .
This time, the organizations will exhibit images taken on the "Spain Santiago Pilgrimage Route", which is also registered as a World Heritage Site. In this exhibition, visitors will be able to feel like they are praying through northern Spain like the Shikoku Pilgrimage. Masakatsu Tomiya, a photographer who has traveled the Santiago Pilgrimage many times, took the stage at the special seminar.
The "Santiago Pilgrimage Route," which leads to the Cathedral of Santiago de Compostela in the northwest of Spain, and the "Shikoku Henro," which spans the four prefectures of Shikoku in Japan, cooperated in Santiago de Compostela on September 1, 2015. Sign an agreement. Both pilgrimage routes have much in common.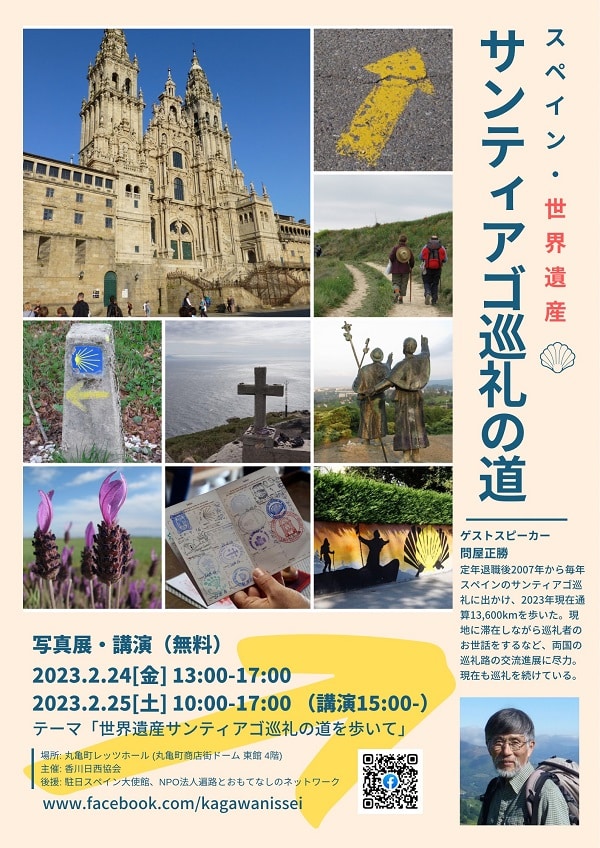 Santiago Pilgrimage Route
The history of the town of Santiago de Compostela begins in the 9th century with the discovery of the tomb of Saint James, one of the 12 apostles of Christ. Saint James is "Santiago" in Spanish. Before long, a church was built to serve as the prototype for the current cathedral, and the town was formed. In the 11th century, pilgrims from all over Europe believed that "relics related to Jesus and saints have the power to perform miracles. If you visit Santiago de Compostela, your sins will be forgiven."
Shikoku Pilgrimage
Since ancient times, Shikoku has been a land far from the center of the country, and there were various places of training. Kobo Daishi(Kukai- Founder of Shingon Buddhism) was born in Sanuki (currently Kagawa Prefecture) and often trained in this area, choosing 88 temples and other places and creating 88 sacred sites in Shikoku. Visiting to the eighty-eight sacred places became a pilgrimage. At first, the pilgrimage was mainly for trainee monks, but with the rise of Kobo Daishi faith, many people from all over Japan are said to have taken the pilgrimage. As a place related to Kobo Daishi, it has developed as a sacred place that everyone wants to visit at least once.
Spain Santiago Pilgrimage Way Exhibition
Date and time
February 24 (Fri) 13:00-17:00
February 25th (Sat) 10:00-17:00 (The lecture will start at 15:00 on the 25th only)
Venue
Marugamemachi Let's Hall
1-1 Marugame-cho, Takamatsu-shi, Kagawa 4th floor, Takamatsu Marugame-cho Ichibangai East Building