Queen Rania of Jordan visits The National Museum of Modern Art, Tokyo, for a special anniversary exhibition, "Secrets of National Important Cultural Properties"
The National Museum of Modern Art, Tokyo (MOMAT), located in Chiyoda Ward, Tokyo, opened in 1952 as Japan's first national art museum. Since then, it has continued to collect, preserve, and conduct research on modern and contemporary Japanese art, while also holding high-quality exhibitions.
Currently, the special exhibition "Secret of National Important Cultural Properties" is being held to commemorate the 70th anniversary of the museum's opening. During her visit to Japan, Queen Rania of Jordan visited and admired this exhibition despite her tight schedule, saying that she has always had a deep interest in Japanese art.
This exhibition, which has the catchphrase "Until a Controversial Work Becomes a Masterpiece", presents 51 of the 68 Important Cultural Properties currently in Japan. (Some works will be replaced during exhibition period) Among them are many masterpieces that were previously treated as "controversial works" that established new expressions at the time of their release. Works designated as National Important Cultural Properties are lent out and open to the public only on rare occasions for protection reasons. Hence, this exhibition is a valuable opportunity to enjoy a large number of works at once.
It seems like Queen Rania knew in advance about the history of such works of art and the secrets of this art history. Her official message is that The National Museum of Modern Art, Tokyo, is a wonderful place to explore Japan's rich history, reflecting the Japanese people's respect for their past and their unique cultural identity.
Among the many masterpieces of art, Queen Rania stopped in front of "Parting Spring" by Gyokudo Kawai and "Kannon Bodhisattva Riding the Dragon" by Naojiro Harada. She also admired the hawk engraving which is a popular theme in Jordan. At the exhibition of the "MOMAT Collection," she was particularly interested in Chou Ota's "Women Observing Stars."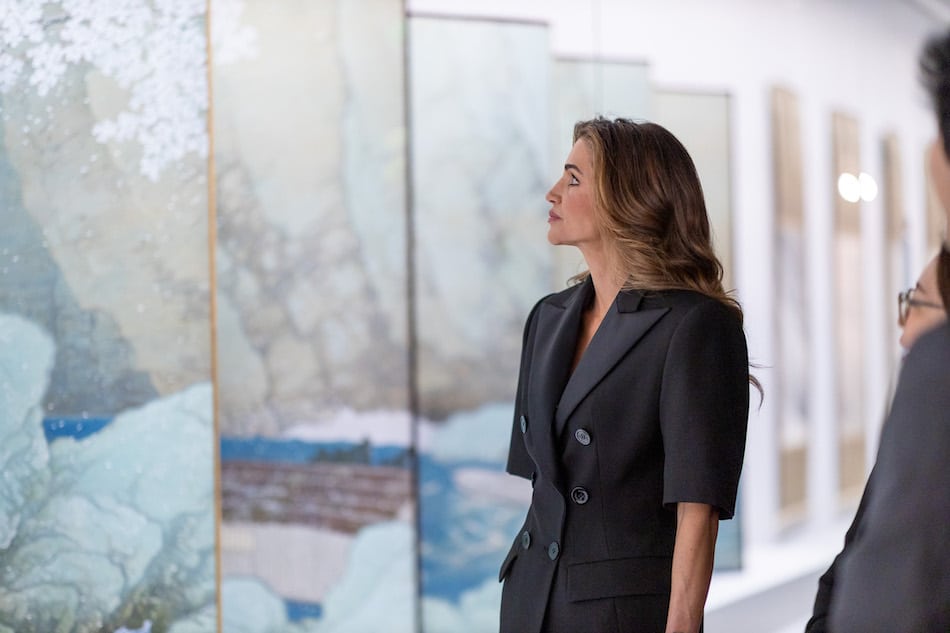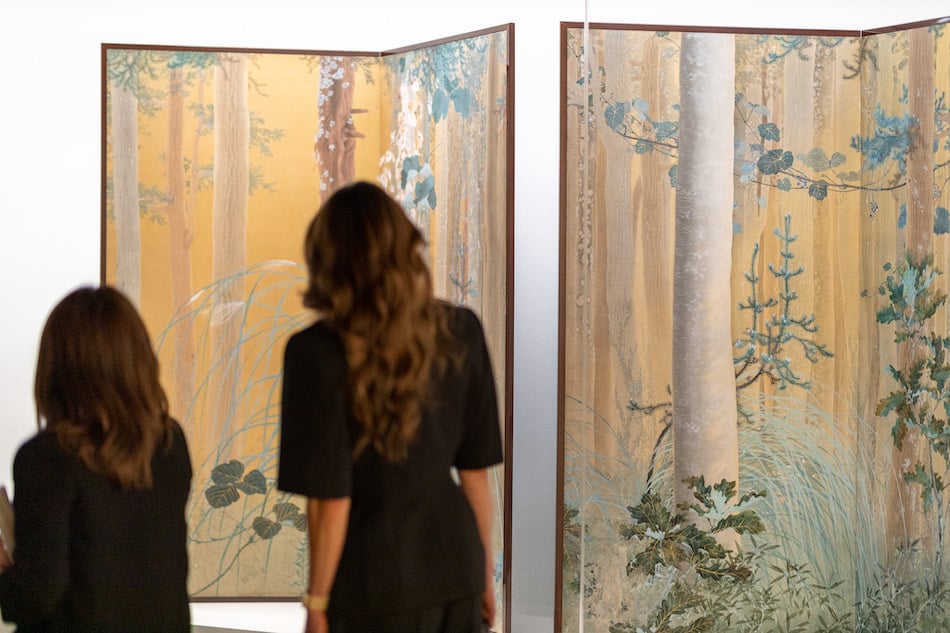 The collections and special exhibitions of The National Museum of Modern Art, Tokyo, continue to fascinate many overseas royalties and government officials. It is also the best place for foreign tourists visiting Japan to view and understand Japanese art. The high quality of the English commentary that accompanies each work is highly valued by international guests. The simple English expression that accurately conveys the unique worldview and emotion of Japanese art is wonderful. It will be a good teaching material for students who are learning English and those who aim to become an interpreter or translator when discussing Japanese art.
The current "Secret of National Important Cultural Property" exhibition will be held through May 14. "Black Cat" by Shunso Hishida will be exhibited as of May 9.
We hope that you will visit the National Museum of Modern Art, Tokyo and thoroughly enjoy both the special exhibition and the collection exhibition.
The National Museum of Modern Art, Tokyo Official Website