Tokyo National Museum Contemporary Art Exhibition, Tadanori Yokoo: 100 Takes on Hanshan and ShiDe
A large-scale exhibition by contemporary artist Tadanori Yokoo is currently being held at the Tokyo National Museum, Hyokeikan. (Until December 3rd) It is rare for the Tokyo National Museum to hold an exhibition of such a living artist since its opening, and this must have been a big decision for the museum.
The theme of this exhibition is "Kanzan Jitoku – Hanshan and Shi De ".
Hanshan and Shi De were Zen monks who lived on Mt. Tiantai during the Tang Dynasty in China. The two are known as wind freaks because of their eccentric behavior, and are often featured in paintings.
Tadanori Yokoo first encountered Hanshan and Shi De in the 1970s through the works of Soga Shohaku. Shohaku, who created ink paintings with an extremely high level of skill, painted many immortals in his eccentric style. In later years, Yokoo continued to create works on the same theme, using Hanshan and Shi De as his subject matter, using more wild and free colors.
What stands out about this exhibition is that Hanshan and Shi De has been toured around the world by Yokoo.
Yokoo unravels Western art history and Japanese history, and depicts Hanshan and Shi De in it. As in Manet's "Luncheon on the Grass", the two characters of Hanshan and Shi De are sitting on the grass with a beautiful naked woman.
In another work, Hanshan and Shi De rides a broom through the air like the Italian witch Befana.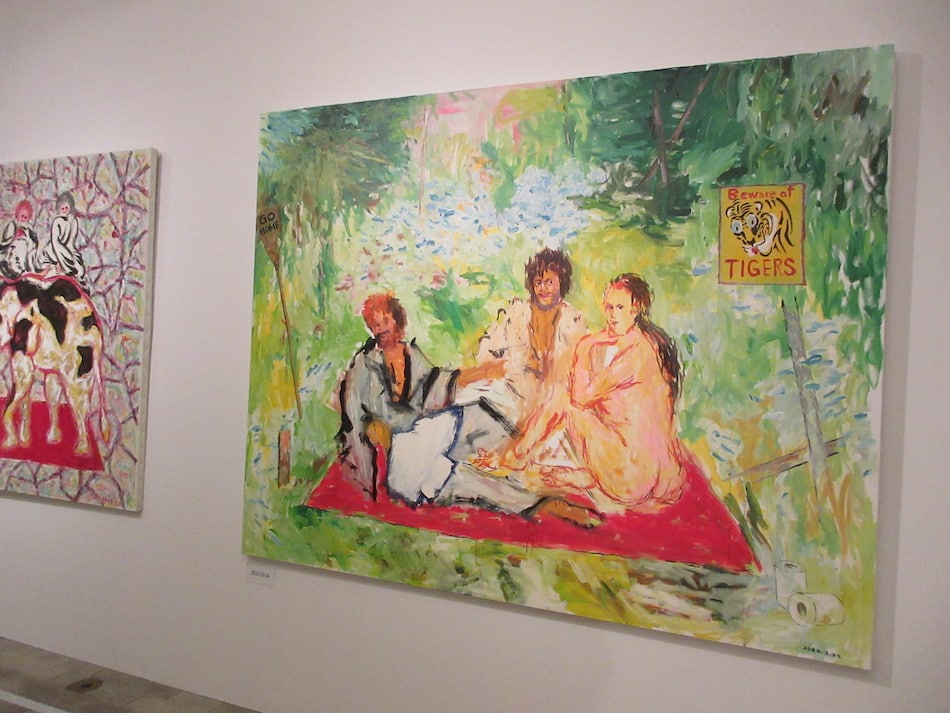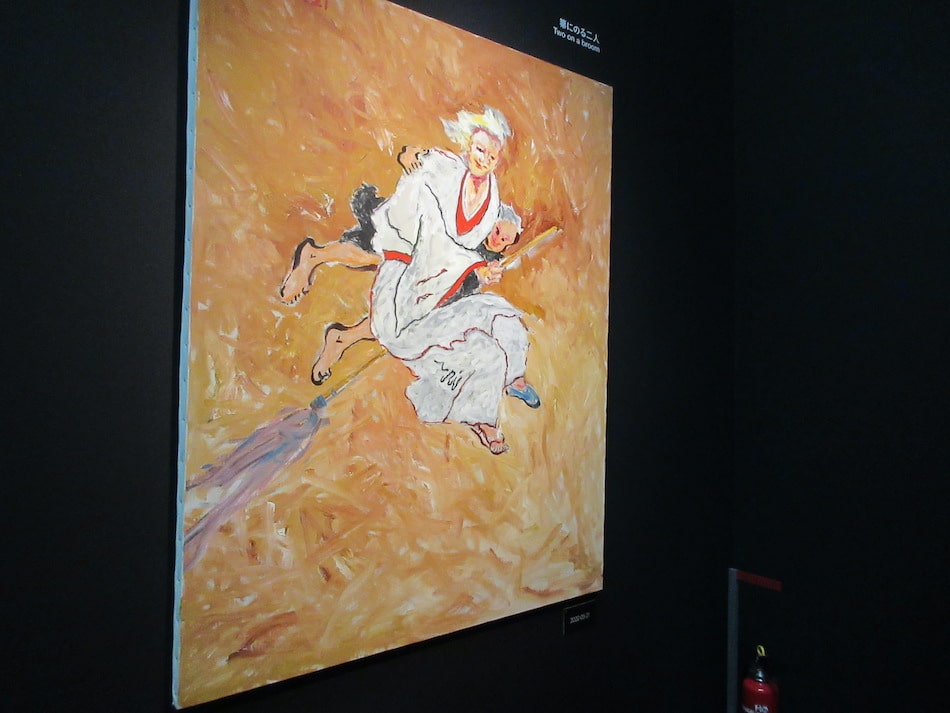 This series of works was created over a period of about one year, during which time humanity experienced a pandemic that had never been experienced before.
Of course, Yokoo must have been one of those who had that experience. It seems likely that this artist spent that time in his studio, continuing to engage in dialogue with Hanshan and Shi De, world masterpieces, and history.
And in the works written during the coronavirus pandemic, Yokoo is filled with joy, depicting brighter colors and a freer world of Hanshan and Shi De. A series of works that will make your heart flutter.
Tadanori Yokoo turned 87 years old in June of this year. It is surprising that this artist, who is said to be elderly, was able to create all of the 102 works on display in just one year.
I am overwhelmed by his energy, and at the same time, I get a sense of how deep this artist's world is inside of him.
It is said that after viewing all the works in this exhibition, there is something that remains in the mind.
This can also be seen as a question to Yokoo's viewers. Since Yokoo met Soga Shohaku in the 1970s, he has made Hanshan and Shi De a theme and friend of his life, and now he may be entering the world where Hanshan and Shi De lives.
As a related exhibit to this exhibition, a special exhibition titled "Admiring the Legendary Mad Monks: Paintings of Hanshan and Shide from the Museum Collection" is being held in Special Room 1 of the Tokyo National Museum's main building until November 5th.
A large-scale work by Kawanabe Kyosai titled "Toyogan Zenji" (The Priest Fenggan) is also on display. Zenji Toyogan was the master of Hanshan and Shi De and is known as the Zen monk who tamed a tiger.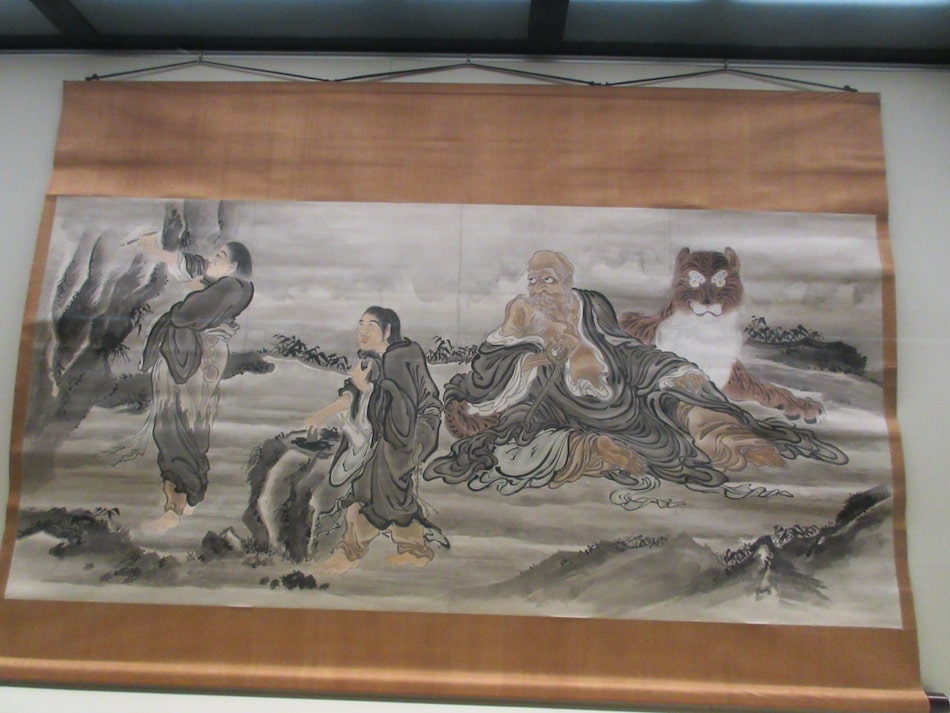 In his later years, Kawanabe Kyosai's daily routine was to paint Kannon statues. It suddenly occurred to me that the worldview of Tadanori Yokoo, who continued to paint Hanshan and Shi De, and Kyosai Kawanabe overlapped.
The authors who have drawn on all sorts of themes up until now may be showing something profound, as if they were reaching a state of enlightenment as the culmination of their lives.
Tadanori Yokoo painted Hanshan and Bai De – Bai means 100, not Hanshan and Shi De.
Yokoo's portrayal of Hanshan and Shi (ten) De can be said to have a hundred faces. Viewers are sure to have a variety of impressions after watching this large series. Hanshan and Shi De has many faces.
It seems that the culmination of Tadanori Yokoo's work as a writer is hidden in the expressions on his face that count to 100.
For more info, visit Official Website of the exhibition, or Visit Tokyo National Museum Website