Tom Cruise in Japan for Top Gun Maverick
He is back! Yes, Tom Cruise, who is about to release the latest movie "Top Gun Maverick" in Japan on May 27th (Friday), is back in Tokyo for the first time in about four years.
Tom Cruise in Tokyo – Day 1
36 years after the movie "Top Gun" released in 1986, the global premiere was held in San Diego, USA on May 4, prior to the worldwide release of the long-awaited sequel "Top Gun Maverick". After three more destinations on the crew's global tour, Tom Cruise finally landed in Japan on May 23rd for the first day of meet and greet held at the stylish Roppongi Midtown Conference Hall.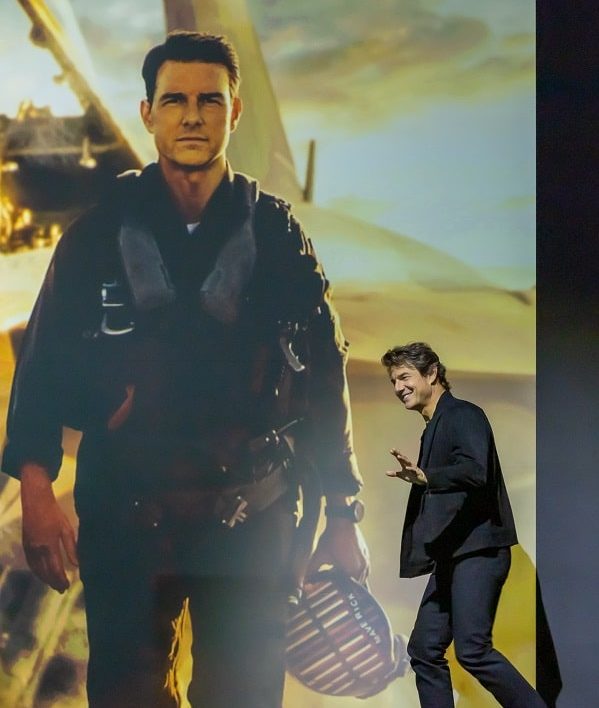 With big fanfare and traditional Top Gun music, Tom entered the stage greeting a hall full of journalists, "…to be back here, after so many years and to bring you this, is very exciting and it's a privilege. We're very excited. It's emotional, I think, for both of us to be here.!
WATCH OUR YOUTUBE SHORT
"… I kept telling my friends here that I'm coming and coming. Do not worry. We're going to have this movie and it's going to be on big screen
"…I told everyone, they're going to see something they've never, ever seen before. And it's a very entertaining, emotional film. And we wanted to make a movie that celebrates life. And then when you walk out of the theater, you just feel like the first time… as writers we wanted to give something very, very special.
Tom particularly lauded Jerry Bruckheimer and the entire cast, "… I was very fortunate as a young actor to be able to work with him (Jerry Bruckheimer) on this film (Top Gun 1986) and also to see his career and him produce some of the best entertaining films of the last decades…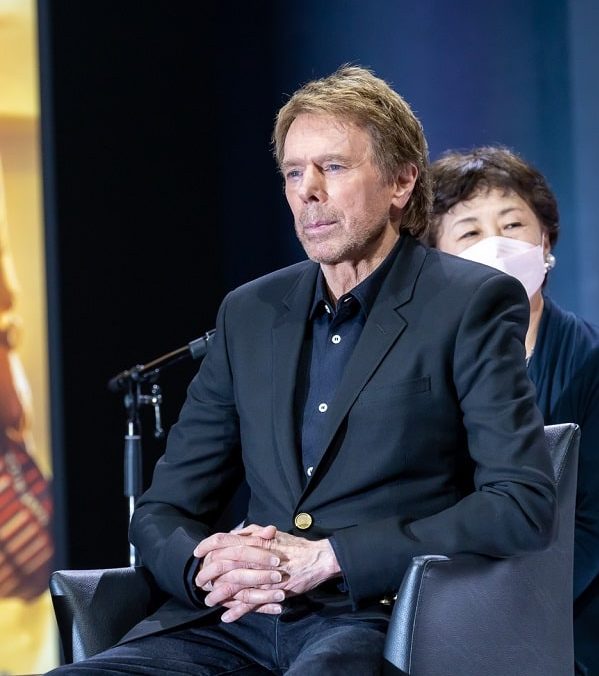 Jerry Bruckheimer agreed, "Thank you so much for having us, it's an honor for us both…
He continued, "…What you see on the screen looks easy. It looks nice. But it's very, very hard to do. And it takes someone like Tom who works tirelessly.
"…Tom trains himself, like a world class athlete, which is what he is, do the things that he does, not only in the plane, but you see what he does …he does those stunts – that's not somebody else!
Day 2: Top Gun Maverick Red Carpet Event in Yokohama
Tom smiled and continued explaining how he prepared and filmed the scenes in the cockpit, and how the studio executives often had hard times understanding what was going on until they saw the final cut. But a real challenge for the entire crew was to cope with the sudden fallout of the global pandemic.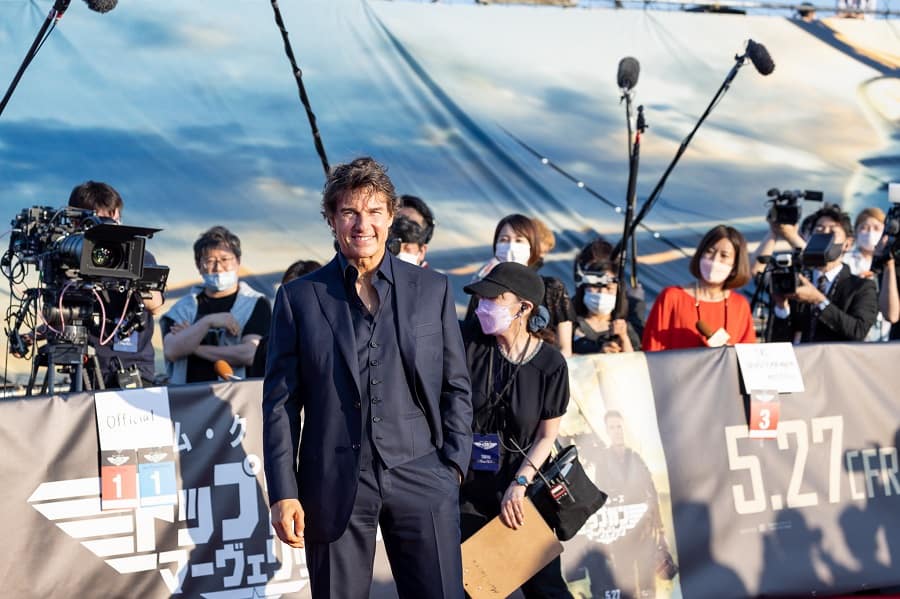 As you would expect from Tom's previous red carpet events in Japan, this one in Yokohama at the Intl Passenger Terminal was a blast. Going out of his way, Tom took most of the time for his over 400 fans who greeted him with screams and tears in the eyes.
And even though, it was strictly forbidden to take selfies with the superstar, Tom encouraged every fan to go ahead, "Take selfies with me… Did you take a selfie with me?…" Once more underlying his image as "Maverick." The fans couldn't believe their luck and quickly whipped our their cameras, while all the TV broadcasters had to wait in line.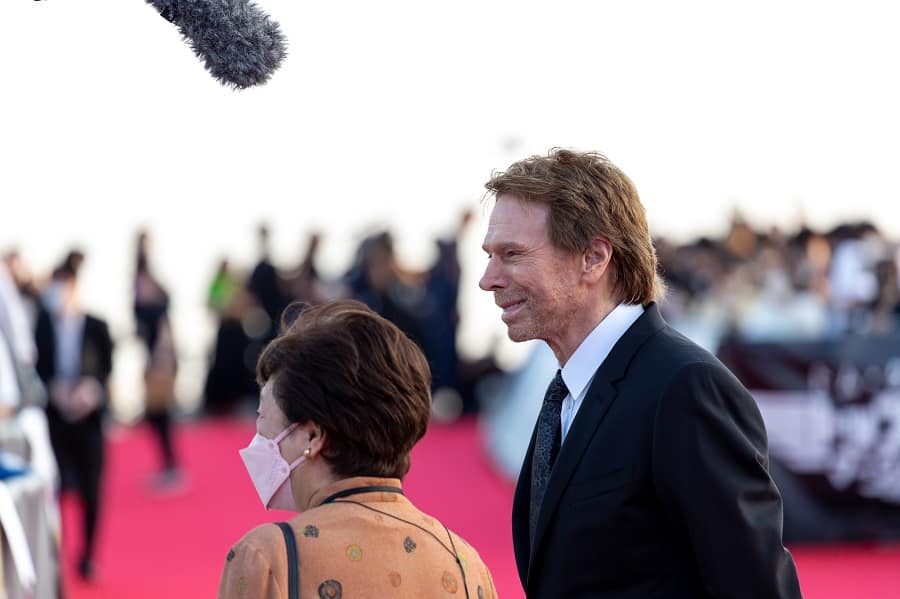 Tom was later joined by Jerry Bruckheimer on the red carpet who brought his lovely wife Linda along. Both Jerry and his wife know Japan very well and are always very happy to be back. Lucky for the TV broadcasters, at least Jerry Bruckheimer took over some of Tom's media obligations.
As the sun set and the event slowly came to an end, both 'Tom and Jerry' got ready for a final photo session for the waiting journalists. One can say that the event ended on a big bang as Yokohama bay was lit up by an amazing fireworks.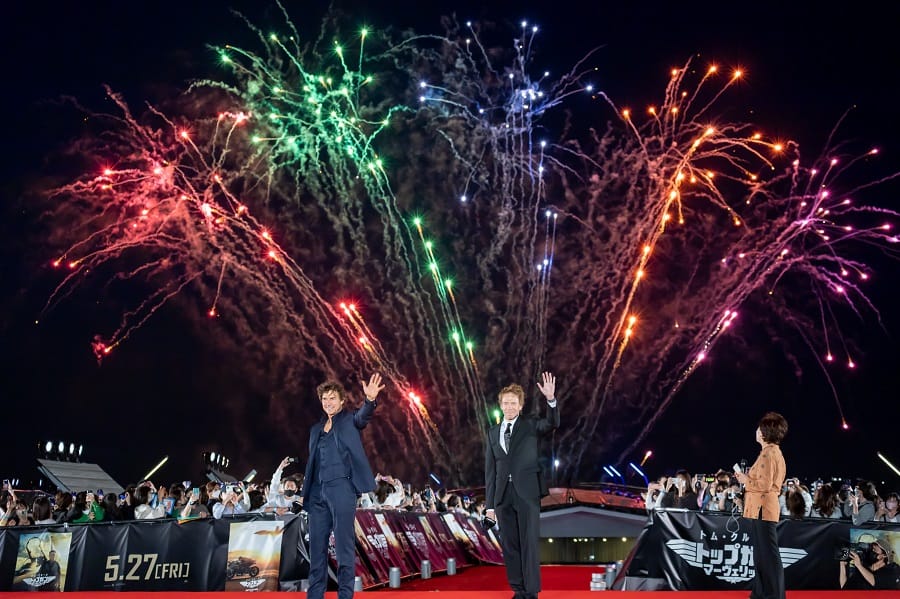 But the best news Tom saved for last as he announced he would be back in Japan soon – then for his other upcoming blockbuster movie "Mission Impossible."
Tom Cruise deeply bowed to the cameras while thanking his fans, Jerry and all the supporter who were with him that evening. We will welcome him back soon and are excited to watch Top Gun Maverick on its opening day May 27th.
『Top Gun Maverick』Japanese Official Website
Global Road Show: First stop San Diego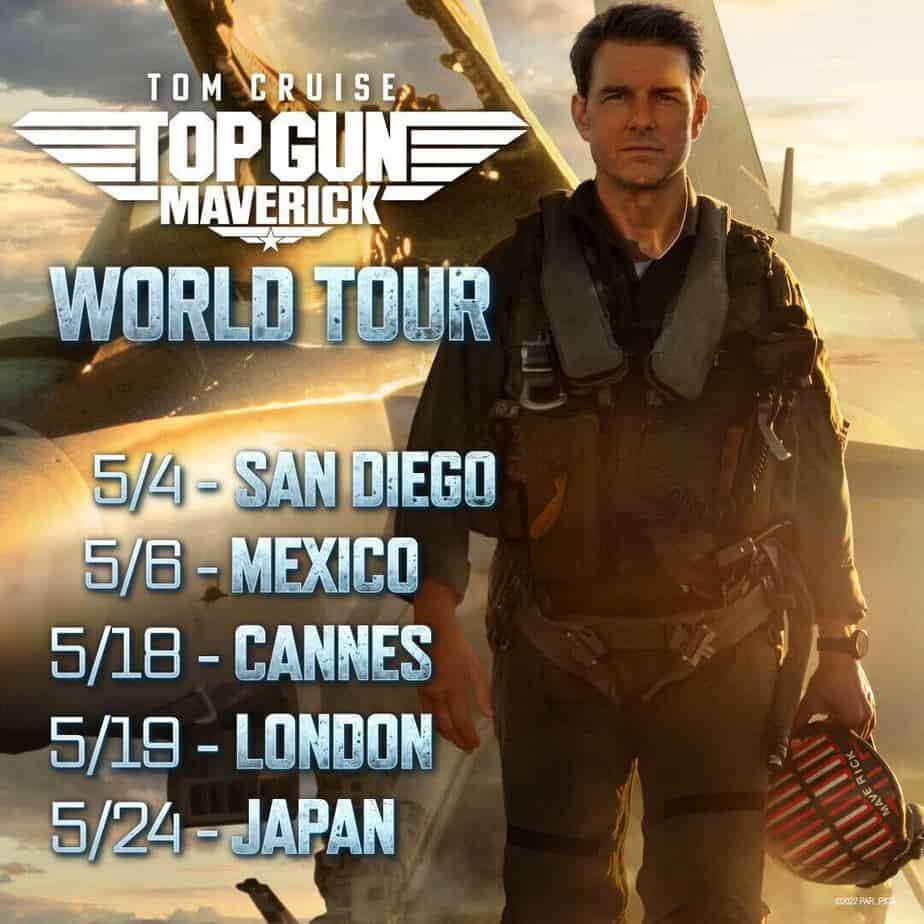 On May 4, 2022, Tom Cruise enthralled his fans when he landed on a helicopter at the USSD deck for the exclusive screening of his film sequel Top Gun: Maverick. He will be playing the role of a fighter pilot known as Pete "Maverick" Mitchell.
He was accompanied on the red carpet by his co-stars, including Jennifer Connelly, Jon Hamm, Paul Bettany, Miles Teller, and Monica Barbaro. The producer and director of the film, Joe Kosinski and Jerry Bruckheimer, were also present at the event.
Cannes: Tom Cruise Surprised with an Honorary Award
Top Gun leading star Tom Cruise arrived with his team with a blast as they jet off to Cannes for the Cannes Film Festival.
The event started with an hour-long masterclass conversation with Cruise, sharing his journey as an actor. He also talks about his love for studying the making of films that he would usually converse with the people behind the screen. "I was studying movies, not just the names in the credits, but I would try to understand who did what," he said.
In the talk, the actor also mentioned how he is scared of his own stunts but added that it's a choice he made to improve the art form. "Preparation is everything, even if you throw it away," he said. "Everything I'm doing, I don't want people to see the work behind it."
After the meaningful masterclass, the 59-year-old actor with his co-stars walked the red carpet at Grand Théâtre Lumière while jets zoomed overhead filling the air with red, white, and blue smoke which matches the french flag.
It was a day to remember for the Top Gun actor as he also received a surprise honorary award on stage. He was awarded a Palme d'Or presented by the Canned festival director Thierry Fremaux, where he also received a standing ovation from the crowd.
"I'm going to take this all in, and I'm never going to forget this evening," he said to end the day.
London: Tom Cruise together with Duke and Duchess of Cambridge
Tom Cruise was delighted to have the Duke and Duchess of Cambridge at the UK red carpet event of Top Gun: Maverick.
At the UK premiere of the movie, he introduced the cast of the much-awaited sequel of his Top Gun film to Prince William and Kate alongside an actual fighter plane.
The event was held at Leicester Square on Thursday. It was hosted by Paramount Pictures and The Film and TV Charity.
During the event, the Top Gun actor told the reporters how he adores London and the common interests he shared with the Duke. "We have a lot in common. We both love England, and we're both aviators, we both love flying," he said.
He also shared how delighted he was to walk again on the red carpet. "I love what I do, I've always enjoyed it and I'm enjoying it even more now," he said with a wide smile.
"Particularly after the last couple of years, just to have an event like this is extraordinary."
Japan, a Special Place for Tom Cruise
After San Diego, Mexico City, Cannes, and London, Japan was the only stop-over Asian destination on Top Gun's world tour.
Japan has always been a special place for Tom Cruise. Countless times has he visited Japan to promote some of the best block buster movies Hollywood has to offer, among them the Mission Impossible series. But the movie that stands out and symbolizes Tom's special relationship with Japan is of course 'The Last Samurai'.

Bill Hersey, who attended all press conferences back in 2003 had this to report:
"I did get to Osaka for Warner Brothers' first-class all-the-way press conference for Tom Cruise and the Japanese stars at the "Last Samurai". Security was heavy at Kansai International Airport but, even so, what appeared to be about 1,000 fans showed up to welcome the superstar. Tom, as always, signed autographs for and shook hands with as many of the fans as he possibly could.
"There were about 400 media members at the conference at the ANA Hotel, a short ride from the airport. The Japanese members of the cast had taken their seats on stage and introduced themselves before Cruise, Director Edward Zwick and Executive Producer Chuck Mulvehill arrived. They included Hiroyuki Sanada, Ken Watanabe, Koyuki, Shichinosuke Nakamura, Shun Sugata, Seizo Fukumoto and Masato Harada (he's usually a director).
Tom said he was really looking forward to working with the Japanese actors. He and the director have high hopes of "paying homage to the samurai spirit and truly portraying the elegance and beauty of Japanese culture."
Other comments from Cruise included, "I had more physical preparation-studying karate, swordsmanship and just getting in top physical shape for this movie than any other." He added, "This, by the way, is the first time I've ever done a press conference before the film."
There were four days of shooting "The Last Samurai" in the mountains of Himeji, and one more in Kyoto at the Chiyoin Temple. Then Tom flew back to the U.S. and was back in Japan for just six hours in late October with Director Steven Spielberg to promote 20th Century Fox's "Minority Report," the opening film of the Tokyo International Film Festival.