World-renowned Pianist From Mexico Alejandro Vera performs at Mexican Embassy in Tokyo
Latin and Caribbean countries are famous for having rich cultures. It has produced many talented musicians in the field of classical music.
Martha Argerich and Daniel Barenboim from Argentina, legendary pianist Claudio Arrau from Chile, and recently Gustavo Dudamel from Venezuela are leading the world's musical circles. Brazil has Nelson Freire, who sadly passed away last year, and many opera singers from Mexico, including Francesco Araiza and Ramon Vargas, continue to perform in opera houses around the world. Conductor Eduardo Mata passed away in a plane accident at a young age, but he conducted opera songs in Japan many times and is an unforgettable presence for Japanese opera fans. Mexico is not only known for its Maya civilization and its ruins, but it is also a classical music powerhouse.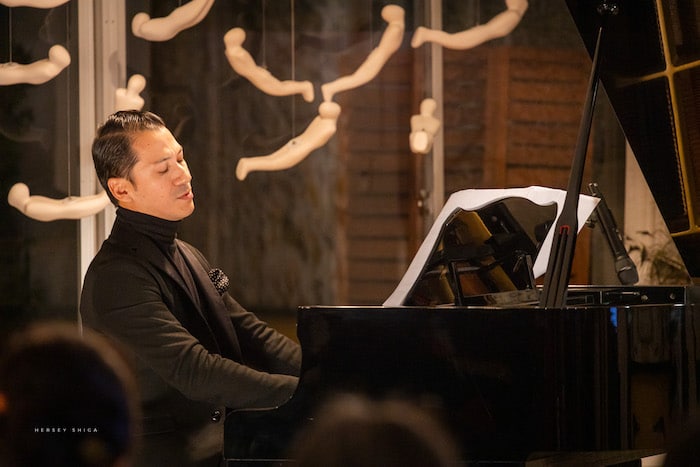 Alejandro Vera came to Japan from Mexico and performed the long-awaited all-Mexican program at the Mexican Embassy in Japan.
The program also included "Estrellita Little Star" composed by Manuel Ponce, one of Mexico's leading composers. This is a famous piece that was arranged and performed by the legendary violinist Jascha Heifetz. While studying at the Paris Conservatoire, Ponce became friends with Andreas Segovia, and later composed music for this Spanish-born guitar genius.
Vela performed the music of this great composer born in his home country, with the sensibility of a Mexican, with an emotional expression that no other pianist can match. All the audiences were enraptured by his expressions and performances, and they probably learned the essence of Mexican music that had not been known until now.
This concert was organized by the NPO Chikyu Civic Club (Chairman: Mominuddin Chowdhury; Vice-Chairman/Secretary-General: Keiko Kawashima), which continues to introduce outstanding performers to Japan. The event was held thanks to the support and efforts of Mexico's Ambassador to Japan, Melba Pria, who continues to introduce the country's excellent culture.
All Mexican Program
Manuel Ponce: Estrellita Little Star
Mexican ballada
Intermezzo No. 2
Etude for concert No. 3
Consuela Velázquez: Bessame Mucho
Albert Ashkenazi: Vuelve
Anturo Barquez: Danzon No2 and others
Alejandro Vera (Official Website)
Profile of Alejandro Vera (pianist)
Born in Piedras Negra, Coahuila, Mexico. He is a pianist representing Mexico who is active on the world stage. His performances create a world of mystery and splendor, inviting the audience into a world of refined beauty. His expressiveness, full of emotion, evokes vivid scenes in the audience as if they were watching a movie.
From an early age, he studied piano with his mother, Hortensia Bela Mante. He later studied with pianist and composer Robert Avalon in Texas. For four years from the age of 11 to 15, every Sunday his mother drove 200 kilometers one way, with his passport, from Mexico to the United States and Texas to learn piano.
In his teenage years, he was discovered by the noted pianist and conductor maestro Christoph Eschenbach, in Chicago he performed at the Symphony, the Houston Symphony, the Royal Concertgebouw in the Netherlands, and in Israel, Canada and the Dominican Republic. has performed in the orchestra of
On Eschenbach's advice, he entered the Juilliard School in New York. He studied under Johebe Kaplinski and received his Bachelor's and Master's degrees. He won a competition for soloists at the Juilliard School. He won the New York Susan Rose Music Foundation Award two years in a row. Besides his activities as a performer, he devotes much of his time to his music education.
He taught at the Houston AWTY International School and spent several years in Houston as an 'Artist in Residence'. He has also given master classes at the University of Zacatecas in Mexico, Taiwan and European universities. In recent years she has held solo recitals in Prague, Budapest, Tokyo, Taiwan, Toronto, Montreal, Rome, Vienna, Kyiv, Berlin, Paris and Belgium.
She has performed in concerts and festivals at the National Arts Center of Mexico City and many other cultural institutions in Mexico, building a brilliant career and receiving acclaim for her outstanding performances.
He toured Japan every year from Fall 2012, Spring 2013, 2015 to 2019, giving concerts in Nagoya, Okayama, Gunma, Hiroshima and Okinawa. In Tokyo, he has performed frequently at the Tokyo National Museum, the Italian Cultural Institute, the Mexican ambassador's residence, etc.
He appeared on NHK 1 "El Mundo" and received favorable reviews. In April 2014, under the direction of 12-time Grammy Award winner Rafa Sardina, he recorded his magnificent piano concerto with a Czech orchestra on the theme of peace in the Middle East in the Czech Republic. World premiere in Mexico in 2019. After the corona disaster, it will be her first visit to Japan in three years.
Read also,