A Front Seat in Sumo Wrestling
A front seat in sumo wrestling, we got some exclusive seats (Row 1 Seat #1 and #2) at a sumo wrestling show organized by Japan's national TV – NHK. The event was held at the most important Sumo arena in Tokyo – Kokugikan in Ryogoku.
Considering it wasn't part of the official sumo season (see the official calendar below), it nevertheless gave us an opportunity to learn more about Sumo's culture, atmosphere and the real live-action from row one. Let's have a look at the fine art of Japanese sumo wrestling.
Sumo is a Japanese style of wrestling and Japan's national sport. According to official sources, Sumo originated from a Shinto ritual dance where the most powerful men displayed their strength from the gods or spirits, or as they call it, kami. It is a sign of respect and gratitude to bring in a good harvest.
>>Read our Josephine Skriver interview here <<
The indigenous faith of Japanese people, Shinto ("the way of ­­the gods"), was used to compare a fighter's strength and determine who was good in hand-to-hand combat. It wasn't until the Edo period that professional sumo wrestlers emerged from the ranks of amateurs and regular competitions began to take place. The sumo wrestlers are known as rikishi in Japanese (the two characters of the kanji meaning "strength" and "warrior").
Sumo Schedule
Sumo is not only popular among Japanese but enjoys a large following overseas. Our guests visiting Tokyo always ask us about the next sumo bout. Unfortunately, enjoying Sumo in Tokyo depends on the season and getting good tickets can be a real challenge. Here is a quick overview of the official sumo schedule:
The official sumo basho (tournaments) takes place six times a year, from January to November. Three of the six sumo tournaments take place in Tokyo at the Ryogoku Kokugikan sumo arena, in Tokyo's old-fashioned Ryogoku neighborhood. The other three held in Osaka, Nagoya, and Fukuoka. Below is a list of each sumo basho, the whereabouts and the exact dates varying from year to year.
January Tournament (Hatsu Basho): Tokyo
March Tournament (Haru Basho): Osaka
May Tournament (Natsu Basho): Tokyo
July Tournament (Nagoya Basho): Nagoya
September Tournament (Aki Basho): Tokyo
November Tournament (Kyushu Basho): Fukuoka
Seating Options
A sumo tournament is a whole day activity that starts as early as 8:30 am. The tournament ranks on a ranking system so regular sumo goers are rarely present in the morning. They tend to skip and turn up later in the day when the higher ranks wrestlers are beginning. During that time, you may tour the area and taste traditional Japanese streetfood in between bouts.
More people turn up in the afternoon. This is when two champions of the tournament face off against each other in the Super Bowl of sumo.
When it comes to seats you should get ready for some pain yourself. There are 3 main categories when it comes to seating options at a sumo tournament:
Japanese-style box floor seats
Arena-style chair seats
Ringside floor seats (VIP seats closest to the action)
Japanese Style-box Floor Seats
If you are looking for a complete Japanese experience, you can do the Japanese- style seating. This is where you remove your shoes and sit Japanese-style on floor cushions within a small designated 'box' area.
The Japanese-style boxes also provide a great view to witness the action, as all seats are a bit closer than the arena-style chair seats. However, you must know that box-style seating space is rather small. It can accommodate four people, but only two can really stretch out their legs.
The other two poor souls must master the art of sitting the old Japanese traditional way – which can be a real challenge for us, foreign guests. Also, take into consideration that most foreigners are taller on average than Japanese visitors.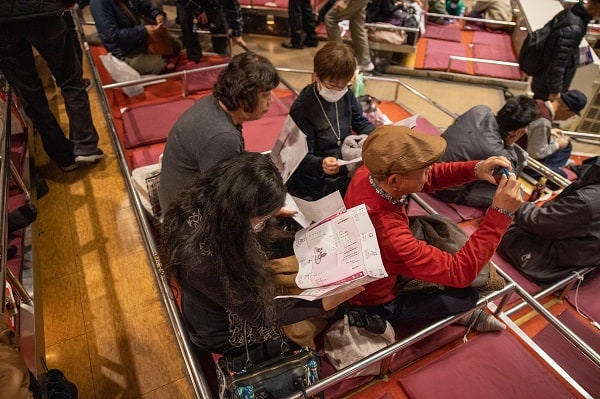 Arena-style Chair Seats
Arena-style chair seats are cheaper than the Japanese-style box. For people who aren't comfortable sitting on their knees, this will be an option, as this uses the familiar comfort of a chair. The only drawback is that it is slightly further back from the action but since basho venues are small enough, you may still be able to see the action.
Ringside Floor Seats
This is the most expensive seat, as it is the closest to the ring and is the most difficult to get. Ticket holders sit on floor cushions and run a higher risk of injury, as wrestlers tend to fly out of the ring and hit spectators.
Purchasing Tickets
Because of the sport's increasing popularity, especially after the first Japanese sumo champion in many years, tickets tend to sell out almost immediately. Tickets should be purchased in advance to avoid disappointment; you may purchase tickets at convenience stores or at the tournament venue. But if you want to get front seat rows you are up for a challenge and require some guidance from insiders.
Summary
When massive bodies collide, you can feel it even from the seats in the far back. But it's much more than hearing and experiencing raw power combined with elegant moves. The intricate rules are based on deep-rooted traditions with religious backgrounds.
The design of each sumo arena, the sumo dresses (that doesn't leave much to the imagination), the song-like performance of referee announcements and the atmosphere you can experience in an arena filled with Japanese residents sitting close together is an experience of a lifetime.
If you get the chance to visit Tokyo, at the right time of year, get prime tickets (ideally in the front row) and submerge into the fine art of Japanese wrestling.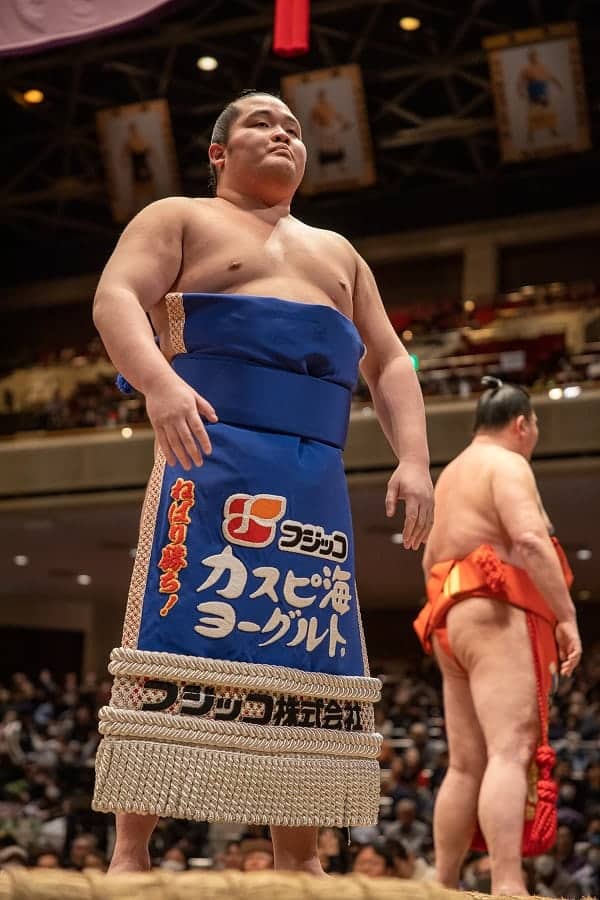 More about Sumo | Front Seat in Sumo Wrestling
Sumo Rules
The rules are very simple: the first wrestler to step out of the ring or touch the ground with any part of his body, besides the bottom of his feet, is the loser. Matches are held on an elevated clay ring called a dohyo, which is covered in a layer of sand. The following acts are prohibited during the match:
Hair pulling
Eye gouging
Hitting with closed fists (slapping is permissible)
Choking (although thrusting with open palms at your opponent's throat is allowed)
Grabbing the crotch area of your opponent's mawashi, a type of loincloth worn by a sumo wrestler.
Sumo Stables
If by any chance that you didn't get a ticket for the tournament, you may visit a sumo stable to witness a morning practice session. A sumo stable is where sumo wrestlers live and train together with the stable master. There are about sumo stables, all of which are located in the Greater Tokyo Region, especially in Tokyo's Ryogoku district.
However, only a number of stables accept tourists. If they do, they should be accompanied by a person who is fluent in Japanese and closely familiar with the customs of the sumo world. You are also not allowed to make any noise and are expected to follow house rules as to not disturb the training session. In practice, it is very difficult for foreign tourists to visit a stable on their own. Instead, the recommended way to witness a morning practice is to join a guided tour.
Source: Wikipedia