Enjoy Algerian Cuisine Madam Fahima Katti, the Ambassador's Wife's Lovely Lunch
In addition to official diplomacy, the Algerian Ambassador to Japan, His Excellency Mr. Larbi Katti, and his wife, Fahima, are very active in grassroots exchanges with the private sector. In December, Japanese children and African children staying in Japan were invited to the ambassador's residence. Members of the NCAF (the Ladies' Friendship Association for Africa and the Middle East, President Mrs. Nachiko Koike) who worked with the Algerian Ambassador and his wife last year were also invited to the ambassador's residence by Mrs. Katti. Everyone enjoyed an authentic Algerian cuisine lunch. A fun music event was also held in collaboration with the chorus Rhythmic's "Donguri no Do."
Read also:
When most people think of Algerian cuisine, couscous comes to mind. The couscous served at the Algerian Embassy has a reputation for being "the most delicious in Japan." The Embassy engages the services of a veteran chef who prepares Algerian cuisine as it is in the country. Even native Algerians who visit the embassy are impressed and inquire about the chef's recipes.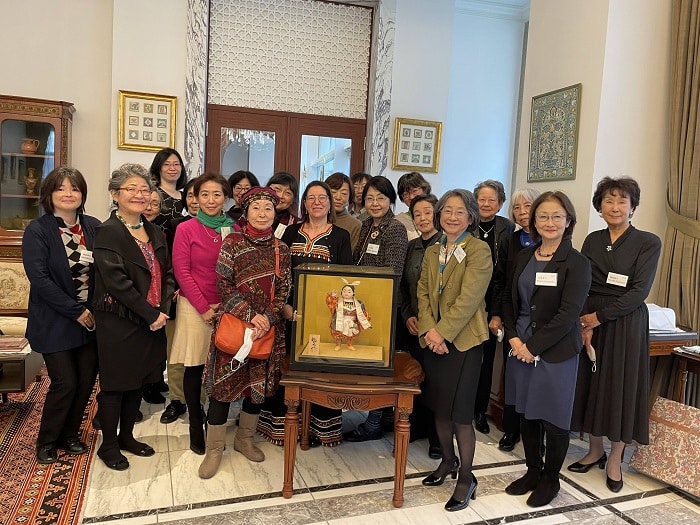 The lunch's menu was selected by Mrs. Katti, who loves cooking. Of course, she included the embassy's couscous and lamb stewed to perfection. A traditional flavor representative of North Africa, including Algeria, and the Arab world. Furthermore, the participants of this lunch focused on the deliciousness of a dish called Rechta.
The name of this dish, Rechta, comes from the Persian rista, meaning "thread." It is not well known in Japan, but it is a dish that symbolizes Algerian cuisine. In Japan, it is often served during celebrations such as festivals, engagements, and weddings.
Ingredients are thin flat pasta, chicken, chickpeas, turnips, zucchini, and a sauce of turnips and cinnamon-flavored chicken. It was so popular that many people said, "This is my second bowl!"
There is nothing more fun than a cross-cultural exchange with delicious food. Members of the NCAF include a woman who has stayed in the Middle East and Africa due to her husband's job transfer, and people who are interested in that culture. Mrs. Fahima and Mrs. Katti shared a common theme of "cooking" and had a great time.
Mrs. Katti is planning to hold an Algerian cooking class in Kamakura, taking advantage of her culinary skills. NCAF also provides opportunities to learn authentic cooking. The initiative has been in place for a long time, and with the cooperation of women related to the embassy, the organization has edited, published, and sold two cookbooks. Recently, we were also provided an opportunity to learn the ceremony surrounding Ethiopian coffee.
NCAF is planning to hold a big bazaar at a hotel in October this year for the first time in a long time, and the activities are getting more and more interesting after the COVID-19 pandemic.
Read also,