68th Algeria National Day Reception – A wonderful time to warm up old friendships
On November 8th, the 2022 Algeria National Day Reception was held at the official residence of the Algerian Ambassador to Japan in Hiroo. It was the first National Day reception for H.E. Mr. Larbi Katti, Ambassador Extraordinary and Plenipotentiary of the Democratic People's Republic of Algeria to Japan, who presented their credentials to His Majesty the Emperor in February 2022.
In his opening remarks, Ambassador Katti expressed his deep gratitude to Japan for recognizing the independence of Algeria at such an early stage. Algeria's independence has been a long-standing desire of its people, and the long struggle resulted in many sacrifices. For Algeria, Japan which quickly recognized its independence, must be viewed as a "long-time reliable friend".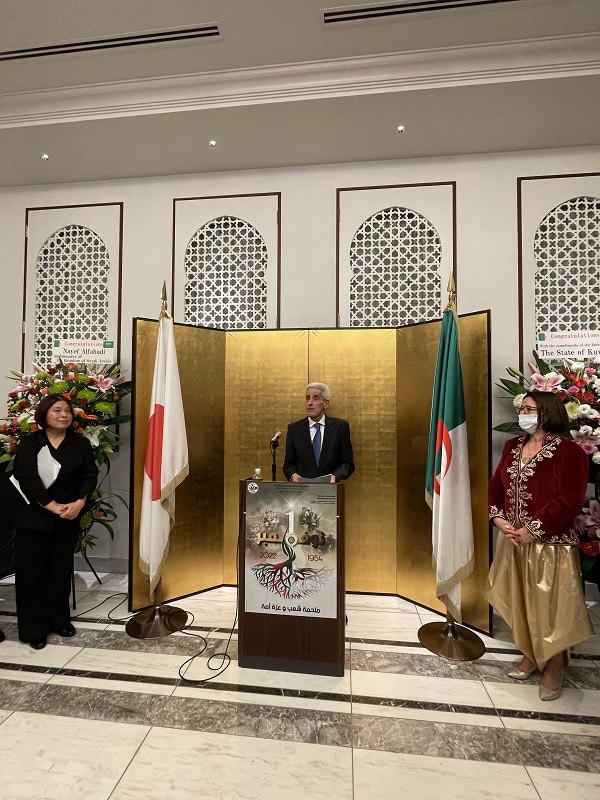 On behalf of the Government of Japan, Kei Takagi, Parliamentary Vice-Minister for Foreign Affairs, attended on behalf of the Government of Japan and delivered a congratulatory address. "Since the independence of Algeria, we looked back on the history of our two countries building up a good bilateral relationship through heartwarming exchanges between our people. I would like to further promote exchanges between us." From his congratulatory address, we look forward to the next 10 years together with our trusted friends.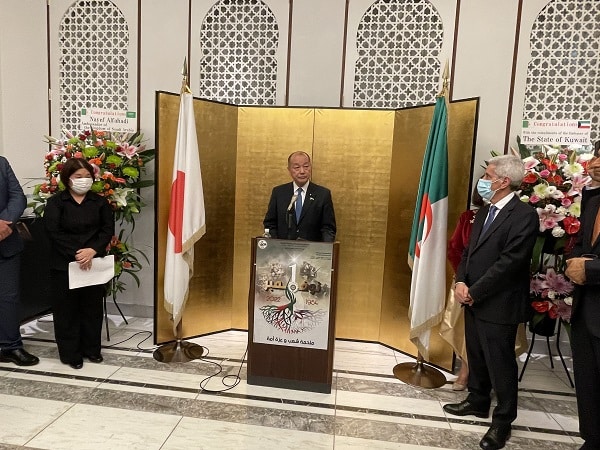 At this reception, many ambassadors and their spouses from embassies around the world, including not only Africa and the Middle East but also European countries, gathered to celebrate this National Day.
The official residence of the Algerian Ambassador to Japan in Hiroo conveys the architectural style of Algeria. The exterior is decorated with beautiful tiles and has a courtyard, just like an old Algerian mansion. The windows are decorated with beautiful Algerian decorations, and the interior conveys the atmosphere of Algeria.
During the reception, Algeria's national anthem and Kimigayo, Japan's national anthem, were played on Arab instruments including the Qanun, an Arab harp, which is rarely heard in Japan. Algerian women, including Madam Fahima, all dressed in beautiful national costumes and entertained the guests.
Algerian food, represented by couscous, is very delicious and suits the Japanese palate. This year, Ambassador Kati and his wife Madam Fahima prepared a very large menu. Perhaps because of such a delicious meal, the invited guests stayed longer than usual and deepened their old friendships with "Algeria" in Japan.
Read more
Authentic Algerian Lunch with the Ambassador
Celebrating Algerian 60th Independence Day
International Cultural Exchange Party 'SUMO' Held. Enjoy Japan's National Sport!