[Interview] Algeria and Japan – 60 Years of Friendship
Interview with Algerian Ambassador to Japan, Larbi Katti
Mr. Larbi Katti was recently approved as Extraordinary and Plenipotentiary Ambassador of the People's Democratic Republic of Algeria to Japan in December 2021. Together with his spouse Fahima, the newly appointed Ambassador granted Hersey Shiga an interview to talk about his mission in Japan, the areas of work he would like to focus on, and how he plans to explore Japan together with his spouse.
Q: Mr. Ambassador, welcome to Japan. Please tell us about your mission as new Ambassador to Japan
Algeria and Japan are bound by excellent and historical relations. In fact, our relations started even before the independence of Algeria (1962), when the National Liberation Front opened in 1958 a Bureau, here, in Tokyo, to obtain support from the government and the people of Japan to our struggle for independence. This year our two countries will celebrate the 60th anniversary of the establishment of diplomatic relations. This important and symbolic date is a time to celebrate the best achievements of our bilateral cooperation and for reflection on what should be done in order to further energize our relations. I am happy to note that our two governments share the same sense of urgency regarding the need to increase and diversify our bilateral exchanges and that they are committed to do whatever it takes to fulfill this goal.
Q: What areas of focus and opportunities do you foresee to strengthen the Algeria – Japan relationship?
I will devote my time and energy to the strengthening of our bilateral cooperation in three major areas. First, deepening our political dialogue which has proven its usefulness in allowing our two countries to exchange views and have convergent positions as much as possible on regional and international issues of common interest as well as to review periodically our bilateral relations and take appropriate decisions. Second, the upgrading of our economic cooperation. The volume of trade in 2020 stands at around 700 million US dollars, which is far below the economic potential for Algeria and Japan. We need to work together to double or even triple the level of our economic exchanges. The best way to achieve this goal is through the increase and the diversification of investments. Third, the enhancement of cultural and scientific cooperation. The number of Algerian students in Japan remains very low and the same could be said about the scientific interactions between Algerian and Japanese universities. We need to come up with ideas and explore ways that would allow us to increase significantly our educational cooperation.
Q: What cultural activities and travel are you planning with your spouse?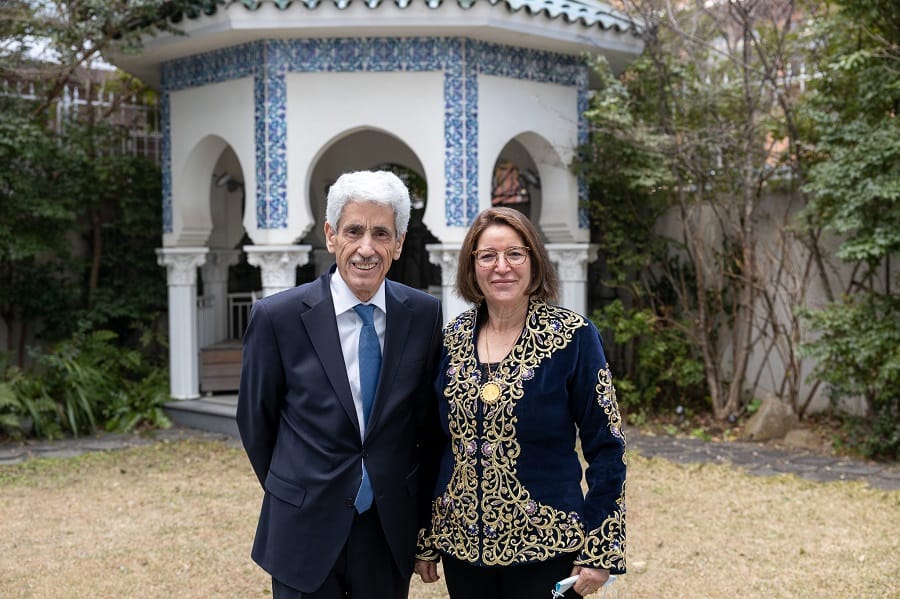 Due to practical reasons, my wife and I have spent the last two months since our arrival to Japan to visit the lovely city of Tokyo, enjoying long rides in its streets, neighborhoods and its beautiful and well-designed parks. Later on, we will definitively visit other places of this wonderful and rich country both for its millenary history, natural and geographical diversity and more importantly for the kindness of its people. For diplomats like us, who come from far away, this is a chance you have only once in your career – we cannot miss it.
ABOUT AMBASSADOR LARBI KATTI
H.E. Mr. Larbi Katti is a seasoned diplomat who, prior to his appointment as the Algerian Ambassador to Japan, was the Algerian Ambassador to Ghana for over five years. He joined the Ministry of Foreign Affairs (MOFA) in 1987 and was stationed at the United Nations in New York for nine years. He learned from his long service in the UN the importance of multilateral diplomacy in addressing global and critical challenges that are facing the world. Mr. Larbi Katti recently presented his credentials to His Majesty Naruhito, the Emperor of Japan, as Ambassador of Algeria to Japan.
Ambassador Katti who stays in Japan with his spouse Fahima, plans to enjoy many things which Japan offers including its famous cuisine, traditional arts and exhibitions while traveling all over Japan.
ABOUT ALGERIA
Located in the Maghreb region of Northern Africa, Algeria is the largest country on the continent and a regional power in North Africa. The country is also known for its oil, home to the world's 16th largest oil reserves. With various historical and cultural monuments and artifacts housed in the country, Algeria is a preferred tourist attraction characterized by warm and polite locals. One undeniable factor is their love for soccer, which the new Algerian Ambassador to Japan, H.E. Mr. Larbi Katti, can gladly attest to as a lover of the game himself.
For more information visit the Algerian Embassy in Japan