Hersey's Partyline January 2017
PEOPLE
CHRISTMAS TREE CHARITY
Some of the highlights of my end-of-year activities included working with the Weekender, Hilton Tokyo, Coca Cola, Mercedes Benz, Sony, Walt Disney, Toho-Towa, Lufthansa, Tohoku Shinsha, and 20th Century Fox. as well as all the wonderfully warm, caring and giving Mends who helped with setting up the 19th annual Christmas party for less fortunate kids from six different schools. This event took place at the Hilton Tokyo. Mike Williamson, GM at the Hilton, and the Hilton staff have all been super generous with food, gifts. services and attitude. The kids this year (six to 12) were fantastic. A big thanks as well to Steve Haynes (Rudolph the Red-Nosed Reindeer). Rene Boseman (Santa Claus), and Hiroshi Watabe (Michael Jackson). Talking about talent, the party closed with the ambassadors' wives and the cream of Tokyo society joining the entertainers and Children in singing and dancing to the Village People's -Y.M.C.A." A big and very sincere thanks to all who helped make the holiday season a very happy one for so many. Cod bless you all.
PARTIES
THE MERICS' TURKISH NATIONAL DAY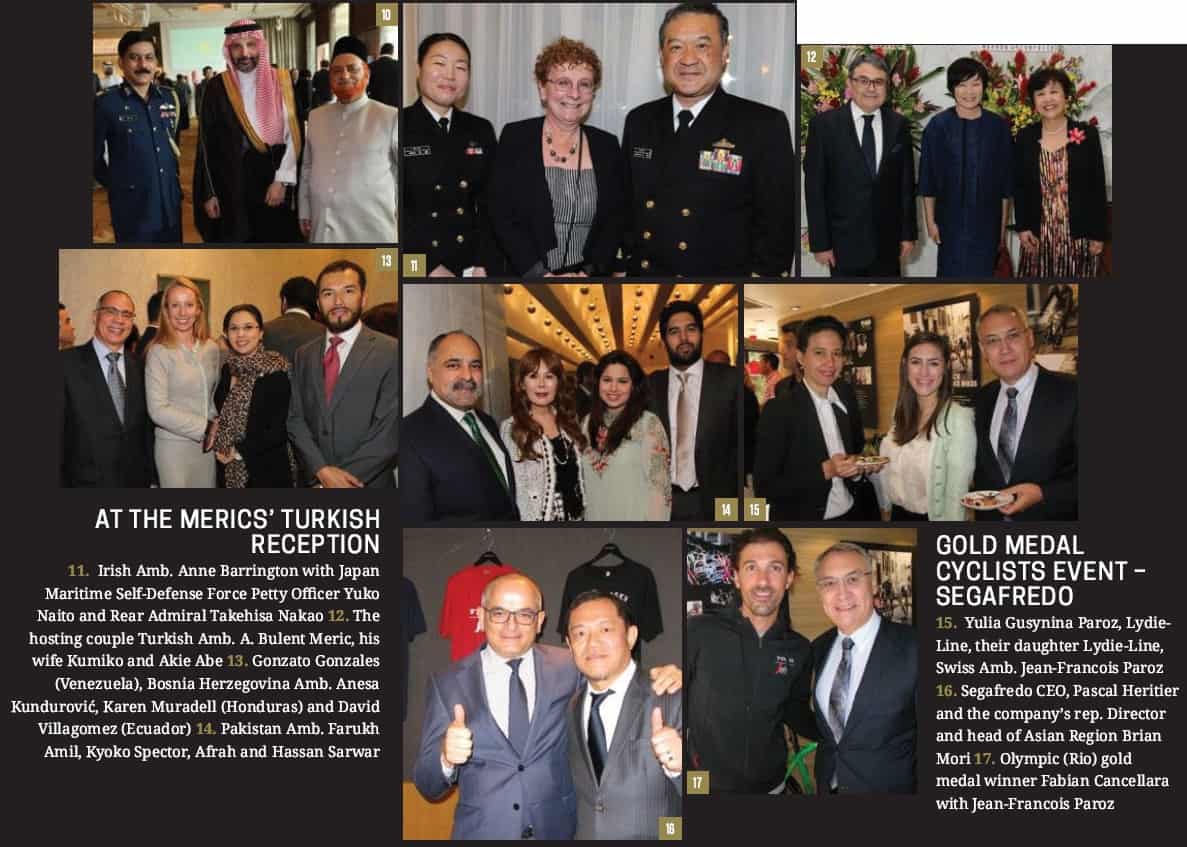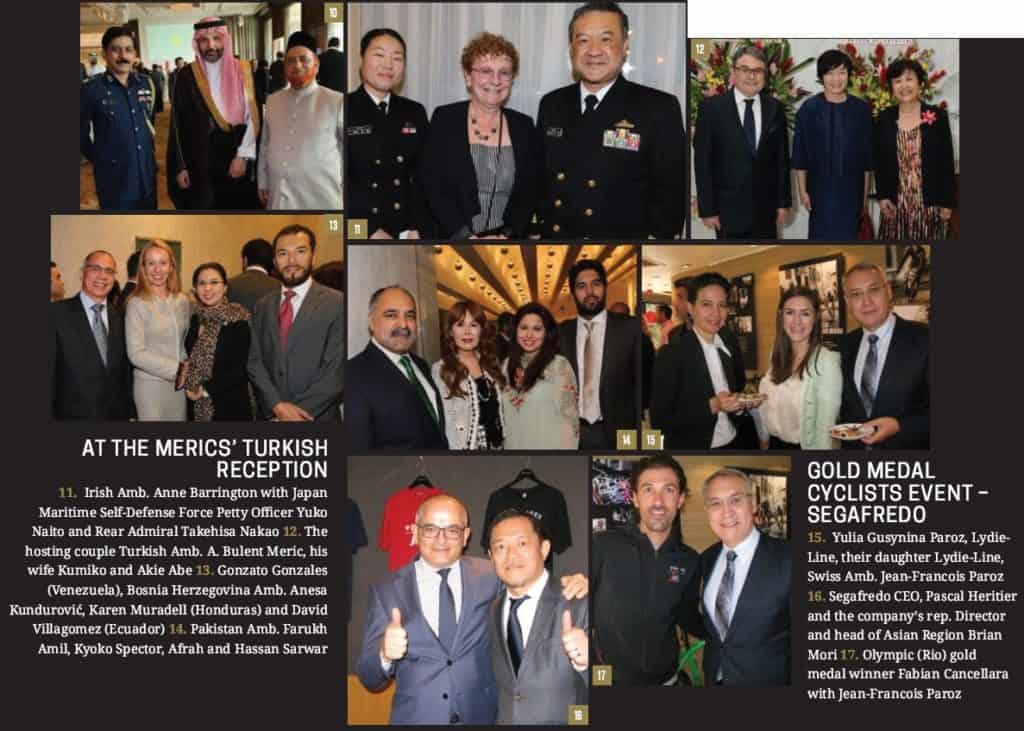 Going back a bit, it was wall-to-wall people at Turkish Ambassador Ahmet Bulent Merle's National Day party. Bulent and his wife Kumiko are a popular couple and guests included Aide Abe, the wife of Prime Minister Abe, who was super chic for the event. In addition to the bountiful buffet of Turkish food in the dining room, tents had been set up in the garden where they were serving the popular traditional Turkish kebab. It was a thoroughly enjoyable evening in every way.
SAUDI NATIONAL DAY – PALACE HOTEL
Our Saudi friends celebrated their national day at a noon-time reception at the luxurious Palace Hotel. In addition to relaxing and chatting with long-time friends, I met several VIPs for the first time. These included UAE Ambassador Khalid Omran Al Ameri. Our congratulations to Ambassador Al Barrak, his staff, and the Saudi people. It was also great getting to know Dr. Muhammad Abdur Rahman Siddiqi, the chairman of the International Muslim Center in Japan. and I appreciated his invitation to the 9th International Peace Seminar on Prophet Muhammad. The seminar was titled "Islamic Perspective on Terrorism" and featured guest speaker Rayyan Prowl Arab.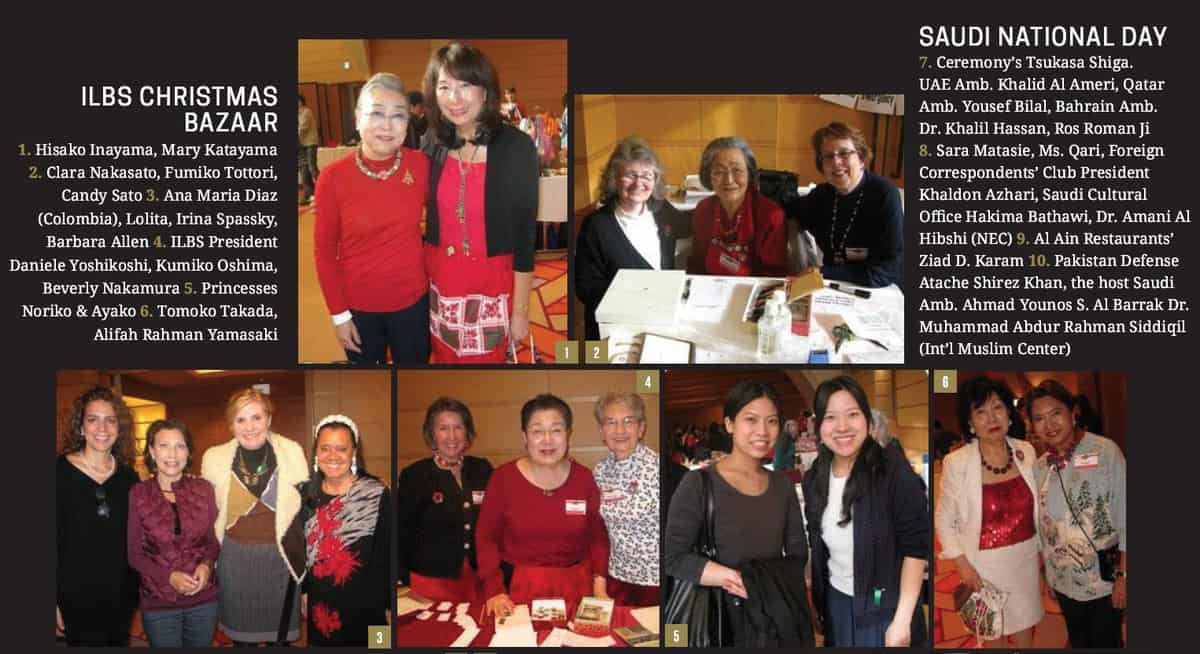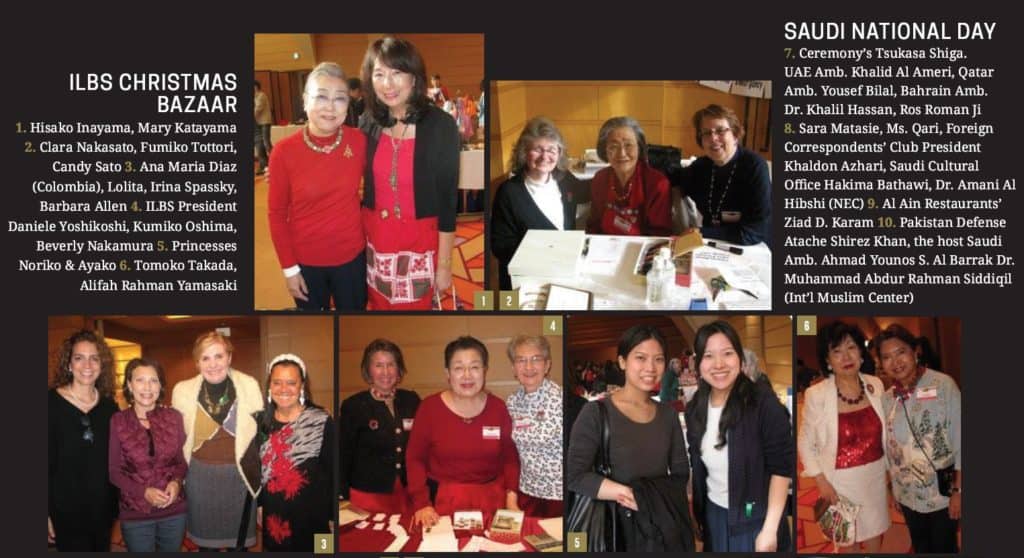 PLACES
ILBS'S CHARITY CHRISTMAS BAZAAR
Happy to report that the International Ladies Benevolent Society's annual Christmas Bazaar at the Tokyo American Club was. As always, a super success. The many charitable, hard-working ILBS ladies working at the busy bazaar got into the holiday fashion mood (lots of red!). and raised a considerable amount of money that. together with their many projects, goes to a variety of worthwhile causes. My dear friend Daniele Yoshikoshi, who is president of ILBS. was at the helm this year, and I was sure that she and the others who put so much time and effort into the project would make it one of the biggest and best bazaars ever. I appreciated Princess Takamado's mother, Emilio) Tottori, introducing two of her three granddaughters, Princess Noriko and Princess Ayako. Like their late and great father, Prince and Princess Takamado are really cool and very internationally minded. A big congratulations to them and the ILBS ladies for yet another charity project well done.
TREK-SEGAFREDO EVENT – HIROO
To celebrate the success of Trek. Segafredo in Japan, Segafredo Zanetti Japan paid homage to the cycling team and to the Rio gold medal winner, Fabian Cancellara, as he bid farewell to professional cycling. The event was a marvelous get-together for cycling lovers at the newly decorated Trek-Segafredo Café in Hiroo. Guests included Fabian Cancellara. the new Swiss ambassador with his wife and daughter, Japanese professional road racer Fumiyuki Beppu. all the Trek-Segafredo members, members of the press, and fans of the racers. It was a colorful and exciting event with the sports superstars – a really special event.
*First published at the Tokyo Weekender
*Images Copyright: Tsukasa Shiga