Bill's Partyline March 4th, 2008
PEOPLE
Gaga Communcations Tom Yoda has taken over as director of the Tokyo International Film Festival (TIFF), which is scheduled for October this year. Tom's an international leader in the film business and I'm sure we'll see some interesting changes at TIFF this year.
In addition to a g line-up of international productions, Warner Brothers has a full schedule of local productions they'll be opening throughout this year. These include the suspense film Sweet Rain which was shot on location in Japan late last year. Popular young Japanese-Taiwanese actor Takeshi Kaneshiro, who stars in the film, flew in recently to join the Japanese cast for a promotional campaign.
I really enjoyed celebrating American' Korean actor Aaron-Yoo's birthday with him and friends when he was here promoting the film American Pastime for Warner Brothers. Aaron was also one of the stars of the film Disturbia.
My thanks to Sony for bringing one of their visiting super talents, Australian singer Delta Goodrem, to party at the'New Lex. Delta, as you can see by the photo, is a real knock-out. She's also a really nice lady that 'loves to dance.' Australian friends, and a lot of the press, tell me she's a big star back home. Her near-future plans include marrying Irian McFadden, who's with the popular band Westlife. Delta, who was here to promote her CD for Sony plans on coming back soon.
PARTIES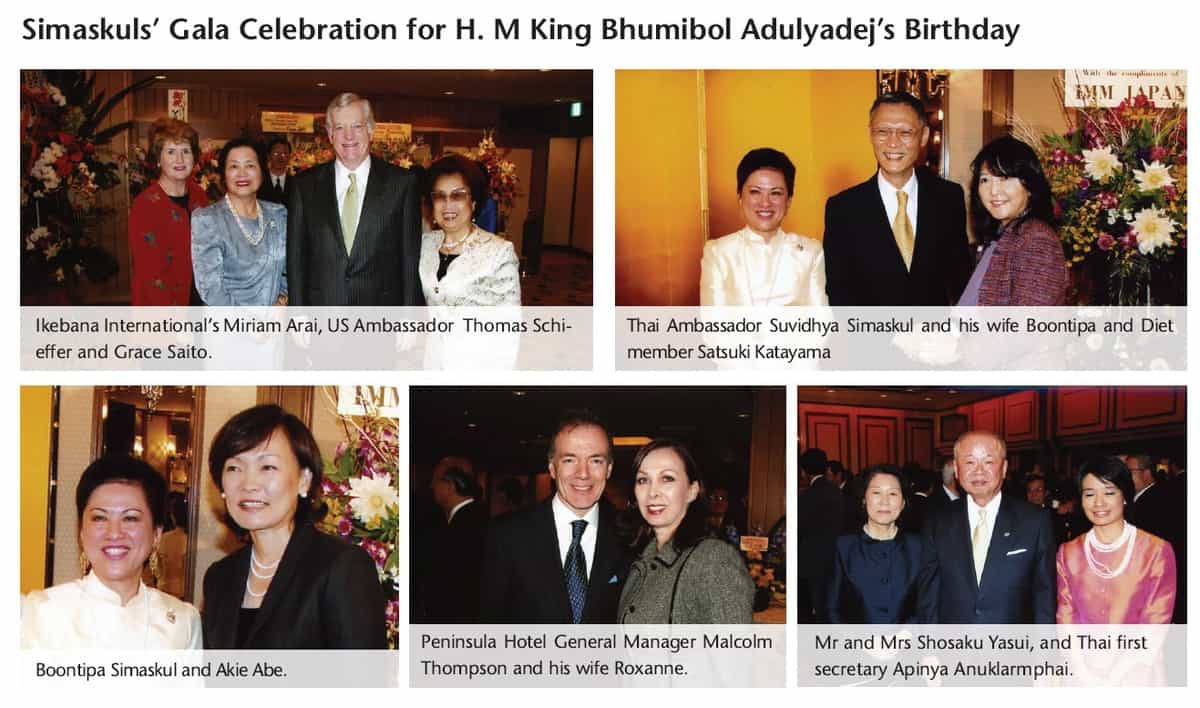 On December 5, the Simaskuls and their staff hosted a huge gala reception at the Imperial Hotel as part of the many celebrations on the birthday of their highly respected and much-loved King, H.M. King Bhumibol Adulyadej. Before the reception opened the Ambassador had invited a large group of Japanese VIPs who have helped his country. Consequently, there were many people there when the reception started. In addition to congratulating the Simaskuls, the guests had the opportunity to shake hands with about twenty of the embassy staff who were also in the receiving line. At one point the Ambassador left the line, went out and returned with powerful politician Taro Aso, and they, along with a large group of government officials, went up on the stage to make welcome and congratulatory speeches.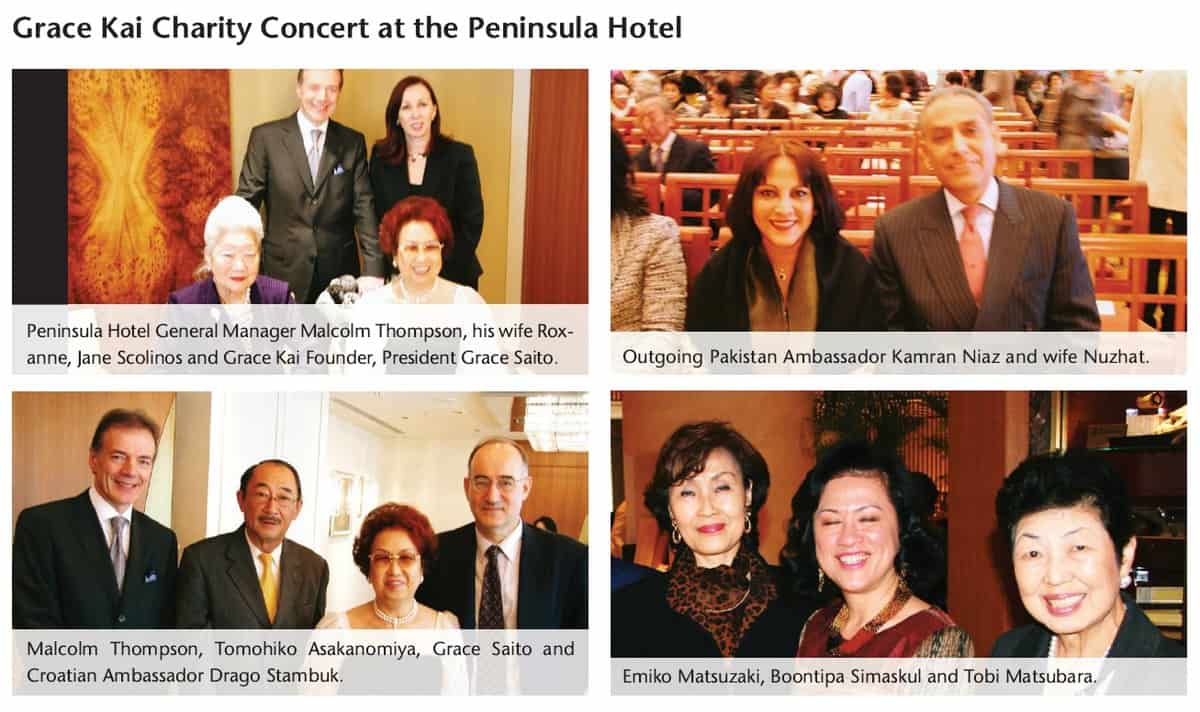 To celebrate the 10th anniversary of her charity organization, Grace Kai, philanthropist Grace Saito held a full-house classical music concert at The Grand Ballroom in The Peninsula Hotel. The program by some of Japan's top classical music artists was excellent. The Peninsula Grand Ballroom is a luxurious, elegant venue with top-grade acoustics. It was perfect for the occasion. Proceeds of the concert went to the eradication of polio. Congratulations Grace. Keep up the good work.
It was glamour galore at the residences of Mexican Ambassador Miguel Ruiz-Cabanas and his wife Martha when they hosted an impromptu reception for the new Miss International, Priscila Perales of Monterey, Mexico. The runner-ups, Miss Greece Desponia Viepaki and Miss Belarus Yulia Sindzeyeva as well as Miss Japan, Hisako Shirata (most photogenic) also added their personality and beauty to the special evening. Priscila is a news columnist and has her own TV program in Monterey. Her goal is to be a newscaster for CNN and with her personality and that smile, I'm sure she'll be a winner in whatever she does.

After seven and a half years in Japan, Omanian Ambassador Mohammed Al-Zarrafi, his wife Samira and their beautiful family have returned home to Muscat. Prior to their departure the popular couple joined Omanian counsellor Humad Al-Alawi in hosting a reception at The New Otani on the occasion of Oman's 37th National Day. Mohammed and Samira, as well as their children, had really made a lot of friends here, and as expected, there was a huge turnout to congratulate them on their National Day. I thank them for their friendship, say sayonara and wish them all the best.
Congratulations to our Sri Lankan friends on the Democratic Socialist Republic of Sri Lanka's 60th anniversary of Independence on February 4. Celebrations here included a formal ceremony which was followed by a luncheon of Sri Lankan food. Over at the Peruvian Embassy, Ambassador Hugo Palma hosted a reception for the exhibition, Encore! The Nazea Lines, organized by TBS and Half a Century of Japanese Contributions to the Archaeology in Peru. Both exhibitions were at The National Museum of Science and Nature.
PLACES
Nightlife is not always easy, but it's the people who make it all exciting and worthwhile. Fun, talented people I've met at the New Lex recently include the bands, White Snake, Vanilla Sky, Police, the Japanese pop group Ocean Rain and The Backstreet Boys.
On the sports scene there's been a group of Canadian and Australian snowboarders, and most of the good-looking guys and gorgeous girls from WWE (World Wrestling Entertainment). They're really big stars in Japan. The club was jumping the night world famous percussion drummer Naoki Ishikawa put on a show—drums and dance. I first met Naoki when he came here as the only Japanese in the cast of the award-winning Broadway show Blast.
Our British friends are always busy and believe me, 2008 has a full calendar of all kind of events to celebrate the UK's 150th anniversary of official relations with Japan. The UK-Japan 2008 celebration will have over 100 events from art to music, fashion, films, de-sign and science. Things kicked off with a huge opening party on January 18 at Mori Tower and the united visual artists interactive lighting art installation in Roppongi Hills. More on this later.
Looking ahead, hope to get to the black gospel Easter concert on Easter Sunday, March 23 at 6:30pm at the Tokyo Baptist Church. The lively and inspirational show features Alex Easley, TBC's Gospel Celebration singers, Ronnie Rucker and Chofu Mass Choir plus many other great Gospel Artists. Admission for the concert is free.
*First published at the Tokyo Weekender
*Images Copyright: Tsukasa Shiga