Hersey's Partyline September 1980
On Tuesday the 2nd (more fashion) Saga Furs showed their Saga Japan Design Collection at the Okura Hotel. Top designers throughout the country create unique and original designs from fox and mink for the annual fashion event. I had hoped to get to the show, but was at Asahi TV with Akira Fuse and Olivia Hussey for their interview on the popular "Tetsuko no heya" program hosted by Tetsuko Kuroyanagi. That lady really knows where she's at.
Celebrating Qatar National Day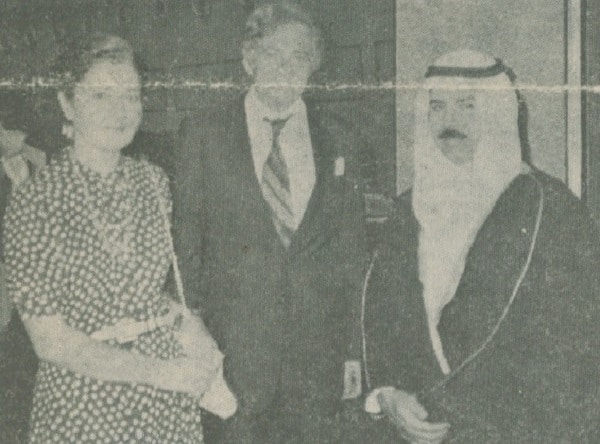 The first really big social event (and it was big) I was able to make was the reception Qatar Ambassador Hamad Al-Hajiri hosted at the Imperial Hotel on Wednesday Sept. 3rd on the occasion of his country's National Day. The celebration took place in the huge Fuji Room and the elaborate set-up included a gigantic ice carving of an oil-derrick; the flags of Qatar and Japan; a huge photo of Sheikh Khalifa bin Hamad Al-Thani, Emir of the State of Qatar, and long rows of floral tributes from friends and business associates.

The ambassador looked splendid in formal Arab robes and greeted the many guests at the entrance. His wife Monira and the children were still in Qatar on summer holidays.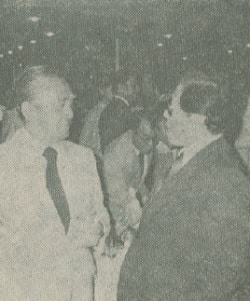 The crowd was an interesting mix of diplomats, Japanese government officials, business leaders and friends of the personable ambassador. The evening really gave everyone the opportunity to get reacquainted and to share summer holiday experiences. It was a splendid reception in every way, and very fitting for the special occasion.
Parties in Tokyo
On Sunday evening, Sept. 7, Akira Fuse and his wife Olivia Hussey hosted a sayonara for Akira's staff, his family and the couple's friends at the Lexington Queen. Things started early as they were all driving to Hakone that night for an early morning golf tournament the next morning. There were short, often emotional speeches by Akira who's worked with Watanabe Productions and many of the same people for 16 years; Olivia, who's really been accepted by the group, and Misa Watanabe who, contrary to what some would like to believe, has really been a good and generous friend to them both.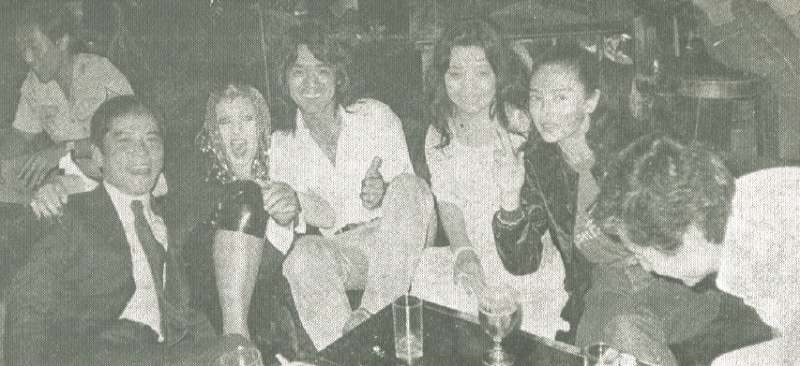 Most of the music that evening was for disco dancing, but the deejay (at my request) did play some selections from Akira's latest L.P., "I Am." These included "Chigasaki Beach Hotel" and "Yokota Air Force Town Can Really Bring You Down." Olivia wrote the English lyrics for three of the songs on the album and they really are very good.
TV personality Tetsuko Kuroyanagi came by to say "so long," Sen Masao and Joan Shepherd made the scene and former Takarazuka Star, Ran Otori ("Funny Girl") was there. I asked Ran how she liked married life. "Great," she answered as she rubbed her stomach. She's expecting later this fall.
The Fuses left on Pan American for New York on the 10th. They were accompanied by staff members of Watanabe Productions and a camera crew. During their stay in the Big Apple they'll be posing for some stills for Fuji Film's new campaign. Once the campaign gets going, you'll be seeing a lot of them.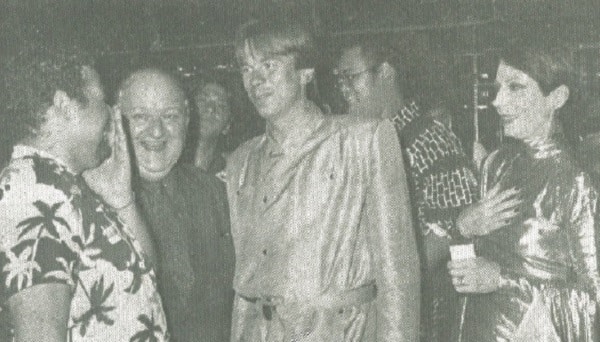 They also plan to spend some time in New Jersey with Olivia's teacher, Swami Muktananda, who's affectionately called "Baba" and is the man who married them. From there they'll go to Olivia's lovely home in Los Angeles for several months with plans to return here in December.
From the Lexington Queen Misa, Sen, Joan, Hiroko Kishibe, married to actor Shire Kishibe, Akira Nakamura of Watanabe Productions and I went over to Castel's where Shigeru Matsuzaki, who's been called the "Tom Jones of Japan," and a group of his showbiz friends were having a party to celebrate his divorce. It seems after eight years together he and his wife decided to call it quits. Everybody was dancing and everybody was enjoying. I guess if you're going to end a marriage, you might as well end it happily.
National Day at the Ethiopian Embassy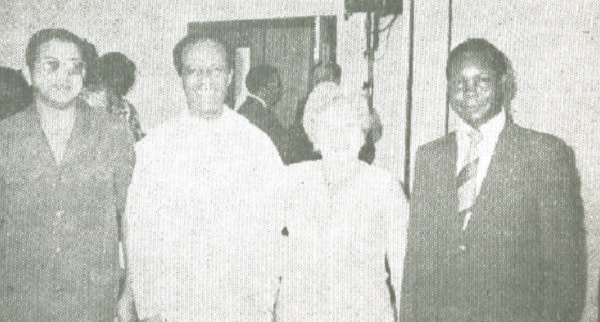 Detailed coverage this week starts back on Thursday the 11th when Ethiopian Ambassador and Mrs. Afework Atlabachew hosted a reception at the Azabu Prince Hotel on the occasion of the Sixth Anniversary of the Ethiopian Revolution. They were both dressed in the elegant national costume and greeted the more than 600 guests at the entrance to the Golden Hall. Most of the Ethiopian community was there and they moved through the crowd making sure everyone was having a good time. There was an excellent buffet that included the spicy national dish, doro wat.
I enjoyed meeting and talking with Peter E. Smyth, the newly arrived First Secretary at the Irish Embassy. This is his first overseas assignment, he's a bachelor and I'm sure he'll like Japan. Kiyoko Kusuda, a well-known artist, was there and told me she'll be having an exhibit at a Gallery in the Imperial in January. I'll have the exact dates in a later column. It was a relaxed, cordial, happy reception. Congratulations to our Ethiopian friends on that special day.
Ambassador Mansfield honors American Chamber of Commerce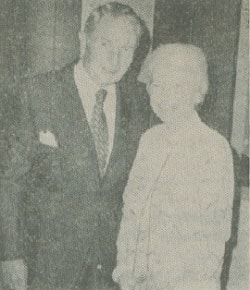 Monday the 15th was a holiday, but the social beat went on. Our first stop was at the U.S. Embassy where Ambassador Mike Mansfield and his wife Maureen were hosting a reception in honor of The American Chamber of Commerce in Japan. The Mansfields were just back from a trip to the Inland Sea and Maureen, who looked very elegant in a white silk pants and tunic ensemble, told me that Mike's been in every prefecture in Japan now.
The Embassy residence, as spacious as it is, was wall-to-wall people that evening, and as always, the Mansfields had an interesting mixture of people from all walks of life. They included David Rockefeller, here for a Trilateral Commission meeting, and noted Washington columnist Robert Novak. Everyone was happy to see Chiye Hachisuka up, out and looking so well. Promised Chiye to remind you of the Black and White Ball at the Tokyo Hilton on Oct. 24. Her house guest, Marshie Purl, was there and told me she enjoys Hong Kong, but really does miss Tokyo and the people here. Marshie's husband Ray, as you know, is the executive director of the American C. of C. in Hong Kong. The HandIs were there and they brought their good friend Katrushka Parsons with them. She's an exceptional lady from an exceptional family and often visits here from the Philippines.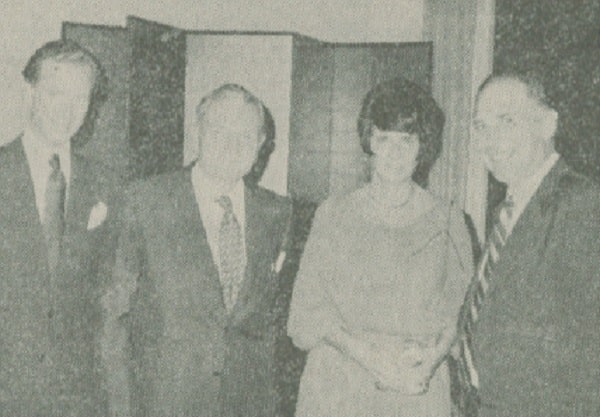 Other than people, there was something else very special in the Mansfield's home that evening: a piece of moonstone on display in a plastic pyramid. Frankly, it didn't look like all that much, but once you thought about where it came from and all the effort (and money) that went into getting where it was in the first place, you couldn't help but be impressed.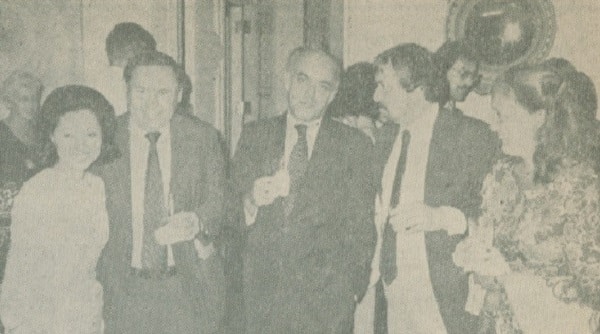 The Mansfields left a few days later for the States. Mike told me he'd be there about three weeks, but Maureen would be gone a little longer. By the way, don't be too sure the popular and highly respected diplomatic couple will be leaving Japan the end of the year. Newspapers don't always report things exactly as they are, and no one can really tell what might happen in the future.
Celebrating the opening of Century Hyatt Hotel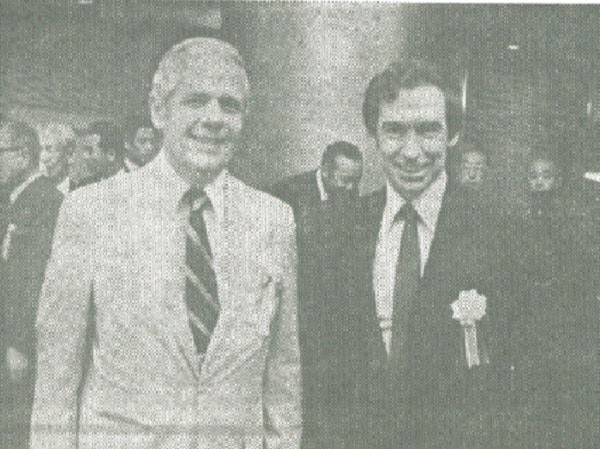 From the U.S. Embassy, headed for Shinjuku and the first of two opening nights at the Samba Club Regency in the Century Hyatt Hotel. By the time I got there the place was already packed with the cream of both foreign and Japanese society. There was also a large and impressive contingent of out-of-towners that included Bryan Bryce, President of Hyatt International for the Far East and Middle East, and a few dozen Hyatt General Managers who had flown in from about everywhere for the opening of the Century Hyatt Hotel.
The same thing went for the second opening night Tuesday the 16th. Well-known faces at the Samba Club Regency openings included Masumi Okada, who did a masterful job as emcee, TV personality Kay Ana; film stars Jo Shisido and Ogawa Tomoko; fashion designer Junko Koshino; fashion specialist Francoise Morechand; Argentine Ambassador and Mme. Gabriel Oliva, Shin and Misa Watanabe with Suntory Limited Vice-President Torii-san and popular rock star Dave Mason with his group.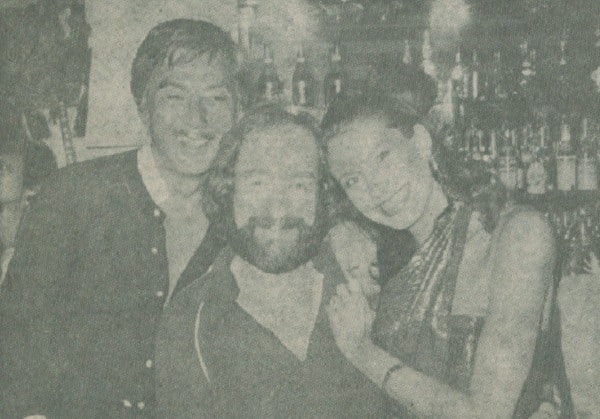 Kudos to Masanao Takahashi who produced the show for the openings. It included geisha, samisen players, Japanese drums, classical Japanese dancing and a very dynamic Kabuki-type Lion Dance to new wave music by Yoichi and Keiji Hayashi. The laser beams, the disco lights, the smoke and, yes, even bubbles gave a new dimension to the dances that I don't think anyone had ever seen before.
Girls at the door of the super-chic new disco club collected donations for the Red Cross, and from the final tally, it was certain just about everyone was in a giving mood. That's great as the proceeds will be used to help Indochinese refugees, especially the children.
The Samba Club Regency is open daily from 5:30 p.m. until 2 a.m. They have some very pretty English-speaking people working there, so there's no language problems. The entrance fee of ¥5,000 includes three drinks, tax and service. Drop by and check it out. You'll be glad you did.
On Monday the 22nd, one of Japan's most prestigious designers, Ichiro Kimijima showed his Paris Collection '80 Automne-Hiver at the Okura. There were SRO crowds at both shows and since his customers include some of Japan's most affluent and influential ladies in Japan, it was quite an impressive gathering. The show was fashion fantasy at its best with baubles, bangles, beads and lots of feathers. Takarazuka star Maho Shibuki, a friend of Kimijima's, not only modeled but danced her way through a couple of numbers as well. Several of her rather butch buddies from Takarazuka were there and really added a dash of color to the fashionable but conservative crowd.
Happy Anniversary . . . and it really was. On Tuesday the 23rd, Monsieur Philippe Guerlain hosted an early evening reception at the Okura to celebrate his company's 10th year in Japan and to introduce their new perfume, Nahema, on the market here. French Ambassador and Mme. Xavier Daufresne de la Chevalerie, just returned from Paris, were there and Marie-Francoise looked marvelous in a Paris-inspired hairstyle. I talked with Hisanaga and Takako Shimazu, and she apologized for not being able to make it to the Halston Charity party at The Samba Club. She's a very gracious — and busy! — lady. Bob and Terangi Legeay said they really enjoyed their working-holidays in Tahiti and France, but were happy to be back in Tokyo. It was a splendid reception that included most of the French community, members of the diplomatic corps and leaders from the Japanese fashion and business world.
On the 24th, British Ambassador Sir Michael and Lady Joan Wilford gave a reception in their residence to bid sayonara to their many friends in the diplomatic corps and the Gaimusho. Moroccan Ambassador Abdeslam Tadlaoui, acting dean of the corps, made the sayonara speech and, on behalf of the corps, presented the Wilfords with a beautiful Japanese tansu. It had already been shipped, but guests did get to see a photograph. I wasn't able to make it that evening, but went to the second sayonara they hosted on Friday the 26th. Guests that evening were members of the British community, business acquaintances, Lady Joan's golfing buddies, bankers and personal friends. Joan told me they would be taking the long way home . . . through Hawaii, Canada and the U.S. "We've loved Japan, and will really miss our friends here, but it's time we made a change," she told me. She also said they plan to come back to Japan, but not for a year or so . . . and "that will be for a holiday and to see friends."
There were a lot of interesting people at the Wilfords, and I stayed much longer than planned. Consequently, it was too late to drive out to Walter and Natalie Ermakoff's where they were hosting a cocktail party for friends. Sorry about that, as an evening at the Ermakoff's is always interesting.
In and Around Tokyo
CONGRATULATIONS TO:
• All our amigos and amigas on Spanish Heritage Week which started Sept. 13 and ends the 20th. We spent time with many of our Latino friends in New York and on the West Coast recently and really do miss not having more of them over here.
• Actor-singer Hiroshi Tachi on his new album "Baby Doll." Hiroshi was one of the stars of a TV detective series, "Seibu Keisatsu" for seven months and got himself "killed in a bomb blast." He recorded the album in NYC with some excellent musicians. He's doing concert tours now and has a concert at Shibuya Kokaido on Sept. 25. There's also talk he might star in a new Kadokawa film "Gigolo." He's a dynamic guy who changes girl friends almost as often as most people change their underwear.
• Maria-Constanza, daughter of Colombian Ambassador and Mrs. Gustavo Medina Ordorez on her birthday which fell on Wednesday the 10th. We helped her and her friends celebrate at the Samba Club after the Halston Charity Party.
IN TOWN:
• Film stars Jan-Michael Vincent and Rudy Ramos both here to promote their new film "Defiance." It'll be called "Skyscraper Blues" in Japan. We spent a few nights on the town with the guys and even helped Rudy celebrate his birthday on the 25th. More on the two young and popular stars and their visit later.
• Business tycoons A.N., Bob and Jay Pritzker all in from Chicago for a Hyatt International Board Meeting at The Century Hyatt. You may have read about "The Hustling Pritzkers" in Business Week. If not, the family's diversified empire includes manufacturing companies like Cerro Corp. and Hammon Corp, 65 Hyatt Hotels, real estate, lumber and plywood, publishing and printing, amusement parks, express companies and a coal company. During their short stay in Japan, the Pritzkers took time off to host a dinner for many of Japan's top industrialists.
•Frank Chau, a shipping tycoon from Hong Kong, also in town for several days. His company, Wah Kwong Shipping, launched two ships here and took delivery on a third. Chau has also purchased the Continental Hotel in Saipan and a considerable amount of beachfront land there he plans to develop. He'll be working with Hyatt International on this new project.
•Jeff Stein whose "Camp Beverly Hills" store in Los Angeles has been one of the most successful clothing retail ventures to come along for quite some time. Jeff's here to visit friends Nick and Kathy Connor and to check out market and manufacturing possibilities.
• Richard Gere, star of the film "American Gigolo" and the Broadway play, "Bent." Richard was here with Paul Schrader, who wrote and directed "American Gigolo" to promote the film for C.I.C.
• Miguel Aleman, former President of Mexico, currently president of The Mexican National Tourist Council, in Tokyo for the opening of Mexicana Airlines Office.
On the 19th there was an evening of fine music with the Kabayaos, one of the Philippine's mostly widely acclaimed musical teams . . . and later that evening Dave Mason and his group partied with the locals at the Lexington Queen. Saturday the 20th was busy too with the opening of noted photographer Hiroki Hayashi's exhibit at The Space in the morning, and the Cerruti show in the early evening. Corky and Mary got friends together that evening for a fun night into the morning, and Cerruti and his models (all male this time, but the girls are coming) boogied at The Bee.
Monsieur Philippe Guerlain was in town and hosted a huge reception on the 23rd to celebrate their 10th anniversary in Japan and to introduce their new scent, Nahema.