AWAAJ and SWAAJ in Support of the National Council of YMCAs of Japan
The National Council of YMCAs of Japan has received heartwarming support and donations from AWAAJ (Association of wives of African Ambassadors to Japan) and SWAAJ (Society of wives of Arab Ambassadors to Japan).
The Society of Wives of Arab Ambassadors in Japan (SWAAJ) visited the National Council of YMCAs of Japan last December 14 and had a talk with Mr. Tsutomu Taguchi, Representative Director and Secretary-General of the National Council of YMCAs of Japan. The organization personally handed a donation in support of YMCA Japan's current and future services and activities.
Furthermore, on December 2nd, the Association of Wives of African Ambassadors in Japan (AWAAJ) also made a visit to the National Council of YMCAs of Japan and handed a donation to Secretary-General Taguchi. At that time, Mrs. Kazuko Nakajima, the President of the Official International Support Association for the National Council of YMCAs of Japan, attended the ceremony to deepen the friendship of both organizations.
In his welcome speech, General Secretary Tsutomu Taguchi highlighted YMCA Japan's various programs over the years catering to the needs of local communities and people. He deeply emphasized that YMCA Japan will continue to strive to preserve human rights, seek justice and fairness, and hall work to develop a society where people volunteer to share in the pain and joy of others.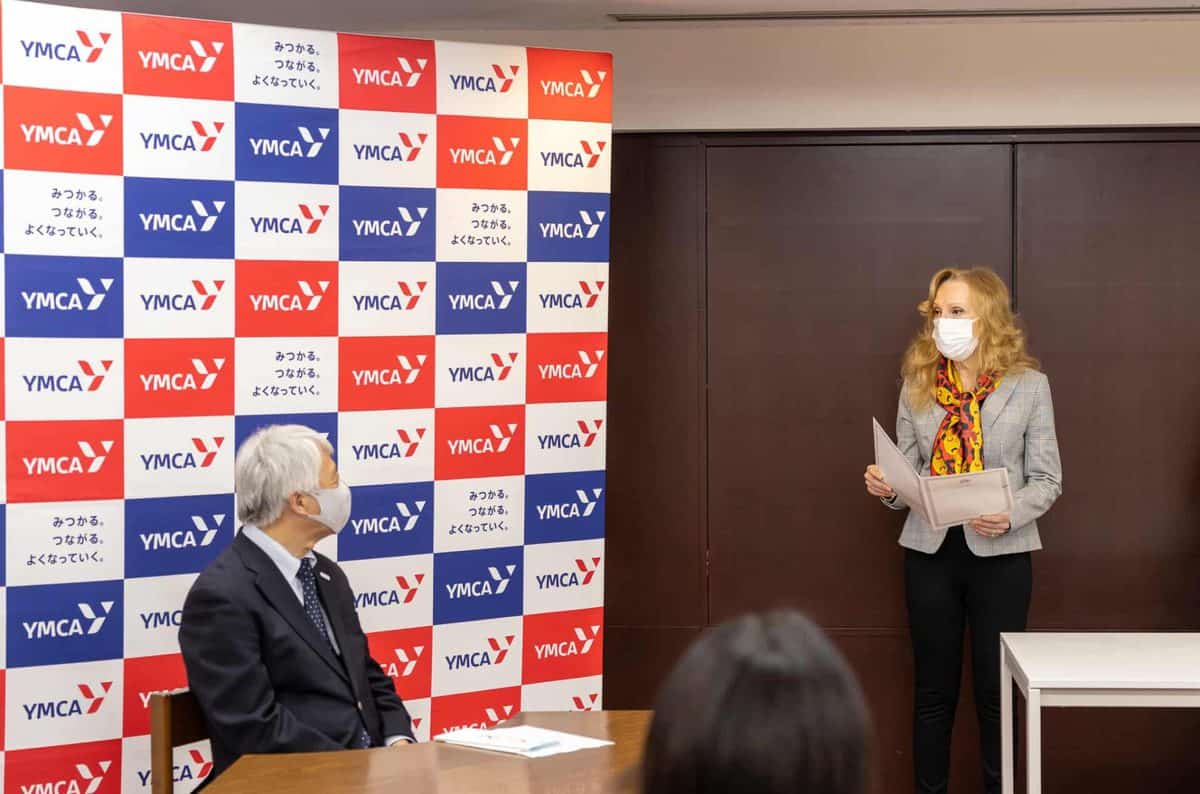 Mrs. Amira Benchérif, President of SWAAJ and wife of Algerian Ambassador, His Excellency Mr. Mohamed El Amine Benchérif, and Mrs. Nantenin Sylla, president of AWAAJ and wife of Guinea Ambassador His Excellency Mr. Senkoun Sylla, also expressed their deep admiration to YMCA Japan and commended their dedication to serving other people tirelessly.
Mrs. Benchérif is known for her efforts in supporting children with disabilities at the Ministry of National solidarity in Algeria. She and her fellow ambassadors' wives have participated in numerous charities supporting the people of various countries part of the association.
"On behalf of the Society of Wives of Arab Ambassadors in Japan, I would like to congratulate you, Mr. Tsutomu Taguchi, Secretary General, Mr. Hisao Mitsunaga, Director and Madam Hiroko M. Ohiwa, Executive Director as well as the members of the National Council of YMCAs of Japan for your tireless efforts and generous actions towards this sensitive part of the population.
"I would like to tell you how much the members of SWAAJ and I have read your letter with great interest informing us of all the accomplishments your association has done towards young people in need and / or with disabilities.
"By our presence beside you today, we would like to express you our deep solidarity as women, wives and mothers and also express to you our respect for this noble work which demands a lot of mobilization and time.
"Through your letter, we learned how your association suffered from the negative effects of the current coronavirus pandemic, particularly the direct consequences on your financial incomes. Also, we deplore your many youth programs that have been canceled or postponed. All these reasons pressed us to stand beside you for providing our modest contribution.
"We hope that this present contribution could help YMCAs in its noble activities, to respond to the needs of the most vulnerable young people.
"Before concluding, I would like to reiterate our thanks and consideration for your standing dedication towards young people in need and assure you of our full availability and readiness to support you for achieving your objectives and expectations," said Mrs. Amira Benchérif.
The Japan YMCA Alliance deeply appreciates both SWAAJ's and AWAAJ's initiative and consideration for Japan and continues supporting its communities, people in need and its many worthy initiatives in Japan.
See also: National Council of YMCAs of Japan and the Hungarian Embassy celebrating 40 years of Rubic's Cube in Japan.
YMCA is a non-governmental organization (NGO) with approximately 65 million members in 120 countries and territories worldwide. Japan's YMCA began in Tokyo in 1880, and during this time it has expanded its pioneering work in various fields throughout the country. YMCA in Japan has 140,000 participants in more than 200 bases in 35 cities nationwide, and is engaged in various activities for their own learning, health, and solving social issues. In Japan, YMCAs have always tried to respond to the needs of society by working in the fields of life-long learning, higher education, health and fitness, social welfare and community development, and also by placing itself on the side of those whose voices often go unheard; specifically children, women, immigrants and the elderly.
For more information: National Council of YMCAs of Japan
〒160-0003 Tokyo, Shinjuku City, Honshiocho, 2−11
Tel 03-5367-6640 Fax 03-5367 6641
For donations please visit: https://srv.asp-bridge.net/ymca/privacy/5
Website: http://www.ymcajapan.org/
Facebook: https://www.facebook.com/fcscjapan